Grammy Winner Branford Marsalis Jazzes Up UK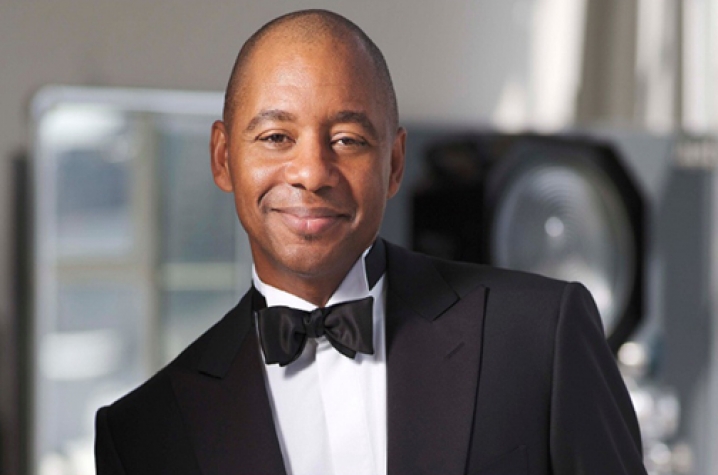 LEXINGTON, Ky. (Nov. 12, 2010) − World-renowned saxophonist and three-time Grammy winner Branford Marsalis will jazz up the University of Kentucky Singletary Center for the Arts with a concert scheduled for 7:30 p.m. Saturday, Nov. 13.
Joining Marsalis on stage will be the musicians of the Branford Marsalis Quartet, including Joey Calderazzo on the piano, Robert Hurst on the bass, and Justin Faulkner on the drums.
Marsalis is a man of numerous musical interests, from jazz, blues and funk to classical musical projects, such as his 2008 tour with Marsalis Brasilianos. In 2002, he founded Marsalis Music, his own music label through which he produces his own projects and those of the jazz world's most promising new and established artists.
The New Orleans native gained initial acclaim through his work with Art Blakey's Jazz Messengers and his brother Wynton Marsalis' quintet in the early 1980s. He has since worked with jazz giants such as Miles Davis, Dizzy Gillespie, Herbie Hancock and Sonny Rollins.
In 1989, Marsalis formed his own quartet composed of pianist Joey Calderazzo, bassist Eric Revis and drummer Jeff "Tain" Watts. His latest CD, "Metamorphosen," was released in March 2009 marking the 10-year anniversary of the quartet. The CD features original compositions and exhibits Marsalis' ability to play the tenor, soprano and alto saxophones.
In addition to performing, Marsalis dedicates himself to changing the future of jazz in the classroom. To share his knowledge and appreciation of music, he has visited several universities across the country, including Michigan State, San Francisco State, Stanford and North Carolina Central.
In an effort to bring a new approach to jazz education in colleges and high schools, he developed Marsalis Jams, an interactive program in which leading jazz ensembles present concerts and jam sessions in mini-residences on campuses throughout the Northeast, Mid-Atlantic, Southeast and Southwest.
During his visit to UK, Marsalis will be conducting a woodwind clinic, a jazz workshop and a question and answer session from 1 to 5 p.m. Friday, Nov. 12 in the Singletary Center for the Arts Concert Hall. This event is free and open to the public, and will feature performances by the UK Jazz Ensemble, UK Mega-Sax, UK Saxophone Quartet, UK Jazz Combo and a student performance of Darius Milhaud's "Scaramouche."
Marsalis' other activities reflect his broad musical scope and diverse talents as he continues to expand his skills as an instrumentalist and composer. He spent two years touring and recording with Sting, collaborated with the Grateful Dead and Bruce Hornsby, and was the musical director of the "Tonight Show with Jay Leno" for two years during the 1990s. He has acted in films such as "Throw Mama from the Train" and "School Daze," provided music for the film "Mo' Better Blues" and several others, and hosted National Public Radio's syndicated program "Jazz Set."  
Among the most socially conscious voices in the arts, Marsalis quickly immersed himself in relief efforts following the devastation of Hurricane Katrina. He is the honorary chair of the New Orleans Habitat for Humanity effort to rebuild the city, and, with the help of Harry Connick Jr., he conceived the Habitat Musicians' Village, a project that is currently under construction in the city's historic Ninth Ward.
To watch a video of Marsalis performing with his quartet, visit YouTube online at www.youtube.com/watch?v=1hChfarty7A.
Tickets for the Marsalis concert range from $28 to $37 and can be purchased by calling the Singletary Center ticket office at (859) 257-4929, visiting online at www.singletarytickets.com, or in person at the venue. Processing fees will be added to the total upon completion of the transaction.