This Ain't Your Momma's Opera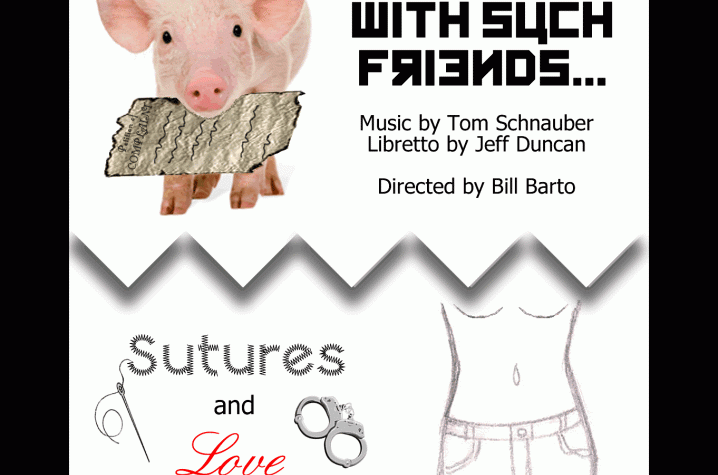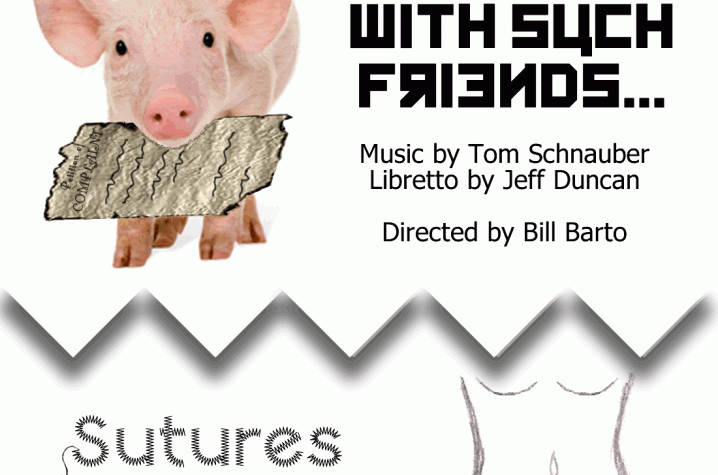 LEXINGTON, Ky. (Aug. 10, 2010) - On the heels of last summer's success, the Bluegrass Opera is at it again. This weekend the growing performing arts company will present "World Premiere Double Header 2.0," a production consisting of two new one-act comic operas, performed back-to-back with a live orchestra. The new works, "With Such Friends…" and "Sutures and Love," take to the stage at 7:30 p.m. Friday, Aug. 13, and 2 p.m. Sunday, Aug. 15, at the University of Kentucky Singletary Center for the Arts Recital Hall.
These are not your normal "opera" performances on many levels, especially with regard to the location of the orchestra. "The Singletary Center's Recital Hall doesn't have an orchestra pit, but that's perfect for us," says Lorne Dechtenberg, artistic director of the Bluegrass Opera and 2010 UK graduate. "It lets us put the orchestra on the floor in front of the stage so the audience can be right in the middle of the action. They won't just see what's happening onstage; they'll be able to watch all the interaction that makes the performance possible."
With music by Tom Schnauber and libretto by Jeff Duncan, "With Such Friends…" is based on Russian humorist Nikolai Gogol's short story "The Squabble." The production follows two Russian noblemen whose short tempers and oversized egos cause a simple disagreement to escalate far beyond any reasonable level. An excerpt from the opera was included in the New York City Opera's VOX 2007 festival. Both Tom Schnauber and Jeff Duncan will travel to Lexington for the premiere.
German-American composer Tom Schnauber holds a doctorate in composition and theory from the University of Michigan, and is currently co-chair of the Department of Performance Arts at Emmanuel College in Boston. Schnauber has won composition awards from ASCAP (American Society of Composers, Authors and Publishers), the Kennedy Center, the Columbia Orchestra and the Chamber Orchestra Kremlin, and his music has been performed in the U.S., Europe and Asia.
Jeff Duncan is professor of English at Eastern Michigan University, where he has taught since 1971. He is a former Bruern Fellow and Visiting Lecturer at the University of Leeds in England who has written three books, numerous essays and some 20 plays. Duncan's awards include a Creative Writing Fellowship from the National Endowment for the Arts.
"Sutures and Love," the opera formerly known to some as "Sex, Drugs, and Aliens," is loosely based on Richard Sheridan's classic stage play "School for Scandal." With music and libretto by Lorne Dechtenberg, the opera tells the story of a cosmetic surgery clinic and the events that take place there one fateful day. Under its earlier name, excerpts from the opera were presented in a workshop recital at the University of Houston. The Bluegrass Opera also presented some excerpts from the piece at Natasha's Bistro in 2008, and demand for a production of the entire piece has been building ever since.
Lorne Dechtenberg, who holds a doctorate in music from UK School of Music, has won awards for his music from the Florida Vocal Association, the Louisa Stude Sarofim Foundation, and the SCI (Society of Composers Inc.)/ASCAP Annual Commission Contest. His output includes four operas, three musicals, numerous solo and chamber works, a music theory guide for high school and college students, and a symphony that was recently premiered in Lexington to rave reviews.
"World Premiere Double Header 2.0" features a cast of all ages and backgrounds from central Kentucky's talented music and theater communities, including UK students Arianna Afshari, Phillip Bullock, Holly Dodson and Ashley Jackson. Additionally incoming graduate student Jessica Pearl French and alumna Anabelle Wright-Gatton are part of the cast.
Dechtenberg is excited to see both works staged. "We're going to give both pieces the best showing we possibly can," says the local composer and one of the founders of Bluegrass Opera. "Regardless of whether or not my piece was being performed, it's a thrill to be able to bring composers to central Kentucky from all over the world, and to invite the community to meet them and to join us in making history."
The Bluegrass Opera is a nonprofit performing arts company that specializes in the performance of new musical works for the stage – operas, musicals and everything in between. It is the only professional opera company in the country that is dedicated exclusively to new works and that does not charge composers money to submit their music.
Tickets for "World Premiere Double Header 2.0" are $10 and are available through the Singletary Center for the Arts ticket office. To purchase tickets, call (859) 257-4929 or visit online at www.singletarytickets.com.