Bands to Collide at 'Rockcital'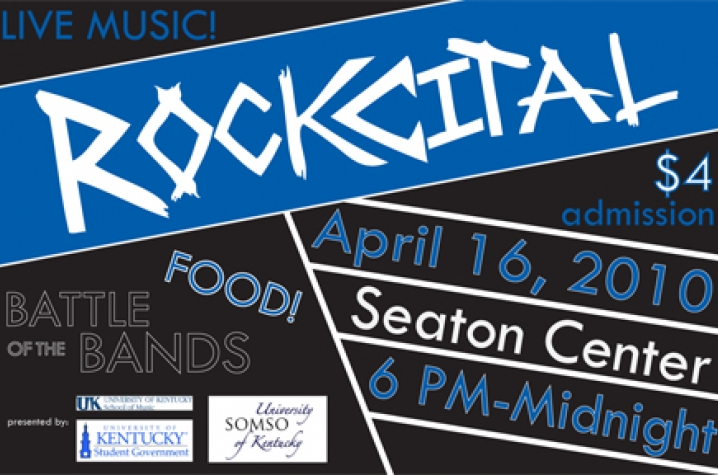 LEXINGTON, Ky. (April 16, 2010) − What happens when you mix University of Kentucky School of Music performing ensembles, local up-and-coming bands, and a Battle of the Bands? "Rockcital" of course. The UK School of Music Service Organization (SOMSO) will host this unique recital for the first time from 6 p.m. to midnight Friday, April 16, at the Seaton Center.
"Rockcital" will feature music from Raleigh Dailey and the UK Jazz Lab Band, The Atomists, Aerial, UK Black Voices, The Field Goal Unit, Timbral Uprising, Paws and Listen, and Miles Meehan. 
This event will raise money for the Fine Arts Building. This past year SOMSO students and their adviser Vicki McVay decided to do something about the condition of the facility. The purpose for the event is to help raise money for a new building. With help from the Friends of UK School of Music, SOMSO has been able to get a great start and would like to continue its efforts for years to come.
Tickets for "Rockcital" are $4 and can be purchased at the door. Additionally, concessions and T-shirts will be sold at the event.
The UK School of Music Service Organization formed with the ultimate purpose of helping to fund a new fine arts building. It is the goal of the organization to organize and carry out fundraising projects throughout each academic year, saving a majority of the funds for the new building while repairing the current building as necessary. Along with fundraising projects, SOMSO aims to provide visible outreach to the community through a united School of Music presence. SOMSO is open to any UK student or faculty member interested in furthering the goals of the organization.
For more information on the "Rockcital" or UK SOMSO, contact Josh Hall via e-mail to Joshua.allan.hall@gmail.com or call (270) 991-7794. UK SOMSO also has a Facebook group page at www.facebook.com/home.php?#!/group.php?gid=72169416325&ref=ts.