Catch the Beat of UK Percussion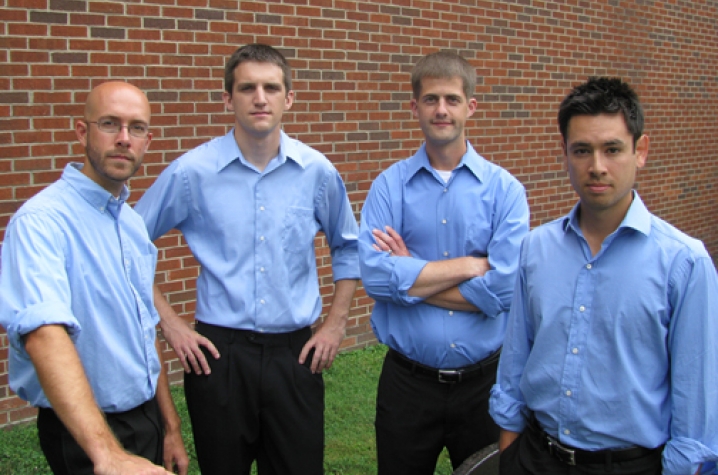 LEXINGTON, Ky. (Nov. 1, 2010) − Join the University of Kentucky Percussion Ensemble for their fall concert 3 p.m. Sunday, Nov. 7, in the Singletary Center for the Arts Concert Hall. The concert, which is free and open to the public, will also feature an internationally recognized UK graduate percussion quartet composed of percussion doctoral students Brad Meyer, Ben Stiers, Brandon Wood and Colin Hill.
The graduate percussion quartet will perform "Drums of Winter," by John Luther Adams, a piece that they have been invited to perform at the "Earth Modality" concert during the Percussive Arts Society International Convention (PASIC). The UK quartet is one of only two university groups to receive invitations to perform at the convention, which will take place in Indianapolis this November.
Under the direction of James Campbell, the UK Percussion Ensemble will perform the world premiere of David Macbride's "Machine," a new piece that evokes images of an imaginary contraption. The ensemble will also take audience members on an exciting African musical safari as they perform Søren Monrad's "Zavanna." In addition, the program includes Warren Benson's subtle programmatic work "Streams," and John Mayrose's "Liber Abaci," which took first place in the 2009 Percussive Arts Society Composition Contest.
Three-time winners of the prestigious Percussive Arts Society Collegiate Percussion Ensemble Contest, the UK Percussion Ensemble has performed at many esteemed musical events, including the Lotus World Music and Arts Festival, the Bands of America Percussion Ensemble Festival, and at several PASIC conventions.
To watch a video of the UK Percussion Ensemble performing, visit YouTube online at www.youtube.com/watch?v=eJVedHG_LJw.
For more information about the UK Percussion Ensemble or the fall concert, call (859) 257-8187 or visit the website at www.uky.edu/FineArts/Music/ensembles/percussion/.