Clodhoppers, Square Dance Music Comes to UK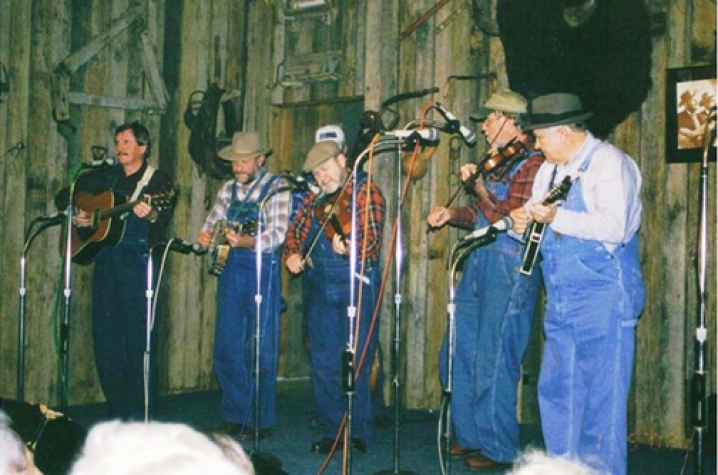 LEXINGTON, Ky. (Nov. 9, 2010) — The University of Kentucky John Jacob Niles Center for American Music invites the public to experience traditional square dancing music, as musical group the Kentucky Clodhoppers performs as part of the concert series "Appalachia in the Bluegrass." The concert, which is free and open to the public, is scheduled for noon Friday, Nov. 12, in the Niles Gallery, located in the Lucille C. Little Fine Arts Library and Learning Center.
An old-time style dance band from East-Central Kentucky, the Kentucky Clodhoppers play a repertoire of tunes indigenous to the area back when square dances were the preferred form of popular entertainment. Their upbeat songs draw a loyal entourage of flatfoot dancers, and the band often performs at local bluegrass festivals, representing the kind of music from which bluegrass evolved.
John Harrod, guitarist and lead vocals for the band, has documented, recorded and performed traditional music for more than 35 years. He has played with a number of bands throughout the 1970s and 1980s, such as the Progress Red Hot String Band, the Bill Livers String Ensemble and the Gray Eagle Band.
For three years, Harrod worked as a folk artist in residence in Kentucky schools. With help from with Mark Wilson and Guthrie Meade, he produced a series of field recordings of Kentucky fiddle and banjo players, which is available on Rounder Records. Due to his significant work in traditional music, Harrod received the 2004 Folk Heritage Award of the Kentucky Governor's Awards in the Arts.
Other Kentucky Clodhoppers band members include fiddler Billy Don Stamper, banjo player Earl Thomas Jr., and mandolinist Donnie Rogers. The combination of Stamper's mountain style fiddle playing, Thomas' unique old time banjo style, and Rogers' songs and stories has helped make the band a regional hit.
The "Appalachia in the Bluegrass" concert series celebrates the old time roots of American Folk music by featuring a diverse range of traditional musical expression. The concert series illustrates the many faces of the Bluegrass' indigenous American Folk music, from the authentic old time sound of mountain banjo player Lee Boy Sexton to the blues-infused style of Sparky and Rhonda Rucker. The Niles Center is a collaborative effort of the UK School of Music, UK College of Fine Arts and UK Libraries. 
This year's series is made possible with support from the Office of the Provost and the Appalachian Studies Program.
For more information on the Kentucky Clodhoppers concert or the "Appalachia in the Bluegrass" concert series, contact Ron Pen, director of the Niles Center by e-mail to Ron.Pen@uky.edu or visit online at www.uky.edu/FineArts/Music/Niles