Coast Guard Musician to Play with Wind Ensemble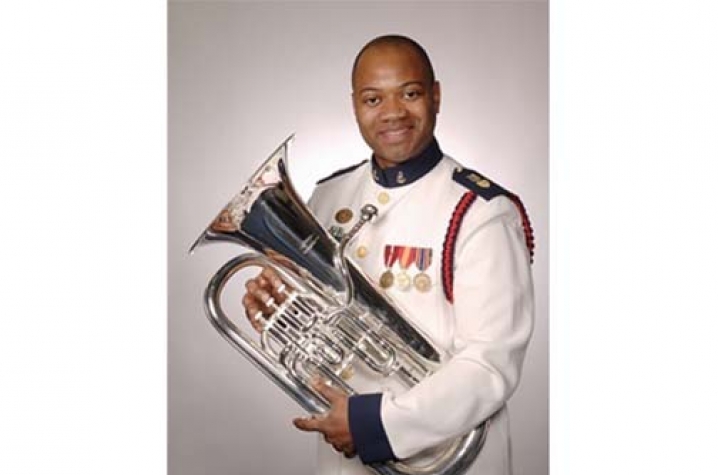 LEXINGTON, Ky. (Nov. 23, 2010) − The University of Kentucky Wind Ensemble, under the direction of George R. Boulden, will perform their final concert of the fall semester 7:30 p.m. Monday, Nov. 29, at the Singletary Center for the Arts Concert Hall. The free public concert will feature the JAVA Trombone Quartet and special guest soloist and UK alumnus Chief Musician James E. Jackson III, of United States Coast Guard Band.
The concert will showcase the accomplished soloists, as well as the successful UK Wind Ensemble. The program will include performances of "Millennium Canons" by Kevin Puts and arranged by Mark Spede; "Fantasy Variations on a Theme by Nicolo Paganini" by James Barnes; "Malagueña" by Ernesto Lecuona and arranged by Jerry Ascione; "Monologues" by Joseph Turrin; and "Seascape" by Alfred Reed.
In a fitting concert finale, members of the UK Euphonium Studio will join Chief Musician James E. Jackson on stage for a performance of the band classic "The World is Waiting for the Sunrise" by Les Paul and Mary Ford.
The JAVA Trombone Quartet is comprised of undergraduate music majors and members of the UK Trombone Studio. As a trombone quartet they have performed locally and regionally, and are currently members of the UK Wind Ensemble. The members of the JAVA Trombone Quartet are: sophomore Josh Dargavell from Berea, Ky.; senior Alex Aldridge, from Hopkinsville, Ky.; senior Vinny VanSlyke from Mason, Ohio; and senior Austin Bralley from Radcliff, Ky. They are students of Dale E. Warren, associated professor of trombone at UK School of Music.
Chief Musician James E. Jackson III, principal euphonium of the U.S. Coast Guard Band, is a native of Lexington. In addition to his position with the Coast Guard Band, Jackson is presently the director of the Connecticut College Orchestra, the music director and conductor of the Thames Valley Youth Symphony Orchestra, lecturer in Euphonium Studies at the University of Connecticut, and professor of euphonium at the Hartt School.
As a performer with the tuba and euphonium quartet Alchemy, Jackson appears annually in northern Germany, presenting solo performances, lecturing at master classes, and conducting brass ensembles. He was principal baritone of the Lexington Brass Band and a featured soloist with the band at the Midwest Clinic International Band and Orchestra Conference in 1997. He has also performed as a soloist with ensembles at the UK, George Mason University, and the University of Connecticut, where he premiered Allen Feinstein's concerto for euphonium and band, "Swimming the Mountain."
Jackson is a former student of Skip Gray, professor of tuba/euphonium at UK.
For more information about the band program at the University of Kentucky, visit their website at www.ukbands.org or call (859) 257-BAND.