Decemberists Share 'The Hazards of Love' with UK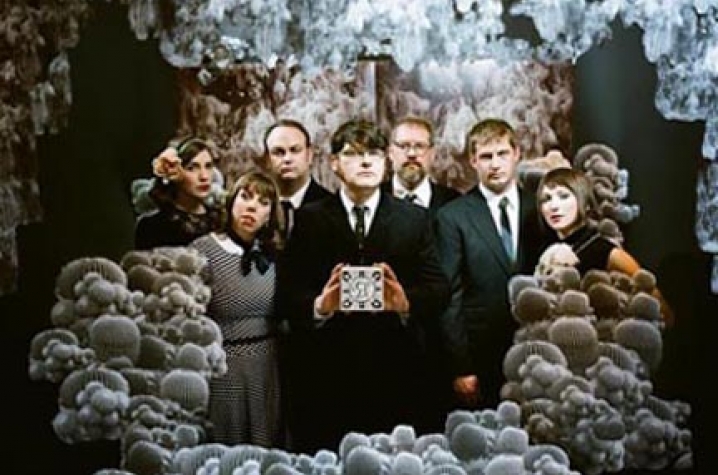 LEXINGTON, Ky. (Sept. 29, 2009) - The Decemberists will bring their hyper-literate pop songs drawn heavily from late-'60s British folk acts to the Bluegrass at 7:30 p.m. Tuesday, October 6, at the Singletary Center for the Arts Concert Hall. The concert featuring the innovative folk-rock group is one of three being presented by the Singletary Center as part of the Alltech Fortnight Festival.
Led by vocalist Colin Meloy, The Decemberists' rock opera sound hit the music scene with their debut album "Castaways and Cutouts" in 2002. The band cracked the Top 40 with their fourth album, "The Crane Wife," which hit No. 35 on the Billboard 200 in 2006. Rounding out the band is Chris Funk on guitars, Jenny Conlee on accordion, John Moen on drums and Nate Query on bass and cello. 
The Decemberists' fifth album, "The Hazards of Love," released in March 2009, began when Meloy – long fascinated by the British folk revival of the 1960s – found a copy of revered vocalist Anne Briggs' 1966 EP, titled "Hazards of Love." Since there was actually no song with the album's title, he set out to write one. Soon, though, he was launched into something much larger than just a new composition. 
"It grew into the idea of creating a suite of songs based on old folk songs," Meloy said. "Building a narrative, piecing together disparate motifs, developing actual protagonists." 
A host of guests are featured on the new album, giving it additional texture and even more of a theatrical feel. Lavender Diamond's Becky Stark and My Brightest Diamond's Shara Worden deliver lead vocals for the album's female characters, while Jim James of My Morning Jacket, Robyn Hitchcock and Rebecca Gates of the Spinanes appear in supporting roles. 
To see a performance from "The Hazards of Love," visit The Decemberists' Web site at www.decemberists.com/#av-room.html. Joining The Decemberists will be special guest Laura Veirs and the Hall of Flames. 
The Decemberists concert is one of three Singletary Center events being presented as part of the Alltech Fortnight Festival. Beginning Sept. 25, the Alltech Fortnight Festival is a 16-day statewide celebration marking the final year leading up to the Alltech FEI World Equestrian Games 2010™. The 2009 Alltech Fortnight Festival line-up will bring entertainment to 11 Kentucky venues, covering all regions of the state of Kentucky. The other two Singletary Center events scheduled as part of this festival include last weekend's Bettye LaVette show and an Oct. 10 concert with Ronan Tynan with the Lexington Philharmonic Orchestra. Ticket prices for The Decemberists concert are based on seating location and range from $30 to $40. A processing fee will be added upon completion of transaction. To purchase tickets, contact the Singletary Center Ticket Office by phone at (859) 257-4929 or online atwww.singletarytickets.com.