'Die Fledermaus' - A Party Not to Be Missed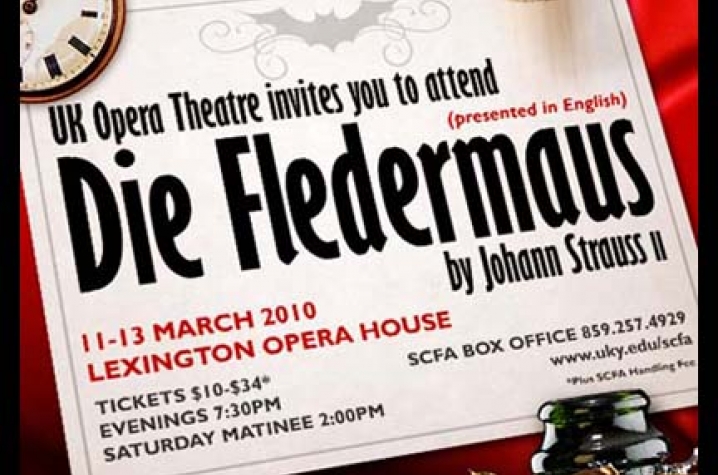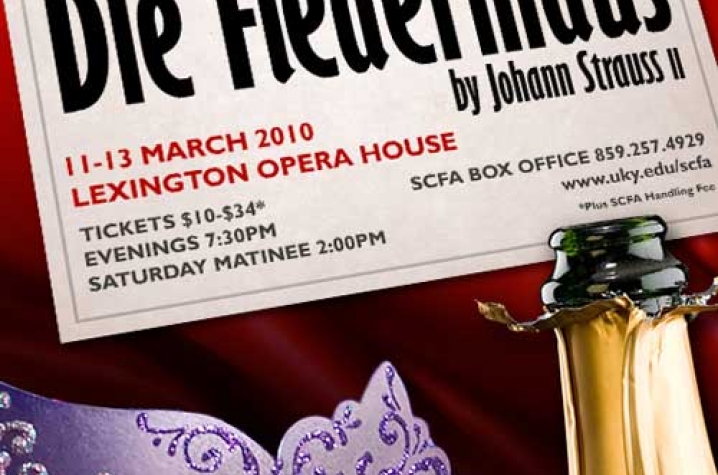 LEXINGTON, Ky. (March 9, 2010) − University of Kentucky Opera Theatre presents one of the world's best loved comedic operas, "Die Fledermaus." UK Opera Theatre will present the fully staged opera by Johann Strauss II, performed in English, March 11-13, at the Lexington Opera House.
The story of "Die Fledermaus" centers around playboy Gabriel von Eisenstein, who has been sentenced to a jail term after a run-in with a public official. Eisenstein pushes off serving his sentence a night for one last hurrah after he is invited to Prince Orlofsky's masked ball, a party not to be missed. But unbeknownst to Eisenstein, his wife, Rosalinde, has also made plans to take advantage of his absence and decides to attend.
Written in 1874 by "Waltz King," Johann Strauss II, "Die Fledermaus" was the product of a household name in music, who was considered the toast of the town.
"His orchestra was in demand across Europe, where he would play concerts in grand ballrooms so people could dance the night away, not unlike the great orchestras of the Big Band era of the late 1930s and 40s," says Richard Kagey, director of the UK production. "'Die Fledermaus' reflects his familiarity with this party scene."
The second act transports audiences to a party thrown by the Russian nobleman Orlofsky. The party depicted by Strauss is not much different from today's society events featured in Internet blogs and entertainment magazines with modern-day "royalty" hobnobbing alongside gate-crashing imposters.
But, the glamorous life in "Die Fledermaus" is just one of the reasons that audiences remain intrigued today with the opera.
"The story is accessible and familiar, which also helps. But it is the music that really makes this work timeless," adds Kagey. "In his lifetime the work was thought of as fluff and was often performed as "pop" music. It wasn't until the young conductor/composer Gustav Mahler started adding Strauss's music to his concerts that the critics began to realize the genius of the score."
The opera will also feature the UK Symphony Orchestra under the direction of John Nardolillo, as well as special guests stars from the local Lexington community who have been invited to make special guest appearances at the "party" of Prince Orlofsky.
To check out an ad for "Die Fledermaus" and listen to why Everett McCorvey, director of UK Opera Theatre, thinks this production is one that the entire family will enjoy on the University of Kentucky YouTube channel at: www.youtube.com/watch?v=9M5eMPCa7wE.  
Ticket prices for "Die Fledermaus" range from $10 to $34 for reserved seating. Performances begin nightly at the Lexington Opera House at 7:30 with a 2 p.m. matinee offered on Saturday, March 13. To purchase tickets, contact the Singletary Center Ticket Office at (859) 257-4929 or visit online at www.singletarytickets.com,
 
For more information on "Die Fledermaus," visit the UK Opera Theatre Web site at www.uky.edu/FineArts/Music/Opera.