Flatfoot Dance, Old Time Music Fill Niles Gallery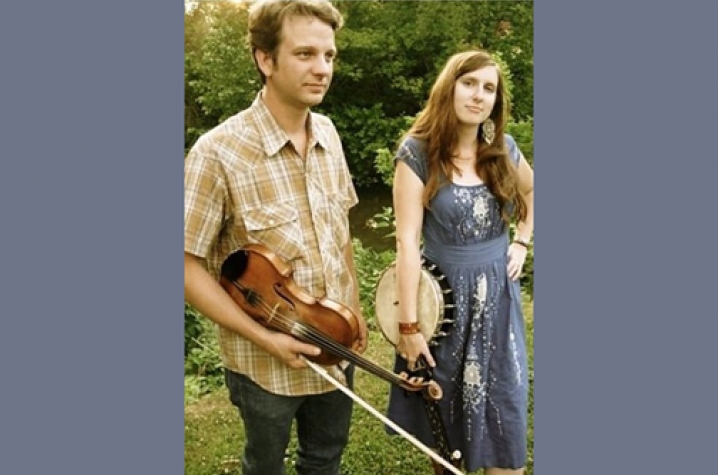 LEXINGTON, Ky. (Nov. 2, 2010) − The UK John Jacob Niles Center for American Music welcomes award-winning musical duo Adrian Powell and Julie Shepherd-Powell to campus to perform as part of the concert series "Appalachia in the Bluegrass." The duo will perform old time fiddle and banjo music tied to southwest Virginia, western North Carolina and southeast Kentucky. The concert, which is free and open to the public, is scheduled for noon Friday, Nov. 5, in the Niles Gallery, located in the Lucille C. Little Fine Arts Library and Learning Center. 
Fiddler Adrian Powell, a Crimora, Va. native, has won contests at fiddlers' conventions all throughout the Southeast. Most recently, Powell and his band the Cabin Creek Boys took first place in the Old Time Band competition at the 2008 Old Fiddlers' Convention in Galax, Va. In addition to the Cabin Creek Boys, Powell also plays with the musical groups Pea Ridge Ramblers and Matt Kinman's Old Time Serenaders.
To watch a video of Adrian Powell performing with the Cabin Creek Boys, visit YouTube online at www.youtube.com/watch?v=XB6h6RTykKs.
Julie Shepherd-Powell is an award-winning clawhammer banjo player and flatfoot dancer. When she isn't competing in flatfoot dance competitions at fiddler conventions throughout the southeast, she plays with the Letcher County band Rich and the Po'Folks.
Outside of performing, Shepherd-Powell has taught classes in beginning and advanced old time banjo playing at Mountain Empire Community College in Big Stone Gap, Va. Although she is originally from North Carolina, she currently lives in Lexington as she works toward a doctorate in anthropology at the University of Kentucky.
To watch a video of Julie Shepherd-Powell presenting flatfoot dancing, visit YouTube online at www.youtube.com/watch?v=8bK2oJJgJ38.
The "Appalachia in the Bluegrass" concert series celebrates the old time roots of American Folk music by featuring a diverse range of traditional musical expression. The concert series illustrates the many faces of the Bluegrass' indigenous American Folk music, from the authentic old time sound of mountain banjo player Lee Boy Sexton to the blues-infused style of Sparky and Rhonda Rucker. The Niles Center is a collaborative effort of the UK School of Music, UK College of Fine Arts and UK University Libraries. 
This year's series is made possible with support from the Office of the Provost and the Appalachian Studies Program.
 For more information on the Adrian Powell and Julie Shepherd-Powell concert or the "Appalachia in the Bluegrass" concert series, contact Ron Pen, director of the Niles Center by e-mail to Ron.Pen@uky.edu or visit online at www.uky.edu/FineArts/Music/Niles