Jazz Alumni Make 'Spectacular' Return to UK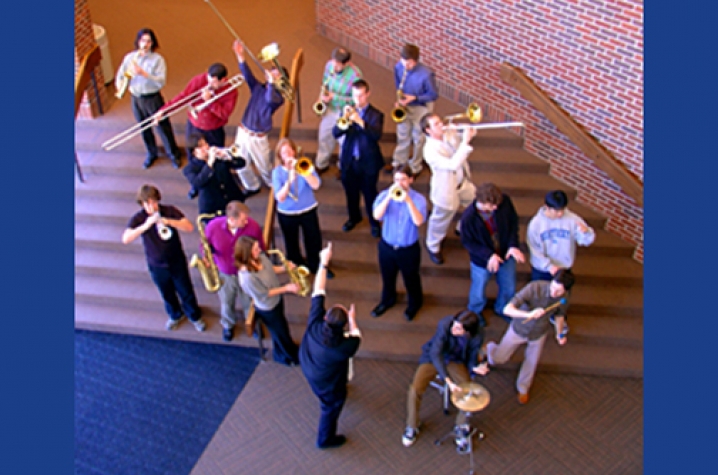 LEXINGTON, Ky. (Oct. 11, 2010) − More than 50 University of Kentucky jazz alumni from across the nation will return to campus for the UK Alumni Jazz Band Spectacular, scheduled for 3 p.m. Sunday, Oct. 17, in the Singletary Center for the Arts Concert Hall. The concert, which is free and open to the public, will feature the UK Alumni "Blue" Big Band, directed by Miles Osland; the UK Alumni "White" Little Big Band, directed by Raleigh Dailey; the UK Alumni "Blue & White" Big Band, directed by guest conductor Vince DiMartino; as well as the UK Jazz Ensemble, directed by Osland, and the Osland/Daily Jazztet.
The concert will kick off the UK Jazz Ensemble's fundraising efforts as they prepare for a European tour in summer 2011. The ensemble, accompanied by the Osland/Dailey Jazztet, will tour France, Switzerland and the Netherlands performing at the world's most prestigious jazz festivals, including North Sea, Montreux and Jazz à Vienne.
Under the direction of Miles Osland, the UK Jazz Ensemble has toured the Midwest and South, performing in Chicago, Cincinnati, Dayton, Columbus, Louisville, Notre Dame, Tennessee and Georgia. The group has also performed at the International Association of Jazz Educators Conference and the Midwest International Band and Orchestra Clinic. 
 
When the ensemble isn't on the road, the group is active in the recording studio. Five recordings from the jazz studies department have been recommended for Grammy nominations, and have also received four-star reviews from DownBeat magazine. To quote one review: "The UK Jazz Ensemble characterizes the best of today's college band output."
The Osland/Dailey Jazztet also is comprised of UK talent. The group is made up of UK faculty members Miles Osland playing the saxophone and flute, Raleigh Dailey on piano, Danny Cecil on bass, and Paul Deatherage on the drums. To listen to the Osland Dailey Jazztet play "Beulah Road" by Dailey, visit the UK School of Music YouTube Channel at www.youtube.com/watch?v=ouJMSQY2Sns.
The concert is free, but donations toward the European tour will be accepted at this event.
For more information about the UK Alumni Jazz Band Spectacular, contact Miles Osland by phone at (859) 257-8173 or e-mail to miles.osland@uky.edu.