Marimba Artist to Immerse Audience in 3-D Sound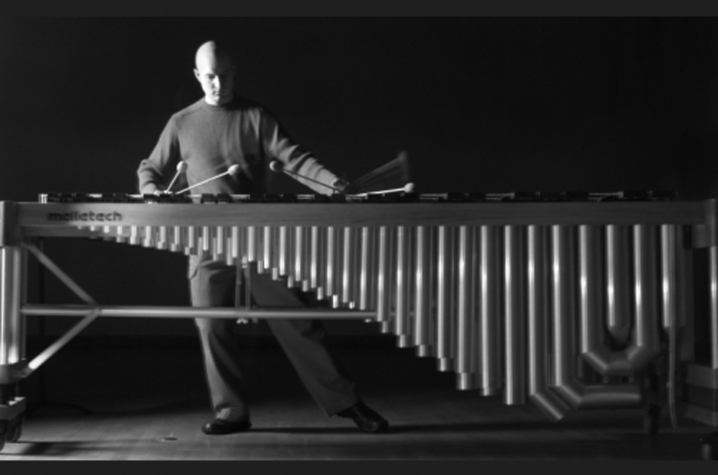 LEXINGTON, Ky. (Sept. 3, 2010) − Musician/composer Nathaniel Bartlett will present a free public concert at 7:30 p.m. Wednesday, Sept. 8, at the University of Kentucky Singletary Center for the Arts Concert Hall. Bartlett's performances are known for seamlessly melding a five-octave acoustic marimba with electronics, a powerful custom computer, and an eight-channel cube of loudspeakers. With the audience positioned in the center of the cuboid loudspeaker array, a three-dimensional sound field can be projected into the audience space, totally immersing listeners.
In Bartlett's music the positioning and movement of sounds in physical space, resulting in kinetic audio sculptures, is a central musical parameter. The three-dimensional sound field is enriched by the use of high-definition audio (superior to CD-quality audio), which allows for a significant increase in sonic nuances. In his setup, a dual-display computer monitor has replaced the music stand. The music notation, now free from the physical realm, can be totally integrated in real time with the audio parameters of the music.
In 2006, Bartlett's debut solo album was released on Albany Records. This recording, a hybrid multi-channel super audio CD titled "Precipice," contains new and recent music by living American composers, including commissioned works. Bartlett has performed all across the U.S. in a wide variety of venues, such as art galleries, museums, concert halls, dance spaces, warehouses, lofts, multi-purpose art spaces, and universities and colleges.
For further information on the Nathaniel Bartlett concert, contact James Campbell at (859) 552-7866 or j.b.campbell@uky.edu.