Master of Indian Music to Take Singletary Stage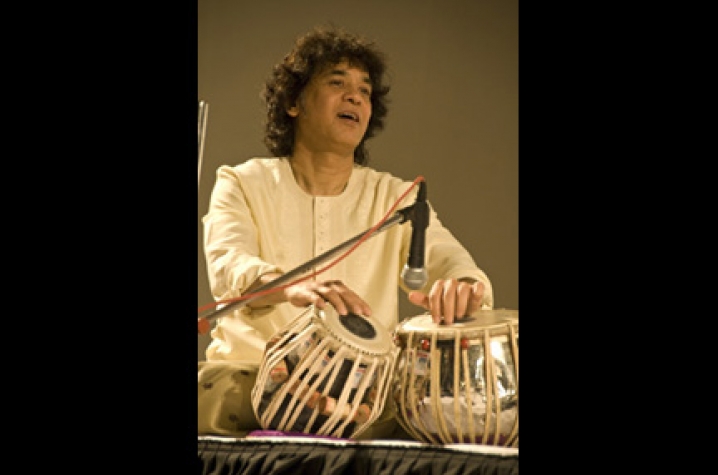 LEXINGTON, Ky. (March 22, 2010) − A true master will tell you he is only a good student. A student of Indian classical music will tell you quite confidently that Ustad Zakir Hussain is a true master. Tabla virtuoso Zakir Hussain will return to the Bluegrass with his "Masters of Percussion" concert featuring Indian classical music. The concert will take the stage at 7:30 p.m. Thursday, March 25, at the University of Kentucky Singletary Center for the Arts Concert Hall.    
Zakir Hussain is today appreciated both in the field of percussion and in the music world at large as an international phenomenon. A child prodigy, Hussain was touring by the age of 12, as the gifted son of his great father, tabla legend Ustad Allarakha. He came to the United States in 1970, embarking on an international career which includes no  less than 150 concert dates a year.
A classical tabla virtuoso of the highest order, Hussain's performances have not only established him as a national treasure in his own country, India, but earned him worldwide fame. His playing is marked by uncanny intuition and improvisational dexterity, founded in formidable knowledge and study. His talents have made him a favorite accompanist for many of India's greatest classical musicians and dancers.
Widely considered a chief architect of the contemporary world music movement, Hussain's contribution to world music has been unique, with many historic collaborations including the band Shakti, which he founded with John McLaughlin and L. Shankar in the early 1970s, as well as recordings and performances with artists as diverse as George Harrison, Joe Henderson, Van Morrison, Airto Moreira, Giovanni Hidalgo, Pharoah Sanders, Billy Cobham, Rennie Harris and the Kodo drummers of Japan. Hussain's work also garnered the artist the distinct honor of co-composing the opening music for the Summer Olympics in Atlanta in 1996.
To listen to music by Hussain or to see a video clip of him on "The Charlie Rose Show," visit his Web site at: http://zakirhussain.com/.
Touring with Hussain for the "Masters of Percussion" concert are: Taufiq Qureshi, on various percussion instruments; violin duo Ganesh and Kumaresh; Sabir Khan, on sarangi; Sridar Parthasarathy, on mridangam; Navin Sharma, on dholak; and the Motilal Dhakis from Bengal.
Tickets for the Zakir Hussain's "Masters of Percussion" concert are based on seating location and range from $35 to $25. A processing fee will be added upon completion of transaction. Tickets can be purchased through the Singletary Center Ticket Office at (859) 257-4929, online at www.singletarytickets.com, or in person at the ticket office.