MSU Old Time String Band Keeps It Traditional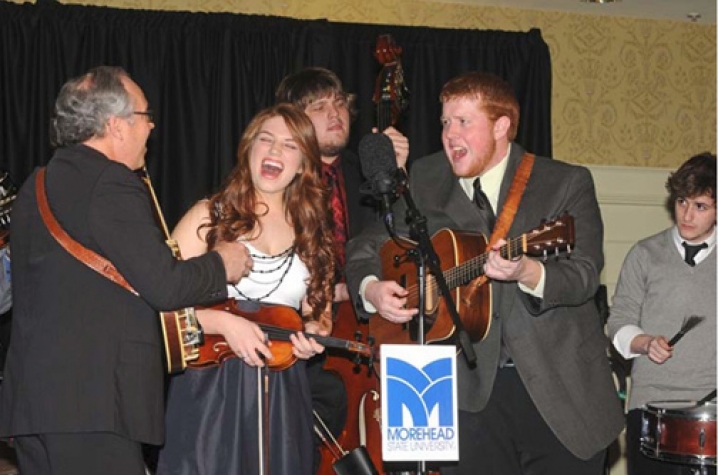 LEXINGTON, Ky. (Nov. 16, 2010) − Morehead State University's Old Time String Band will perform and share what they have learned and appreciate about mountain music in the next "Appalachia in the Bluegrass" concert. The Old Time String Band concert, which is free and open to the public, is scheduled for noon Friday, Nov. 19, in the Niles Gallery, located in the University of Kentucky Lucille C. Little Fine Arts Library and Learning Center.  
The Old Time String Band would not be possible without the Sounds of Our Heritage Outreach program at the Kentucky Center for Traditional Music at Morehead State University (MSU). The center houses not only the outreach program, but also the university's Traditional Music Program and Traditional Music Archives.
MSU's Traditional Music program is among the fastest growing academic traditional music programs at any school of higher education. MSU supports a unique environment where students have an opportunity to study this particular cultural tradition.
The Traditional Music Archives contain large collections of traditional music for public access. The digital and audio files include examples of traditional Appalachian music and culture, such as ballads and songs, fiddle and banjo tunes, old time string band music, traditional and modern bluegrass music, religious preaching, and interviews with performers and church members.
Sounds of Our Heritage Outreach provides performances, presentations, lectures, demonstrations and workshops, all given by the Kentucky Center for Traditional Music faculty. The outreach program is also home to classes and MSU student bands: the Traditional Music Ensemble, Bluegrass Band, Celtic Band, Old Time Country Band and Old Time String Band. These students perform under the direction of their instructors on the MSU campus, as well as across the region.
Jesse Wells, the Old String Band's director and instructor, was raised in Red Bush, Ky.; he started attending fiddler's conventions and festivals at a young age due to the influence of his father, Jaime Wells, an old time fiddler. Skilled on fiddle, banjo, guitar and mandolin, Wells has performed with the Clack Mountain String Band, as well as Kentucky Wild Horse, the Dirk Powell Band and Midnight Call with Don Rigsby. He has taught workshops at the Cowan Creek Mountain Music School, the Festival of American Fiddle Tunes, Appalshop and the Old Town School of Folk Music. Wells currently lives in Morehead, where he works as an archivist and professor of traditional music of MSU's Kentucky Center for Traditional Music. In addition, Wells hosts the weekly radio show "Pickin' Parlor" on Morehead State Public Radio.
To listen to a sample of MSU's Old Time String Band, visit YouTube online at www.youtube.com/watch?v=B-RfCL4l_HQ.
The annual "Appalachia in the Bluegrass" concert series, presented by UK's John Jacob Niles Center for American Music, explores and celebrates traditional music of the Appalachian region. A variety of traditional Appalachia music has been represented through the past few years; from old time sounds of a mountain banjo player to blues-infused styles of music. This year's concert series focuses on different types of American folk music celebrating its roots in old time music. The Niles Center is a collaborative research and performance center of the UK College of Fine Arts, UK School of Music, and UK Libraries.
This year's concert series is also sponsored by the Office of the Provost and the Appalachian Studies Program.
For more information on the Morehead State University Kentucky Center for Traditional Music Old Time String Band concert or the "Appalachia in the Bluegrass" concert series, contact Ron Pen, director of the Niles Center by e-mail to Ron.Pen@uky.edu or visit online at www.uky.edu/FineArts/Music/Niles.