New Classical Music the Focus of Upcoming Festival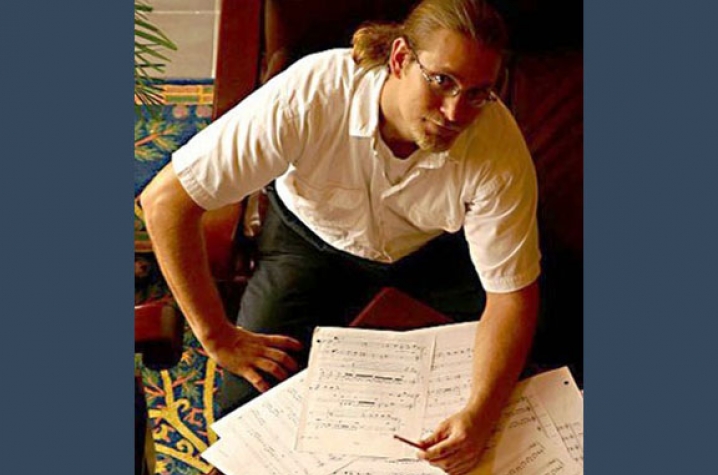 LEXINGTON, Ky. (Oct. 14, 2010) − New classical music will be revealed at the Fourth Annual Kentucky New Music Festival presented by the University of Kentucky School of Music. The festival will begin Sunday, Oct. 17, and continue through Sunday, Oct. 24, at the university. All of the festivities will be free and open to the public.
"The Fourth Annual Kentucky New Music Festival continues to facilitate the promotion and creation of new classical music in the Central Kentucky area as was my goal when I organized the first in 2007," said Adam Sovkoplas, a graduate student studying composition at UK and organizer of the event.
This year's festival consists of six concerts and a lecture. The conference will open with the Kentucky Composers Invitational Concert. It will feature works by composers currently living and working in Kentucky, including: Daniel Arnold, a pianist and UK graduate student; Joe Baber, a professor of composition at UK School of Music; Jeremy Beck, a Louisville composer known as a dramatic and lyrical composer of works for varying orchestral, chamber and vocal forces; Louisville composer Daniel Gilliam; Gerald Janecek, a professor of Russian at UK, who has been composing since the 1960s in a neo-baroque style; and Sovkoplas. The Kentucky Composers Invitational Concert will take place at 7:30 p.m. Sunday, Oct. 17, in the Singletary Center for the Arts (SCFA) Recital Hall.
On tap for Monday is a jazz concert by the Raleigh Dailey Trio. The group will perform new compositions and improvisations for a jazz piano trio. The trio features Danny Cecil, on double bass; Paul Deatherage, on percussion; and Dailey, an assistant professor or jazz studies for UK School of Music, on piano. This concert will begin at 7:30 p.m. Monday, Oct. 18, at the SCFA Recital Hall.
A Modern Classics Concert will be presented at 7:30 p.m. Tuesday, Oct. 19, in the SCFA Recital Hall. This concert will feature UK students and faculty performing their favorite works written within the last 100 years.
On Thursday, the conference will present the "60x60 (2010 Magenta Mix) Electronic Music Concert" featuring 60 one-minute electronic works by 60 different composers played back-to-back for a one hour concert. The program will also include a work by UK's Sovkoplas. This concert is scheduled for 6 p.m. Thursday, Oct. 21, at the Niles Gallery, located in the Lucille C. Little Fine Arts Library and Learning Center.
Saturday's festivities will include a lecture and a concert. The lecture, "Visibly Inspired: Translating the Visual into Music," will be presented by composer Ronald Keith Parks at 5:30 p.m. Saturday, Oct. 23, in the Niles Gallery of the Little Fine Arts Library. Parks has written for and been commissioned by Duo XXI, Charlotte Civic Orchestra, Out of Bounds Ensemble, NeXT Ens, Force of Nature, SC Music Teachers Association, North Carolina School of the Arts Symphony, and the International Music Program. His compositions have been performed in numerous venues throughout North and South America, Europe, Australia, and Asia. Parks' research on computer music techniques has been widely disseminated. An Aaron Copland Award winner, his music is available on the EMF, Vox Novus, and ERM labels. Parks is currently an associate professor of music at Winthrop University.
Following the lecture, a concert by the Out of Bounds Ensemble will be staged at 7:30 p.m. Saturday, Oct. 23, at the SCFA Concert Hall. The Out of Bounds Ensemble was formed in 2007 in order to bring new and established contemporary chamber music to a wider audience. Building on years of experience performing contemporary music, pianist and theorist Tomoko Deguchi forged the ensemble by bringing together composers Parks and Craig Bove, pianist and composer Leonard Mark Lewis, and conductor and tuba player Geoff Whitehead. Out of Bounds Ensemble has been appointed as Ensemble in Residence at Winthrop University in Rock Hill, S.C., and at Central Piedmont Community College in Charlotte, N.C. The mission of the Out of Bounds Ensemble is to present professional quality performances of established, seminal works of the 20th and 21st centuries and to commission and perform new works by regional composers.
Rounding out the conference is a concert on the New Ranks of Organ Music. The program will feature 20th and 21st Century works composed for organ performed by students of the UK organ studio, in addition to local members of the American Guild of Organists. Nine compositions were selected from more than 60 entries from 35 composers in 23 states for this concert scheduled for 7:30 p.m. Sunday, Oct. 24, at the SCFA Concert Hall.
For more information on the Fourth Annual Kentucky New Music Festival, contact Adam Sovkoplas at A.Sovkoplas@uky.edu.