Opera Star Angela Brown Joins UK 'Porgy and Bess'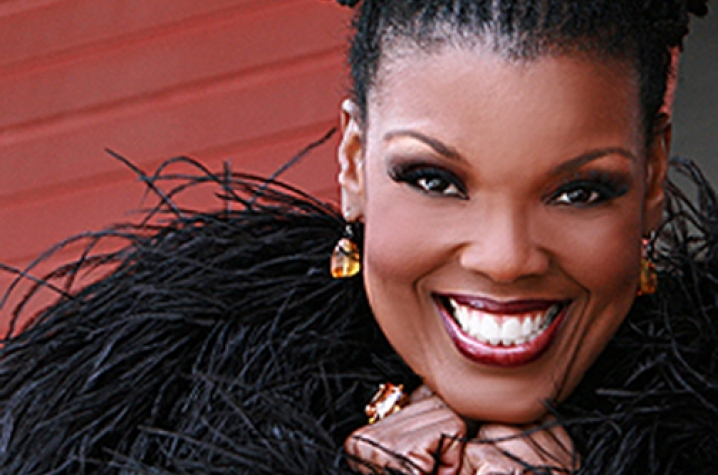 LEXINGTON, Ky. (Feb. 4, 2011) − Opera sensation Angela M. Brown will grace the Singletary Center for the Arts stage this Sunday as she performs the role of Bess in the University of Kentucky Opera Theatre's last performance of "Porgy and Bess." The noted soprano's appearance alongside vocalists from UK, the American Spiritual Ensemble and the Kentucky State University Choir will begin a 2 p.m. Sunday, Feb. 6, in Singletary Center's Concert Hall.
"We are delighted to have Ms. Brown coming to sing this special performance of 'Porgy and Bess,'" says Everett McCorvey, director of UK Opera Theatre. "Ms. Brown was a member of the American Spiritual Ensemble prior to her amazing debut as Aida at the Metropolitan Opera. She is such a giving performer. When I asked her to consider singing a performance of Bess, she had only one date available but immediately agreed to come and sing. It has been a wonderful experience for our students to have her here along with the other professional performers from the American Spiritual Ensemble in the production."
The Sunday performance with Brown will also feature baritone Kenneth Overton singing the role of Porgy, Keith Dean singing the role of Crown, Sabrina Elayne Carten singing the role of Serena and Larry Hylton singing the role of Sporting Life.
Brown burst onto the global stage with her debut performance of "Ada" at the Metropolitan Opera in 2004. The New York Times featured the artist on its front page exclaiming "At last an Aida," and similar rave reviews rolled in from the Associated Press; "CBS Evening News"; O, The Oprah Magazine; Essence; Ebony; Classical Singer; Reader's Digest and Psychology Today.
In 2005, Brown created the role of Cilla for the world premiere of "Margaret Garner," a new opera by Richard Danielpour and Toni Morrison. She performed this role for all three commissioning companies: Michigan Opera Theatre, Cincinnati Opera and Opera Company of Philadelphia. In 2007, Brown joined the Pittsburgh Symphony to sing the world premier of the song cycle, "A Woman's Life," written for her by composer Richard Danielpour and author Maya Angelou.
Brown returned to the Metropolitan Opera to sing the 2007 season premiere and fall performances of "Aida" and the 2008 spring performances of Amelia in "Un Ballo in Maschera." In 2008, the vocalist was chosen by the Library of Congress as the featured soloist for the National Celebration of the Bicentennial of Abraham Lincoln. In fall 2009, Brown received the Governor's Arts Award from the Governor of Indiana, a Spirit of the Prairie Award from Conner Prairie, and was inducted into the Indianapolis Public Schools Hall of Fame.
A trailblazer on a mission to bring operatic and classical vocal performance to a diverse audience, Brown created her recital program "Opera from a Sistah's Point of View" to dispel the myths of opera through lively commentary on opera plots and characters, show-stopping arias, poignant art songs and moving spirituals. A noted interpreter of African-American spirituals, the vocalist produced "Mosaic," a collaborative recording featuring spirituals with guitar and piano, in 2004 for Albany Records. Brown has also guest starred on "A Prairie Home Companion with Garrison Keillor" radio show in June 2009 and sang in Shanghai at the World Expo 2010 as a guest of USA Pavilion and the U.S. Consulate.
In the last two seasons alone Brown has performed with the Hamburg Opera, Vienna State Opera, Atlanta Symphony Orchestra, New Jersey State Opera, The Mann Center, Cincinnati Opera, East Texas Symphony Orchestra, Huntsville Chamber Music Guild, The Longfellow Chorus, Buffalo New York Public School System, Oberlin Conservatory, Riverside Symphonia, Cape Town Opera, the Latvian National Symphony, Birmingham Symphony Orchestra, Southwest Michigan Symphony, Deutsche Oper Berlin, The Atlanta Opera, Carnegie Hall, National Opera of Paris, Cleveland Orchestra and Philadelphia Orchestra, among others.
A 1997 National Metropolitan Opera Council Auditions winner, Brown received her bachelor's degree in voice from Oakwood College in Huntsville, Ala. She attended the Indiana University School of Music. Brown received the Indiana University African American Arts Institute's inaugural Herman C. Hudson Alumni Award in 2006, given annually to recognize outstanding contributions made in the arts by former members of the institute. The artist is featured in "Nineteen Stars of Indiana," a book by Michael S. Maurer about 19 living Hoosier women with successful and inspirational life stories.
The acclaimed American folk opera "Porgy and Bess" was first performed in 1935 with music by George Gershwin, libretto by Dubose Heyward, and lyrics by Ira Gershwin and DuBose Heyward. Set in fictitious Catfish Row in Charleston, S.C., in the early 1920s, the opera follows Porgy, a disabled black beggar living in the slums, in his attempts to rescue Bess from Crown, a violent and possessive lover, and Sportin' Life, a local drug dealer. Popular songs from the opera include "Summertime," "It Ain't Necessarily So" and "I Loves You Porgy."
UK Opera Theatre's production, directed by Lemuel Wade, has only three performances remaining at 7:30 p.m. Friday and Saturday, Feb. 4 and 5, and Brown's performance at 2 p.m. Sunday, Feb. 6. The UK production also debuts new scenic projection technology developed by the UK Center for Visualization and Virtual Environments. UK Symphony Orchestra will perform under the direction of John Nardolillo.
The Vis Center's new innovative high-definition projection technology, originally developed for non-theatrical use, is being used for the first time in a theatrical setting for the UK production, and then will travel to The Atlanta Opera for performances of the opera Feb. 26-March 6. This will be the first professional opera company to use this technology.
Ticket prices for UK Opera Theatre's production of "Porgy and Bess" range from are $45 for general admission; $40 for UK faculty/staff and senior citizens; $15 for students; and $10 for children under 12. A handling fee will be added upon transaction. Tickets can be purchased from the Singletary Center Ticket Office in person, by phone at (859) 257-4929, or online at www.singletarytickets.com.