Pink Martini to Mix It Up With UK Symphony Orchestra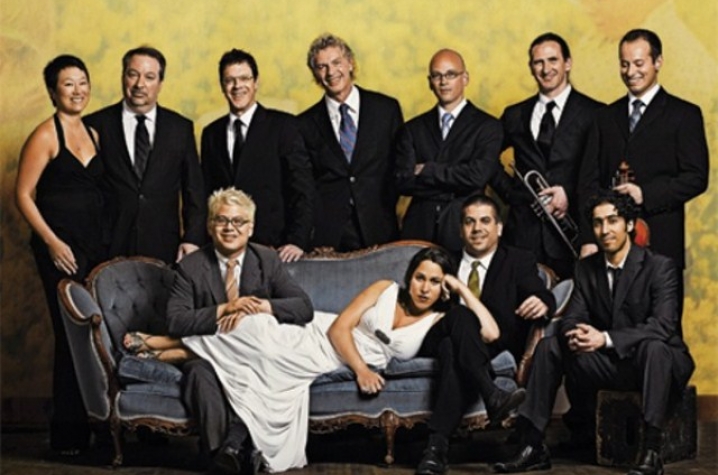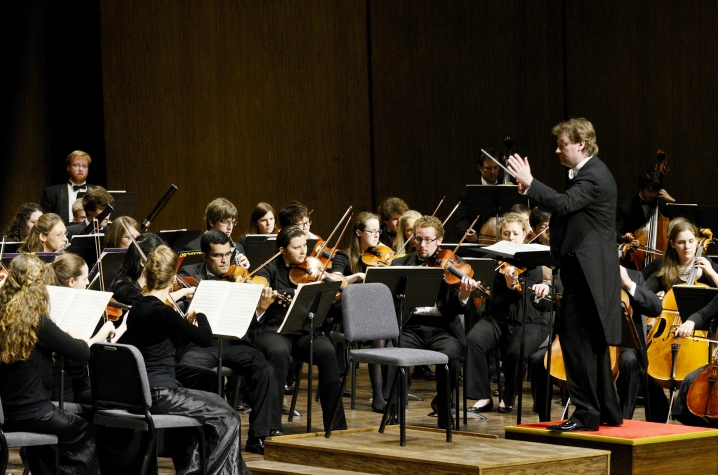 LEXINGTON, Ky. (Dec. 5, 2011) − Mark your calendars for a special evening of entertainment featuring "pop orchestra" Pink Martini and the University of Kentucky Symphony Orchestra at the Singletary Center for the Arts. The concert will also include performances by NPR White House correspondent and occasional guest singer Ari Shapiro and indie rock artist Storm Large. The concert will begin at 7:30 p.m. Saturday, Dec. 10, in the Singletary Center Concert Hall.
Pink Martini, the "little orchestra," was founded by Thomas Lauderdale, bandleader and pianist, in Portland, Ore., in 1994. Lauderdale met China Forbes, Pink Martini's lead vocalist, at Harvard University where they bonded over their love of singing arias by Giacomo Puccini and Giuseppe Verdi and the occasional campy Barbara Streisand cover. Song-writing began soon after, and their first song, "Sympathique," became an overnight sensation in France. The group's debut song went on to be nominated for Song of the Year and Best New Artist at France's Victories de la Musique Awards in 2000.
All 12 members of Pink Martini come from multicultural families, studying different languages, as well as different styles of music from all parts of the globe. And, the group's sound is just as diverse as its members. Pink Martini is comprised of two percussionists, who spend a lot of time in Brazil; another percussionist, who grew up in Peru; a German speaking trombone player, who studied with the brass section of the Chicago Symphony and likes Miles Davis; a singer, who studied French and Italian and sings in 15 different languages; and a cellist, who speaks Mandarin.
"The overarching goal is to create a cohesive body of beautiful songs with beautiful melodies. And then it all just extends outward from there," said Lauderdale. "Because the interests of the band are so diverse, there are endless ideas. On a bad day it can just seem all too dizzying."
The band performs its multilingual repertoire on concert stages and with symphony orchestras throughout Europe, Asia, the Middle East, Northern Africa, Australia and New Zealand, and North America.
Along with debut album "Sympathique," Pink Martini released "Hang On Little Tomato" in 2004 and "Hey Eugene!" in 2007. All three albums have gone gold in France, Canada, Greece and Turkey, and have sold more than two million copies worldwide. More recently, the band released "Joy to the World" in 2010 and "A Retrospective" in 2011. Just last month, the group released their latest CD, "1969," with Saori Yuki. The album is a tribute to the music released in 1969.
To listen to a sample of music by Pink Martini, visit the band's website at http://pinkmartini.com/audio/index.html
The UK Symphony Orchestra, under the direction of John Nardolillo, presents 10 or more performances each season including symphonic concerts, operas, major works with choirs, and the Concerto Competition concert. Since Nardolillo's arrival at the UK School of Music, the orchestra has performed on prestigious stages at the Kennedy Center and Carnegie Hall, and shared the stage with such acclaimed international artists as Arlo Guthrie, Lynn Harrell, Gil Shaham, Mark O'Connor, Sarah Chang, Marvin Hamlisch and Itzhak Perlman. Earlier this fall, UK Symphony Orchestra performed with the Boston Pops in a side-by-side concert at Rupp Arena. UK Symphony Orchestra is one of a very select group of university orchestras under contract with Naxos, the world's largest classical recording label.
In 2009, Ari Shapiro made his singing debut performing with Pink Martini at the Hollywood Bowl and he has performed live with them frequently ever since. Shapiro recorded the song "But Now I'm Back" with the band on their fourth album, "Splendor in the Grass." A White House correspondent for NPR by day, he recorded two songs for Pink Martini's holiday album, "Joy to the World," in 2010.  
 
Singer/performer Storm Large               has been singing around the globe for more than 15 years. She earned an associate's degree from the American Academy of Dramatic Arts in New York City. Large made her debut with Pink Martini in April 2011. She has sung four sold-out concerts with the National Symphony Orchestra at the Kennedy Center in Washington D.C. This summer, she has appeared throughout the United States including performances at Central Park's Summerstage and with the Minnesota Orchestra. Large has made guest star appearances on at least a dozen albums.
To listen to a sample of Large's music, visit her website at http://stormlarge.com/music/.
A part of the UK College of Fine Arts, the Singletary Center for the Arts presents and hosts around 400 artistic, cultural and educational events annually for the university community, Lexington community and the Commonwealth of Kentucky.
Tickets prices for the Pink Martini concert with UK Symphony Orchestra are based on seat location and are on sale now. Prices range from $45 to $65. There is also a special rate for UK alumni that ranges from $40 to $60. Tickets can be purchased by calling the Singletary Center ticket office at (859) 257-4929, visiting online at www.singletarytickets.com , or in person at the venue.
MEDIA CONTACT: Whitney Hale, (859) 257-8716 or whitney.hale@uky.edu