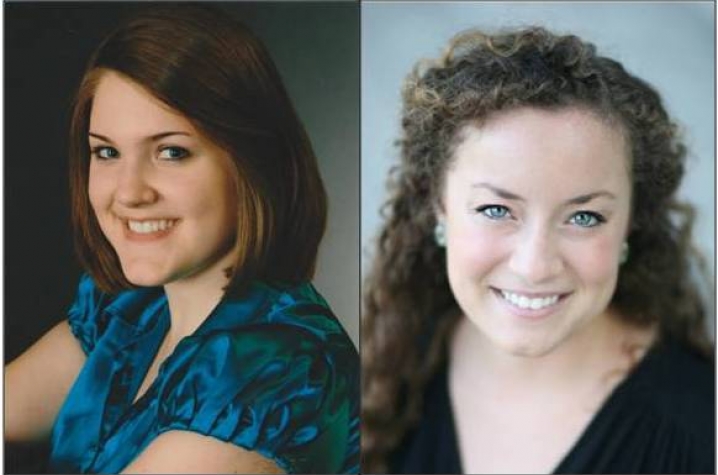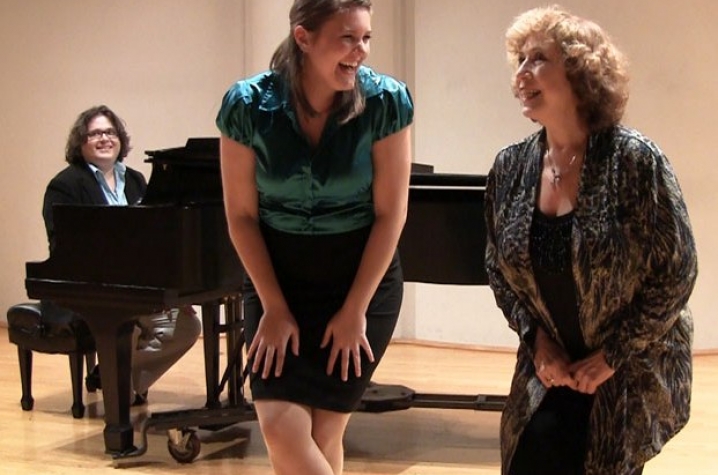 LEXINGTON, Ky. (Aug. 11, 2010) − After short vacations, two rising music performance juniors at the University of Kentucky have been singing their summers away, literally. Selected to participate in two of the nation's most prestigious vocal training programs, Rebecca Farley, who attended the International Vocal Arts Institute (IVAI), and Rachel Sterrenberg, who is in her seventh and final week of training at Chautauqua Music Festival, continue to build on the work they have done as vocal students at UK School of Music.
It is not surprising that Farley and Sterrenberg were selected as undergraduates to participate in such noted training programs. Before arriving at UK, Farley was among the award winners in the 2008 William E. Schmidt Youth Vocal Competition. That same year, Sterrenberg took home the first place undergraduate award in the Alltech Vocal Scholarship Competition.
Farley was selected to attend IVAI based on her resume and two aria recordings. Founded in 1986 by Metropolitan Opera Assistant Conductor Joan Dornemann and Metropolitan Opera Conductor Paul Nadler, IVAI presents three summer programs annually. Farley completed her two-week training program in early July, in Blacksburg, Va. This year Blacksburg joined Montreal and Tel Aviv as a host city.
As one of a select group of vocalists from around the globe at IVAI, Farley took part in daily lessons in technique, acting, foreign language diction, and musical style. 
Farley was excited to attend and work with such noted masters in the field of opera. "As part of the institute, I was fortunate to get to work with famous teachers, such as Sherrill Milnes and Ruth Falcon," said the soprano. "I also got to participate in a masterclass with Joan Dornemann, a coach and prompter at the Metropolitan Opera in New York and co-founder of the program."
During her training, Farley also performed two songs in IVAI's English Heritage concert, which included English art songs and Broadway selections. 
A native of Henderson, Ky., and 2008 graduate of Henderson County High School, Farley is the daughter of Bruce and Patricia Farley. Since coming to UK, she covered the role of Pamina and sang in the chorus of the university's undergraduate production of Mozart's "The Magic Flute." This fall she will be singing in the chorus of UK Opera Theatre's opening production of the season, Giacomo Puccini's classic "La Bohème."
To participate in the Chautauqua Music Festival, Sterrenberg had to endure an audition process. After applying last fall, she competed against approximately 50 singers at one of five different auditions held around the country.
The Chautauqua Institution Voice Department is a seven-week intensive educational program that seeks to offer the highest caliber of training for the young singer, 18 and older. Under the leadership of Marlena Kleinman Malas, a select group of singers participate in voice lessons, role preparation, diction classes and vocal coachings are guided by a full-time staff of voice teachers, coaches and a resident stage director, along with numerous guest artists, who specialize in song literature, opera repertoire, technique or languages.
Sterrenberg relishes the opportunity to continue her studies. "I think it is important to go out in the summers and further what you are doing during the school year. Meeting new people is very important in the music business as well: connections are everything," says the vocalist.
As part of the training program, Sterrenberg is performing in mainstage productions of "La Bohème" and Mozart's "The Marriage of Figaro."
Hailing from Madison, Ga., Sterrenberg is a 2008 graduate of Athens Academy and the daughter of Mary and Todd Sterrenberg. Since coming to UK, Sterrenberg debuted the role of Dana Kelso in the premiere of the Lincoln opera "River of Time" and was First Lady in the undergraduate production of the "The Magic Flute." This fall she will be covering the role of Musetta for "La Bohème."
After their studies, Farley and Sterrenberg plan to pursue careers as vocalists.