Star Composer Marvin Hamlisch 'Pops' into Town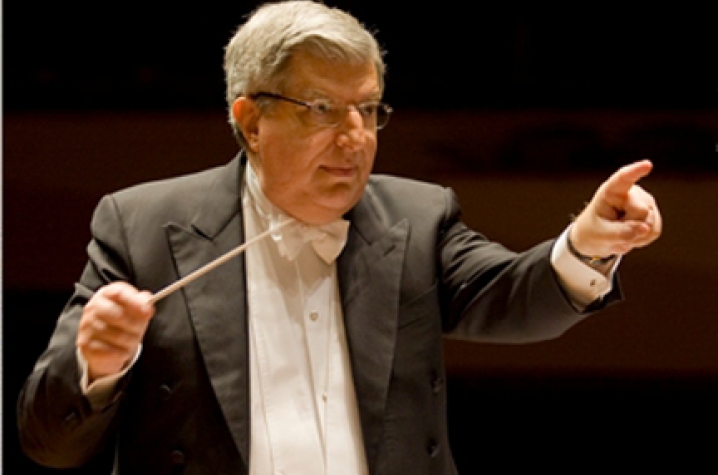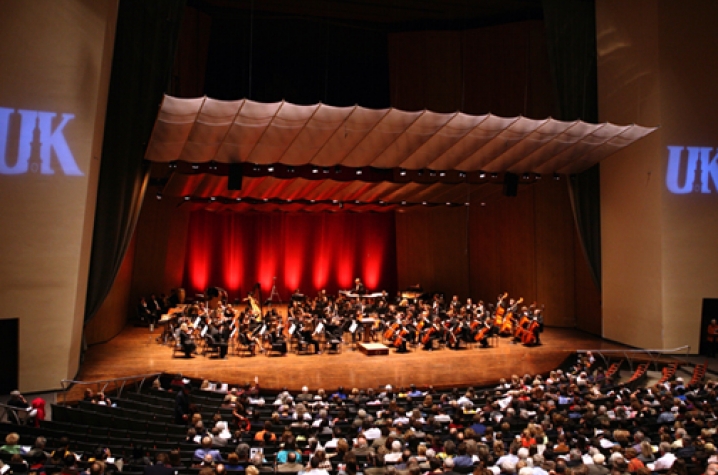 LEXINGTON, Ky. (Sept. 29, 2010) − Award-winning composer and pops conductor Marvin Hamlisch, is recognized the world over for his prolific output of film scores. Hamlisch will bring his unparalleled talents to the Singletary Center for the Arts (SCFA), performing with the University of Kentucky Symphony Orchestra and vocalist and Broadway performer J. Mark McVey, at 7:30 p.m. Saturday, Oct. 2, in the SCFA Concert Hall. This pops concert is one of several events at Singletary Center presented as part of the Alltech Fortnight Festival during the 2010 Alltech FEI World Equestrian Games.
Marvin Hamlisch's life in music is notable for its great versatility as well as substance. As a composer, Hamlisch has won virtually every major award that exists: three Oscars, four Grammys, four Emmys, a Tony and three Golden Globe awards; his groundbreaking show, "A Chorus Line," received the Pulitzer Prize.
Hamlisch is the composer of more than 40 motion picture scores including his Oscar-winning score and song for "The Way We Were" and his adaptation of Scott Joplin's music for "The Sting," for which he received his third Oscar. His scores for movies include original compositions and/or musical adaptations for "Sophie's Choice," "Ordinary People," "The Swimmer," "Three Men and a Baby," "Ice Castles," "Take the Money and Run," "Bananas," "Save the Tiger" and his latest "The Informant," starring Matt Damon and directed by Steven Soderbergh.
As a conductor, Hamlisch holds the position of principal pops conductor for the National Symphony Orchestra, Pittsburgh Symphony Orchestra, Colorado Symphony Orchestra, Milwaukee Symphony Orchestra, Seattle Symphony and San Diego Symphony.
A graduate of the Juilliard School of Music and Queens College, Hamlisch believes in the power of music to bring people together. "Music can make a difference. There is a global nature to music, which has the potential to bring all people together. Music is truly an international language, and I hope to contribute by widening communication as much as I can."
To listen to a selection of works by Hamlisch, visit the media page on his website at
www.marvinhamlisch.us/?page_id=431. 
Since John Nardolillo became director of the UK Symphony Orchestra, it has enjoyed great success racking up recording credits, performing on prestigious stages at the Kennedy Center and Carnegie Hall and sharing the stage with such acclaimed international artists as Arlo Guthrie, Lynn Harrell, Gil Shaham, Mark O'Connor and Sarah Chang.  Most recently the UK Symphony Orchestra performed the opening ceremonies of the World Equestrian Games.
Among the orchestra's recording credits are: "In Times Like These," recorded live with Guthrie in March 2006 at the Singletary Center for the Arts; the premiere cast recording of Thomas Pasatieri's "The Hotel Casablanca" with UK Opera Theatre; "Music of the Horse," a collection of equestrian-inspired music sponsored by UK School of Music and the Keeneland Foundation; and most recently a critically acclaimed recording of composer George Frederick McKay's "Epoch: An American Dance Symphony" with UK Women's Choir.
Tickets for the Marvin Hamlisch concert featuring the UK Symphony Orchestra and J. Mark McVey are based on seating location and range from $40 to $30. A processing fee will be added upon completion of transaction. Tickets can be purchased through the Singletary Center Ticket Office at (859) 257-4929, online at www.singletarytickets.com, or in person at the ticket office.