String Project Helps Kids Shine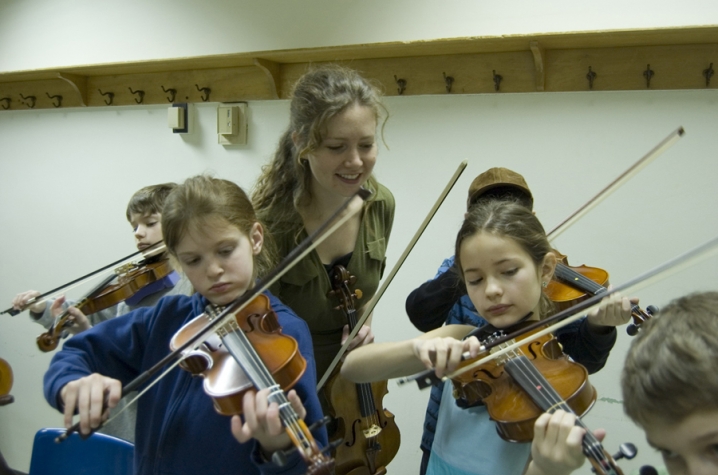 LEXINGTON, Ky. (Sept. 17, 2010) − The nationally distinguished University of Kentucky String Project (UKSP) is celebrating its 10th year of providing low-cost instrument instruction in the Bluegrass. Classes will start the morning of Saturday, Sept. 18.

To view a transcript of the video above, please click on the transcript link just below the photo gallery.
 
UKSP, initially funded through a grant provided by the American String Teachers Association (ASTA), has continuously provided children in the Bluegrass region with low-cost instrument instruction courses on the violin, viola, cello and bass. Children who are age 8 or older are invited to enroll in these courses now through Oct. 2. Classes will be held every Saturday throughout the school year and will be located at the UK Fine Arts Building on Rose Street. The course will culminate with the UKSP Fall and Spring Concerts.
UKSP offers courses at beginner, intermediate and advanced levels in both the fall and spring semesters. Beginner classes are offered from 9 a.m. to 10 a.m. and cost $110 per semester; no experience necessary.
Intermediate and advanced courses are offered from 10 a.m. to noon and cost $135 per semester. Intermediate levels require one to two years of prior experience and advanced level courses require two or more years of experience.
Scholarships are available for children who are on free and reduced lunch programs. For enrollment forms visit www.uky.edu/FineArts/Music/uksp.
UKSP's instructors are UK music students under the guidance of experienced mentor teachers including: Nancy Campbell, faculty member of the School for Creative and Performing Arts (SCAPA), part of the Fayette County Public School system, and Daniel Mason, director of UKSP, associate professor of violin, Lexington Philharmonic concertmaster and member of the National String Project Consortium. Mason also serves the national program as a member of the executive board.
The influence of UKSP's music instruction not only pays off during the semester concert, but it also resonates at home and in the classroom. A survey conducted by ASTA found UKSP earned a number of positive accolades from it participants and their families. The survey results noted that 100 percent of parents of UKSP children would highly recommend the program to other parents; 45 percent of UKSP parents said their child watched less television after beginning the program; and UKSP children receive A's in 85 percent of their other class subjects.
Enrollment is limited and on a first come-first serve basis for the UK String Project. For more information on scholarships and enrollment contact UKSP directly at (859) 257-9683 or email ukstringproject@gmail.com.