UK Faculty Bring on the Brass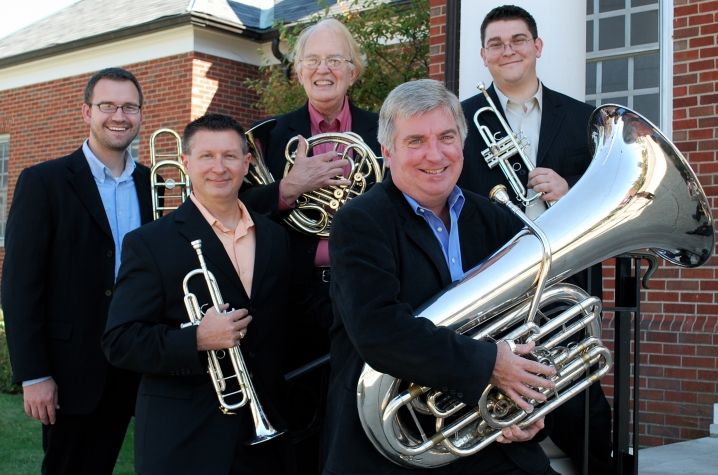 LEXINGTON, Ky. (Nov. 10, 2011) − The University of Kentucky Faculty Brass Quintet will present their fall concert at 7:30 p.m. Tuesday, Nov. 15, at the Singletary Center for the Arts Recital Hall. The concert is free and open to the public.
Members of the UK Faculty Brass Quintet teach in the highly acclaimed UK School of Music at the UK College of Fine Arts. The group consists of Mark Clodfelter, associate professor of trumpet, and doctoral candidate Chase Hawkins on trumpet; David Elliott, associate professor of French horn, on horn; Bradley Kearns, lecturer, on trombone, and Skip Gray, professor of tuba and euphonium, on tuba. 
The concert program for the evening will be comprised of music from the Renaissance to popular jazz and include original pieces for brass quintet as well as adaptations and arrangements of familiar instrumental works.
The UK Faculty Brass Quintet will open with the ever-popular "Hoe-Down" from Aaron Copland's "Rodeo" followed by Three Dances composed by Anthony Holborne and an arrangement by Summit Brass co-founder, David Hickman, of Tomaso Albinoni's "Saint Mark" Sonata. The spirited "Dance" by Wilke Renwick and the traditional "Quintet" by Malcolm Arnold will also be presented.
Rounding out the concert will be pieces on the lighter side. The UK Faculty Brass Quintet will perform a Jack Gale arrangement of the classic jazz tune "Fly Me to the Moon" and end with an original and humorous piece, "Dr. Welker's Stomp!," written for the group by tubist Skip Gray. 
For more information on the UK Faculty Brass Quintet concert, contact Professor Skip Gray at (859) 257-8822.
MEDIA CONTACT: Whitney Hale, (859) 257-1754 ext. 229, Whitney.Hale@uky.edu