UK First in State to Offer Graduate Degree in Music Therapy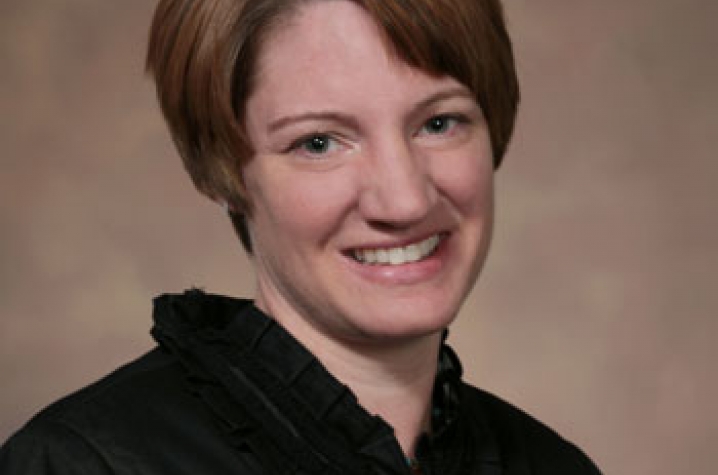 LEXINGTON, Ky. (Nov. 11, 2011) − The University of Kentucky will be the first higher education institution in the state to offer a graduate degree in music therapy. The program, housed at the UK School of Music, was officially approved by the Council on Postsecondary Education yesterday and will start accepting graduate students in the spring of 2012. UK faculty member and clinician Lori Gooding will serve as director of the master's program.
Beginning in the spring semester, UK will offer a master's degree in music therapy and a combined equivalency master's program. The master's degree will consist of a 30-hour degree program offering both thesis and clinical track options. Individuals without an undergraduate degree in music therapy will have the opportunity to pursue the combined equivalency-master's degree program, enabling them to complete all entry-level competencies not met at the undergraduate level prior to finalizing the master's degree requirements. 
Students in the new UK program will learn a myriad of skills. "Our degree will be a combined research and practice orientation degree that will involve music therapy theory, advanced clinical skills, research skills, musical skills and clinical administrative skills," says Gooding.
The new music therapy graduate degree will give students in Kentucky the opportunity to pursue advanced study in the field. Students entering the program must have college-level training in music, so the program will attract students with undergraduate degrees in music therapy, as well as individuals with general music degrees or degrees in music education. Other students may have degrees in such fields as psychology and social work and minors in music. Graduates of the program will be able to pursue work as a music therapist not only in a hospital setting, but also in positions related to mental health, special education, rehabilitation, wellness, hospice, skilled nursing services at nursing homes or dementia care facilities and in private practice.
UK's music therapy program already holds a lot of promise. "I think our program has the potential to become a leading program for music therapy training, especially in the areas of physical and mental health care," says Gooding. "I think we have a unique opportunity to contribute to the field via research, which will enhance both the academic and clinical portions of the program. We also have the opportunity to develop specialized training in areas that currently do not exist in our field, which will also help move our program forward."
Excited about the interest in the master's program, Gooding is already looking ahead. "I would love to establish a doctoral degree program as part of the program, primarily because doctoral training in the field of music therapy is quite limited at this time."
The UK graduate program was made possible with support from UK HealthCare and the Lucille Caudill Little Performing Arts in HealthCare Program, a joint initiative of UK HealthCare and UK School of Music that offers education, research and performing arts experiences in a health care setting to the Commonwealth of Kentucky, and contributes to the education and training of music students in music therapy, arts administration, performance and other health care-related arts careers. For more on the Little Performing Arts in HealthCare Program, visit the UK "Arts in HealthCare" page at: http://ukhealthcare.uky.edu/new/Arts/index.asp
To see a video interview of Gooding working with a patient at Kentucky Children's Hospital, visit the UK YouTube page at: http://youtu.be/vqJKWM0Z2bw. 
Gooding joined the UK School of Music faculty at the UK College of Fine Arts in July 2010. Her music therapy career includes both teaching and clinical practice. Previously, she served as assistant professor of music therapy at Charleston Southern University and as a teaching assistant at Florida State University. Her clinical experience covers a wide range of populations including: children and adults in medical settings (pediatrics, oncology, skilled nursing, rehab and out-patient chemotherapy), children, adolescents and adults in psychiatric settings, older adults in skilled nursing and dementia care, children and adolescents in special education settings and private practice.
In addition to her career as a music therapist, Gooding has also performed as a trombonist with Augusta Symphony, members of the Charleston Symphony, Charleston Stage, Low Country Winds and Tallahassee Winds.
Gooding completed her doctorate in music education/music therapy at Florida State University in May 2010. Results from her dissertation, a compilation of three research studies investigating the effect of music therapy-based interventions on improving social functioning in children and adolescents with social skills deficits, demonstrated significant improvement in social behavior. Gooding's work has been published in several journals including the Journal of Music Therapy, Arts in Psychotherapy, the Journal of Poetry Therapy and General Music Today. She will also be published in an upcoming issue of Music Therapy Perspectives.
Gooding currently serves as a fellow for the National Institute for Infant and Child Medical Music Therapy, as well as chair of the Southeastern Region of the American Music Therapy Association (SER-AMTA) Conference Committee. Formerly, she served on the board of directors for local and regional organizations, including the SER-AMTA and the Music Therapy Association of South Carolina.
For more information on UK's master's program in music therapy, contact Lori Gooding, at lori.gooding@uky.edu.
MEDIA CONTACT: Whitney Hale, (859) 257-1754 ext. 229, Whitney.Hale@uky.edu