UK Symphony Orchestra Showcases Winning Talent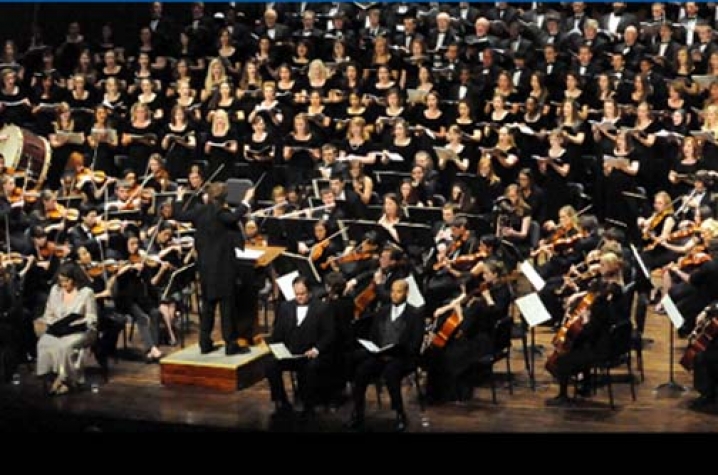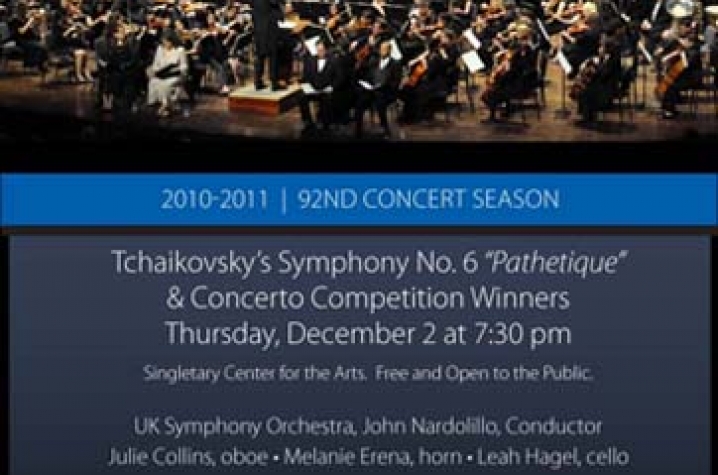 LEXINGTON, Ky. (Nov. 29, 2010) − Join the University of Kentucky Symphony Orchestra for a concert featuring performances by UK School of Music students Julie Collins, Melanie Erena and Leah Hagel, winners of the UK Symphony Orchestra Concerto Competition. The concert, which is free and open to the public, is scheduled for 7:30 p.m. Thursday, Dec. 2, in the Singletary Center for the Arts Concert Hall.
UK Symphony Orchestra's Concerto Competition presents a prestigious opportunity for UK music students to perform a solo concerto with the orchestra. Artistic excellence is the primary criterion, but students must also be full time music majors and prepare the entire concerto. A panel of judges composed of artists from outside UK reviews excerpts performed by each contestant and selects the top four to return and play their entire concerto. From these finalists, one to three winners are chosen to perform with the orchestra in the Concerto Competition concert.
This year's concert will showcase Julie Collins, a graduate student from Marietta, Ga., in an oboe solo as she plays Jean Francaix's "L'horloge de Flore" or "The Flower Clock." Melanie Erena, a talented French horn player from Lexington, will also perform a solo. A senior majoring in music performance, she will play Wolfgang Amadeus Mozart's Horn Concerto No. 3. The third winner, Leah Hagel, is a doctoral student in musical arts. She will perform a cello solo of Max Bruch's "Kol Nidrei." Hagel is a Connecticut native with a bachelor's degree from the University of Wisconsin and a master's degree from Boston University.
The three winning soloists will be backed by the UK Symphony Orchestra, under the direction of John Nardolillo. The orchestra will also perform Pyotr Ilyich Tchaikovsky's Symphony No. 6 "Pathetique."
Selected by audition, the orchestra is comprised of the finest string, wind and percussion instrumentalists from both graduate and undergraduate students at UK. The orchestra presents approximately 10 or more concerts each season, including symphonic concerts, operas and major works with choirs.
Under Nardolillo's direction, the UK Symphony Orchestra has performed on prestigious stages at the Kennedy Center and Carnegie Hall, and has shared the stage with acclaimed international artists such as Arlo Guthrie, Lynn Harrell, Gil Shaham, Mark O'Connor, Sarah Chang and Marvin Hamlisch.
UK Symphony Orchestra is one of a very select group of university orchestras under contract with Naxos, the world's largest classical recording label. The orchestra has achieved several recording credits, including "In Times Like These," a live recording with folk icon Guthrie in March 2006 at the Singletary Center for the Arts; the premier cast recording of Thomas Pasatieri's "The Hotel Casablanca," with UK Opera Theatre; "Music of the Horse," a collection of equestrian-inspired music sponsored by the UK School of Music and the Keeneland Foundation; and most recently, a critically acclaimed recording of composer George Frederick McKay's "Epoch: An American Dance Symphony" with the UK Women's Choir.