Wilco Drummer Returns to Alma Mater With a Bang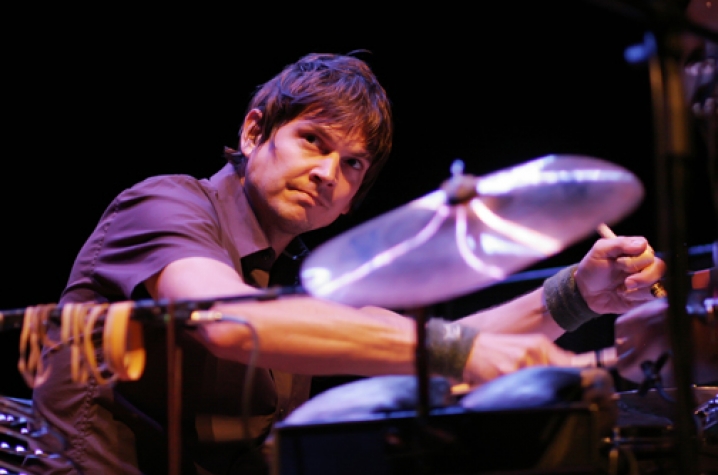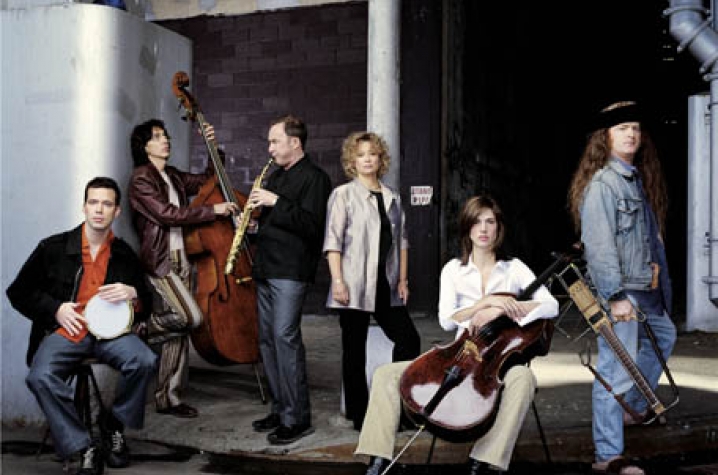 LEXINGTON, Ky. (Jan. 26, 2011) − University of Kentucky alumnus and Wilco drummer, Glenn Kotche, recently named to Gigwise's list of "The Greatest Drummers Of All Time!," will be joining the Bang on a Can All-Stars in concert this weekend at the Singletary Center for the Arts. This concert showcasing percussion instruments will begin 7:30 p.m. Sunday, Jan. 30, at Singletary Center's Concert Hall.
Best known as the drummer in the popular alternative rock band Wilco, Glenn Kotche is a highly trained percussionist. His exploration of rhythm and space began in childhood in Roselle, Ill., and eventually landed him at UK's highly regarded Percussion Studies Program, from which he graduated in 1994 with a bachelor's degree in music performance.
Since graduation from UK School of Music, Kotche's various stints with groups and ensembles has resulted in participation on more than 90 recordings to date. In 2001, he joined Wilco as drummer/percussionist. The band's accomplishments include the gold-selling album "Yankee Hotel Foxtrot," the Grammy award-winning "A Ghost is Born," and the Grammy-nominated "Wilco (The Album)."
Outside of Wilco, Kotche is also a member of the jazz experimental duo On Fillmore. He has released three solo works, "Introducing," "Next" and "Mobile."
Kotche, who has toured the globe extensively, has performed on "The Tonight Show With Jay Leno," "The Late Show with David Letterman," "Late Night with Conan O'Brian," "Austin City Limits," "PBS's Soundstage," CNN, VH1 and the BBC. Kotche was presented the Distinguished Alumni Award from UK College of Fine Arts in 2007.

To see video of a solo performance by Glenn Kotche, check out the video below from Modern Drummer and Hudson Music on YouTube.
At the very beginning of Bang on a Can (BOAC), founders Michael Gordon, David Lang and Julia Wolfe recognized that their new and open approach to presenting required new and open performers. They had to be able to cross musical boundaries, and be at home with many styles and technologies. And they had to be amazing. Gordon, Lang and Wolfe quickly started assembling a core of versatile players and from this core, in 1992, came BOAC.
Clarinets, cello, keyboard, electric guitar, bass and drums – it is part rock band and part amplified chamber group. Freely crossing boundaries between classical, jazz, rock, world and experimental music, this six member amplified ensemble from New York defies categories, plays music from uncharted territories, and has shattered the definition of what concert music is today.
Together, BOAC has worked in unbelievably close collaborations with some of the most important musicians of our time, including Philip Glass, Steve Reich, Meredith Monk, Brian Eno, Ornette Coleman, Sonic Youth's Thurston Moore, Don Byron, Burmese circle drum master Kyaw Kyaw Naing, Iva Bittova, DJ Spooky and Louis Andriessen. BOAC has formed lasting relationships with many of these musicians, commissioning and performing their works, recording them, and touring them all over the world.
BOAC was awarded Musical America's Ensemble of the Year in 2005 and have been heralded as "the country's most important vehicle for contemporary music" by the San Francisco Chronicle.  Recent highlights included the world premiere of Steve Reich's "2x5" at the 2009 Manchester Festival, sharing the bill with German electronica pioneers Kraftwerk; the group's China debut at the Beijing Music Festival; the U.S. tour and Carnegie Hall performance of Wolfe's "Steel Hammer," and the October 2010 BAM Next Wave Festival New York premiere of Evan Ziporyn's "A House in Bali."

In the 21st century, BOAC continues their ambassadorship, bringing their brand of beauty to concert halls across the world. "We roll into town with a fantastic program of semi-popular music, and people come," explains guitarist Mark Stewart. "They don't know what it is, and they say afterwards, 'What is this? Why don't we hear this more? Who are you? Where did you come from? Is there more music like this?' It's a little bit like the Lone Ranger. 'Who are you masked man?' Our work here is done and we must move on."

To check out videos of BOAC performing, visit the Bang on a Can website at http://bangonacan.org/video or watch their performance below from the Big Ears Festival taken by Julian Wood of the Knoxville News Sentinel.

Tickets for the Bang on a Can All-Stars concert featuring Glenn Kotche range from $25 to $32 depending on seat location and are on sale now. A processing fee will be added upon completion of transaction. Tickets can be purchased by calling the Singletary Center ticket office at (859) 257-4929, online at www.singletarytickets.com, or in person at the venue. Student rush tickets will be available one hour prior to the concert; tickets will be made available only to students during the rush for $10 at the Singletary Center ticket office.