September Song: UK Theatre Grad Appearing in HBO's 'Sharp Objects,' Hulu's 'Casual'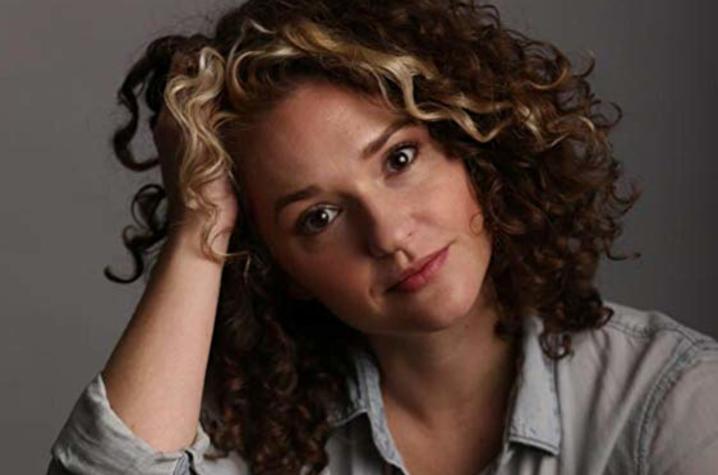 LEXINGTON, Ky. (July 6, 2018) — Lauran September, a 2005 University of Kentucky theatre and psychology graduate, is a successful actor who knows how to transform herself for her craft. September can be seen this summer in two recurring roles on the HBO limited series "Sharp Objects," opposite Academy Award-nominee Amy Adams, and in Hulu's acclaimed series "Casual."
"Sharp Objects," based on the book of the same name by author Gillian Flynn, tells the story of reporter Camille Preaker (Adams) who returns to her small hometown to cover the murders of two preteen girls. September will appear as a character named Angie in three episodes of the eight-episode series. "Sharp Objects" premieres July 8. September's first appearance will be in the series' second episode titled "Dirt," which is set to air July 15, on HBO.
"Casual" is a comedy series about a bachelor brother and his divorced sister living under one roof again. The pair coach each other through the world of dating while raising her teenage daughter. The fourth season of "Casual" will premiere July 31 on Hulu. September will appear as Chef Amy in three episodes of the upcoming season, beginning with episode two.
UK College of Fine Arts recently caught up with September and asked via email about her own journey as an actor.
UK College of Fine Arts: What do you love the most about theatre and acting?
Both are very interesting and rewarding to me in different ways, I really enjoy serving the story.
As an actor, I love thinking about why someone reacts the way they do. The psychology of a human being. Acting demands you to be open, fully present and honest — I'm humbled, inspired and deeply interested in that.
I love theatre because it gives you a lot of uninterrupted moments — the luxury of really settling into the character. You get rehearsal time, which is very different from film and TV. For an actor it's more collaborative and empowering. I also love the immediacy of theatre. Being in the same room experiencing and discovering everything together in real time. It is a very palpable energy. It's very special.  
TV/film is more of a trust exercise, lol. It challenges me to strip down the performance and find the stillness. The camera picks up everything. There is no distance between you and the audience. You often don't know the complete vision of the creative team, so you have to really trust your work and put a lot of faith in the director. I find it a bit more vulnerable.
UK Fine Arts: What's your favorite improv exercise?
I don't know if I have a favorite exercise per se, I love the philosophy of improvisation as an art form. I think deep listening, being open and receptive to other people's imagination, building on those ideas and creating something together is really powerful. I think it can make all of us better humans and can be especially important in your work as an actor. Walking on stage to "perform" with no expectations or prepared lines is one of the bravest things a performer can do. It's really about you and the other people on stage. It's the foundation of the work of an actor. I spent years in Chicago studying improv, and I still get really excited and inspired when I see improv teams with unique voices creating original forms and new structures. I think it's magical.  
UK Fine Arts: Who/what inspires you?
Curiosity. I'm a very curious person and I love learning. I think being curious can lead to inspiration and, ultimately, growth.  
I'm very inspired by women and women's stories in general. The #metoo movement in Hollywood is creating some much-needed change. I'm incredibly inspired by the courage of any person, woman or man, who stands up to power, especially when that power is being abused.  
UK Fine Arts: What is something you learned on your creative journey that will always stick with you?
You are enough.
UK Fine Arts: What advice do you have for students from small towns and rural Kentucky as they strive for their big city dreams?
Don't be intimidated by the world. There is no difference in who you are, just how you are. It is special to grow up in Kentucky, so embrace that. Be kind to yourself. It takes a lot of courage and strength to pursue this career. It can be brutal. Remember, in the end, it's just a job and a business.
Above all, for yourself and your creative soul — focus on your craft and being the most open, grounded and honest human you can be. LISTEN more, talk less. Give yourself permission to fail, because failure is a certainty and it's important. Failure is how you grow. You have to love yourself through the failure and learn how to let go. So much is out of your control, so only give energy to the things you can. Don't be shy to reach out and talk to me or anyone else you know; this business is all about relationships. Make healthy ones and nurture them. It's a marathon. Good luck, Wildcats!
September's past credits include roles as Natasha on NBC's "Chicago Fire," Sabrina on ABC's "The Muppets" (opposite Jason Bateman and Kermit the Frog) and Emily on Showtime's "Masters of Sex" (opposite Michael Sheen). She has an extensive background in improvisation and sketch comedy from The Second City Conservatory, in Chicago and The Groundlings.
Born and raised in Bardstown, Kentucky, September studied theatre and philosophy at UK and spent time performing in Chicago before moving to Hollywood, where she lives with her partner, Spencer, and their dog Professor Thelonious Grey.
Keep up with September's work on Twitter @septembersgotit or visit her website: www.lseptember.com/.
The UK Department of Theatre and Dance at UK College of Fine Arts has played an active role in the performance scene in Central Kentucky for more than 100 years. The students enrolled in the program enjoy hands on training and one-on-one mentorship from the renowned professional theatre faculty. The program is coupled with ongoing career counseling to ensure a successful transition for the students, from campus to professional life.
UK is the University for Kentucky. At UK, we are educating more students, treating more patients with complex illnesses and conducting more research and service than at any time in our 150-year history. To read more about the UK story and how you can support continued investment in your university and the Commonwealth, go to: uky.edu/uk4ky. #uk4ky #seeblue