'Sleeping Beauty' Comes to Singletary Stage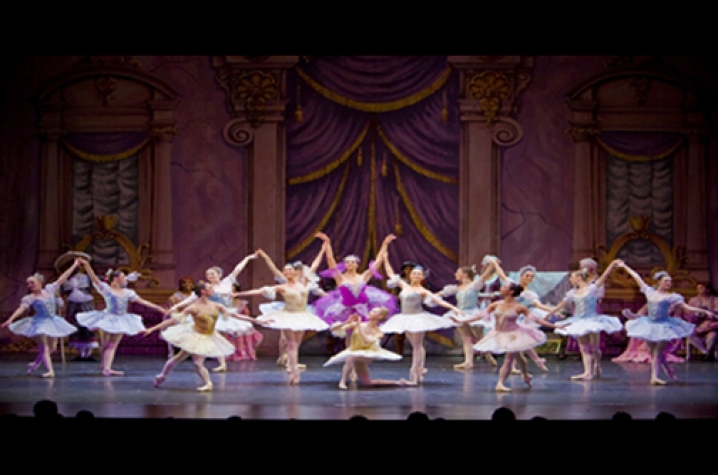 LEXINGTON, Ky. (March 21, 2011) − Returning to the University of Kentucky Singletary Center for the Arts (SCFA) a year after their popular performance of "Swan Lake," the Moscow Festival Ballet's "Sleeping Beauty" will come to life on the Singletary Center stage at 7:30 p.m. Thursday, March 24, in the SCFA Concert Hall. 
With a production built specifically for the Singletary Center stage, the Moscow Festival Ballet will present the three-act ballet "Sleeping Beauty," often considered the finest achievement of the classical ballet and the highlight of choreographer Marius Petipa's career. The ballet, which features the music of legendary composer Pyotr Ilyich Tchaikovsky, debuted Jan. 16, 1890, at the Marinski Theatre, in St. Petersburg.
The Moscow Festival Ballet was founded in 1989 when Sergei Radchenko, legendary principal dancer of the Bolshoi Ballet, sought to realize his vision of bringing together the highest classical elements of the great Bolshoi and Kirov Ballet companies in an independent new company within the framework of Russian classic ballet. Leading dancers from across Russia have forged under Radchenko's direction an exciting new company staging new productions of timeless classics like "Giselle," "Don Quixote," "Paquita" and "Carmen." 
Born in 1944, Radchenko graduated from the Moscow School of Dance in 1964 and joined the Bolshoi Ballet. During his 25 years with Bolshoi, he danced the company's entire repertoire, but enjoyed a special reputation for Spanish dance, particularly the role of the bullfighter in Georges Bizet/Rodion Shchedrin's "Carmen" Suite.  
As founder and artistic director of the Moscow Festival Ballet, Radchenko has achieved a remarkable feat in the establishment and development of a young, but great Russian ballet company. He presents a large number of master classes with leading teachers from the Bolshoi and Maryinsky theatres to ensure the continuation of the rich traditions of the Russian classical school. The company has performed with great success in Turkey and Greece, and recently completed a two-month tour of Japan, Korea, Singapore and Hong Kong. 
Under the direction of Sergei Radchenko, the Moscow Festival Ballet continues to expand its repertoire. In addition to commissioning new works from within Russia and abroad, the company specializes in 20th century full-length ballets such as "Cinderella,"  "Romeo and Juliet," "Legend of Love," "Stone Flower" and "The Golden Age." 
Tickets for "Sleeping Beauty" are based on seating location and range from $32 to $25. A processing fee will be added upon completion of transaction. Tickets can be purchased through the Singletary Center Ticket Office by phone at (859) 257-4929, online at www.singletarytickets.com, or in person at the Ticket Office.