'Bringing Home' Veterans' Stories to the Stage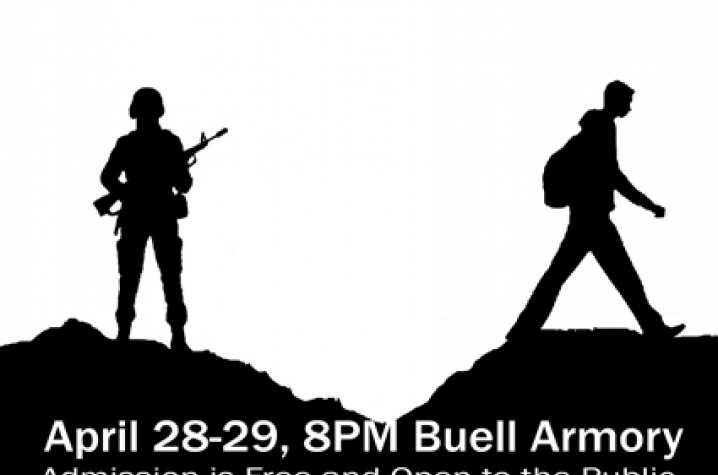 LEXINGTON, Ky. (April 27, 2010) − The transition to the battlefield and back home again is a long and, at times, bumpy road for our war veterans. A new interdisciplinary arts and creativity project at the University of Kentucky brings a voice to these experiences. Through a unique collaboration between UK's Department of Theatre, Veterans Resource Center and Louie B. Nunn Center for Oral History, the stories of the veterans among our campus community will come to life in a new documentary drama.
"Bringing It Home: Voices of Student Veterans," based on interviews of veterans of Iraq and Afghanistan who are currently enrolled UK students, will be staged at 8 p.m. Wednesday and Thursday, April 28 and 29, at the Buell Armory in Barker Hall. The production is free and open to the public.
Herman Daniel Farrell III, assistant professor of theatre, and students in his "Staging History" course have researched, developed and created a documentary drama based on the stories of their fellow students who have served in the United States Armed Forces fighting in the wars in Iraq and Afghanistan. To give the story authenticity, Farrell and his theatre students approached Tony Dotson, director of the Veterans Resource Center; Doug Boyd, director of the Nunn Center; and veteran and alumnus Tyler Gayheart to develop the theatre piece from an oral history collection titled "From Combat to Kentucky" that was launched by the centers in January 2010.
Through the unique interdisciplinary collaboration, the three programs hoped to provide some insight with regard to a veteran's experience. "Our stated purpose in creating this piece is to bridge the gap between student veterans and the greater UK community," notes Farrell.
The stories UK Theatre plans to bring to the stage in "Bringing It Home" were edited down directly from 10 hours of recorded interviews collected by the Nunn Center with UK student veterans. Through a cast of eight students, including one actual veteran, the audience will follow local veterans' stories through such periods as boot camp and deployment to their transition back into society on a university campus and all the emotions those points in time stir up.
"This is an exciting theatrical event that will take place here on the UK campus," says Farrell. "Following the innovative and experimental theatrical form of Anna Deavere Smith and Moises Kaufman, we have crafted a documentary drama based on interviews of UK student veterans that were conducted by the Nunn Center for Oral History. Audiences will bear witness to a piece of 'verbatim theatre' – a play that is created completely from the words, the voices of veterans of the wars in Iraq and Afghanistan."
Applying environmental theatre techniques that take the audience on a journey through the experience of these veterans from enlistment, through boot camp, to deployments and their return stateside, "Bringing It Home" aims to directly engage its audience in this collection of personal life stories.  
"I am excited to be a part of something so powerful," says Dotson. "This is a unique opportunity for the average American to get a look at war from the perspective of the warrior and not CNN. If this doesn't make you want to thank a veteran for their service, nothing will."
The cast and crew of "Bringing It Home," Farrell's staging history theatre students, includes: Michael Fischer, Joe Fields-Elswick, Kevin Sullivan, Alex Koehl, Brian Sprague, Callie Hanks, Emmanuel Thurman, Max Reid, Andrew Hill, Natalie Nicole, Kara Strait and Lindsay Warnick. Fischer, one of the eight actors featured in the production, is not only a theatre major but is a veteran of the war in Iraq. The veterans depicted in the production are UK students Ian Abney, Jonathan Herst, Stephanie Murphy, Andrew Napier and Nathan Noble.
The Veterans Resource Center, located in 124 Funkhouser Building, was established in June 2009 to assist the growing number of returning veterans from Iraq and Afghanistan. The focus of the center is to coordinate and make available all of the necessary resources to ensure a smooth transition and successful academic career for the veterans and their families. The center is open from 8 a.m. to 5 p.m. Monday through Friday.
UK Libraries' Louie B. Nunn Center for Oral History is internationally recognized for its outstanding collection of nearly 8,000 oral history interviews. Among these historical interviews, the center has a collection of nearly 3,500 hours of interviews with veterans of World Wars I and II, the Korean War, and the Vietnam War. Since January, the Nunn Center has been working on an oral history project specifically documenting individual experiences of UK student veterans during the Iraq and Afghanistan Wars. To read more about the veterans' interviews and other projects at the center, visit their blog "Saving Stories" at www.nunncenter.org.
The "Staging History" course of UK Theatre was developed by Farrell as a pilot course for the "Intellectual Inquiry: Inquiry in Creativity and the Arts" area of University of Kentucky's new general education curriculum.
Admission to "Bringing It Home" is free and open to the public, but seating is limited. For more information on the production, contact UK's "Staging History" class at UKDocumentaryTheatre@gmail.com.
To check out interviews with leaders of the project and members of the cast of "Bringing It Home," visit UK's YouTube Channel at http://www.youtube.com/watch?v=uKryOEs9E7A.