Chekhov's 'Seagull' Takes Flight on UK Theatre Stage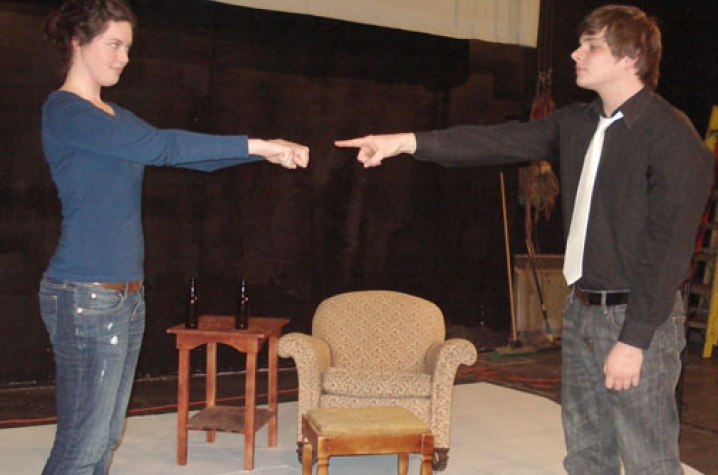 LEXINGTON, Ky. (Feb. 16, 2011) − Anton Chekhov's work "The Seagull" explores the story of lives derailed. Whether it's love, sex, fame or a simple trip into town, each character in the play is denied the thing they most crave. The University of Kentucky Department of Theatre will stage the noted Russian classic Feb. 17-27, at Guignol Theatre. 
First produced by the Moscow Art Theatre in 1898, "The Seagull" is one of four major plays by Russian dramatist Anton Chekhov. The work is centered around the lives of its four main characters, ingénue Nina, fading actress Irina Arkadina, playwright Konstantin Treplev and famous story writer Boris Trigorin. "The Seagull," known for its use of subtext, is celebrated for its ease transitioning between comedy and cruelty as it plunges the audience into the funny and frightening lives of people who suffer for their passions.
UK's production of "Seagull" will be directed by Andrew Kimbrough, assistant professor of dramatic literature and performance, and will feature live music, modern costuming and on-stage seating. The cast includes: Abby Sheridan as Irina Arkadina; Alex Koehl as Konstantin Treplev; Brian Sprague as Peter Sorin; Abbey Lipe as Nina; Ray Adams as Shamrayev; Katy Ochoa as Paulina; Jennifer Arnold as Masha; Ryan Hastings as Boris Trigorin; Chris Floyd as Dr. Dorn; Michael Sheehy as Medvedenko; and Taylor Mullins and Madison McGhee in the roles of the hired hands, cook, maid, musicians and Yakov. Max Reid is serving as stage manager.
"Seagull" takes the stage 7:30 p.m. Feb. 17-19 and 24-26, and 2 p.m. Feb. 27. Tickets are $15 for general admission and $10 for UK faculty/staff/students and senior citizens. To reserve tickets, call the Singletary Center for the Arts ticket office at (859) 257-4929 or visit online at www.singletarytickets.com.
In addition to the production, UK Theatre, currently celebrating 100 years of theatre on the university campus, will host an open house from 2-4 p.m. Saturday, Feb. 26. The event includes a behind-the-scenes look at the university's theatre program at the UK College of Fine Arts. Besides a full access pass to see just how UK Theatre works, open house participants will also be able to buy tickets for that evening's performance of "Seagull" at a discounted rate of $5. More information on the open house is on Facebook at www.facebook.com/?ref=logo#!/event.php?eid=191695464191550. Individuals planning to attend the open house should make reservations by calling UK Theatre at (859) 257-3297.  
MEDIA CONTACT: Whitney Hale, (859) 257-1754 ext. 229; whitney.hale@uky.edu