New Theatre Group Presents Lindbergh Story 'North'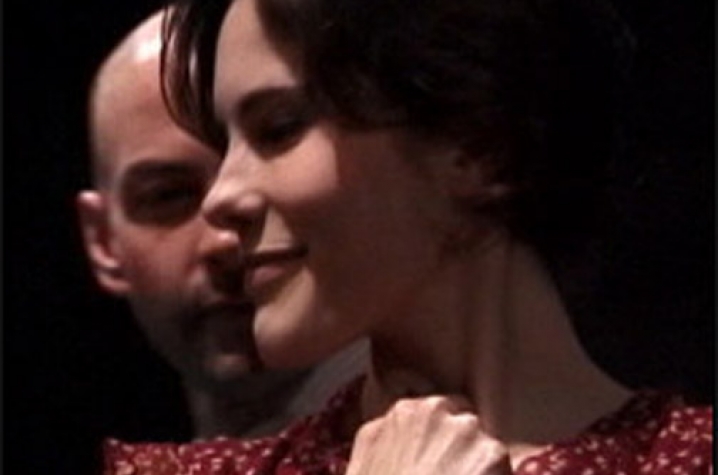 LEXINGTON, Ky. (April 7, 2011) − The for/word company, co-founded by Christina Ritter, lecturer at the University of Kentucky Department of Theatre, brings the original work "North," on the life of Anne Morrow Lindbergh, to Lexington for a limited weekend engagement April 7-10, at the Downtown Arts Center (DAC). This is the company's Kentucky debut.
Called "wistful, poetic, and wise" by the Chicago Tribune, "North" tells the story of a charged meeting between writer Anne Morrow Lindbergh, wife to aviator Charles, and Antoine de Saint-Exupéry, the man whom she felt best understood her work. 
As Anne's character says in the play, "This story is fiction and not biography." Yet, "North" is based in the historical record. In keeping with the for/word company's creative technique, "North" is constructed exclusively from Anne Morrow Lindbergh's letters and journals, poetic memoirs, fiction and poetry, and wartime polemics. It also draws from material written by her husband, Charles Lindbergh and by Antoine de Saint-Exupéry, including his poetic works on flight, his journals and letters, and his famous children's book. 
"We see this project on one level as one of reclamation," author and director Jennifer Schlueter says. "Anne, Charles and Saint-Exupéry were pioneers in aviation, but also in the writing about aviation, in analyzing how flight transformed the way humans would come to understand their world. Yet they have receded into the background of our historical imagination, with St-Ex really only known in the U.S. for 'The Little Prince,' though his books on flight and his continuing fight with the French resistance in World War II more properly express his concerns." 
"The same is true for Charles and Anne," Schlueter continues. "Charles is remembered for his flight across the Atlantic in The Spirit of St. Louis, and Anne for the notorious kidnapping and murder of her first-born child. But beyond those sensational stories, we tend to take a jaundiced view of them today, if we take a view at all, because of their alignment, during WWII, with the isolationists." 
Anne Lindbergh has fascinated for/word company member Christina Ritter, who proposed the project to Schlueter in London in 2005, and who plays Anne in the new work. The actress recently moved to the Lexington area, where she is a new lecturer at UK Theatre. Ritter says, "We believe that Anne's questions about life, art, marriage and love are very much ours today. Our play, then, is not about a rarified historical figure, but about an intelligent, introspective woman seeking a way to carve out a meaningful life." 
Written and directed by Schlueter, the "North" cast is comprised of Ritter, Christopher Roche and Kalafatic Poole. The production will be staged at 7:30 p.m. Thursday-Saturday, April 7-9. Matinees will be offered at 2 p.m. Saturday and Sunday, April 9 and 10, and again 3 p.m. Sunday, April 10. All performances are at Lexington's Downtown Arts Center, located at 141 East Main St. 
To view a trailer of "North," visit for/word company's website at www.for-word-company.net/photos04.htm. 
Tickets for "North" are $18 for adults and $12 for students and seniors. Tickets can be purchased online at http://lexarts.tix.com, by phone at (859) 225-0370, or in person at the DAC Box Office. 
The for/word company is dedicated to dynamic stagings and innovative interpretations of material from the historical record. The company creates its work by opening up the archive and the library, by discovering stories and chronicles that, in some way, resonate for them, and by building performances exclusively out of the text they have unearthed. Though they often refer to their works as "adaptation," it's more like reimagining, remaking, reanimating or recreating.  For more information on the company, visit its website at www.for-word-company.net. 
LexArts is a nonprofit community organization that works for the development of a strong and vibrant arts community as a means of enhancing the quality of life in Central Kentucky. Through its annual Fund for the Arts, LexArts raises millions of dollars in support of local arts. In turn, LexArts underwrites the operating expenses for a variety of partner organizations, offers affordable exhibition and performance space for arts organizations, as well as competitive grants for community outreach projects. Major support for LexArts programs and services is provided by the Lexington-Fayette Urban County Government. Kentucky Arts Council, the state arts agency, supports LexArts with state tax dollars and federal funding from the National Endowment for the Arts. For more information on LexArts, visit its website at www.lexarts.org. 
MEDIA CONTACT: Whitney Hale, (859) 257-1754 ext. 229; Whitney.Hale@uky.edu