'The Pajama Game' Debuts at Guignol Theatre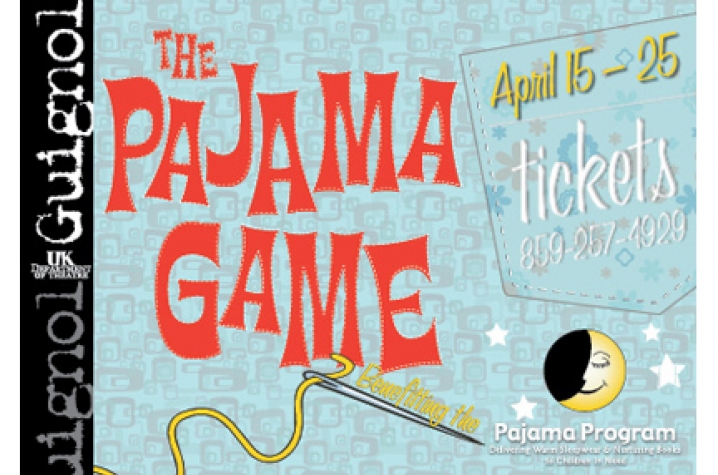 LEXINGTON, Ky. (April 7, 2010) − The University of Kentucky's Department of Theatre will close its 2009/2010 season with the Tony award-winning Broadway musical "The Pajama Game." This romantic musical comedy comes to UK April 15-25.
"The Pajama Game" tells the story of the blossoming romance of Sid and Babe, who find love amidst the labor squabbles in a pajama factory. Senior theatre majors Jim Trujillo and Alys Dickerson will light up the Guignol stage in these starring roles.
Written by Richard Bissell with original music and lyrics by Richard Adler and Jenny Ross, UK's production is directed by Russell Henderson, director and associate professor of acting and voice. Guest artist for "The Pajama Game" is Lexington's own Ryan Shirar, executive and musical director of Paragon Music Theatre.
To help celebrate, UK Theatre, in collaboration with the Kentucky chapter of Pajama Program, will sponsor a special PJ and Pizza Party. The Pajama Program is a national nonprofit organization that collects pajamas and books for children waiting to be adopted or living in foster homes. Patrons are asked to donate a new pair of pajamas to benefit these children housed in temporary living facilities. The PJ and Pizza Party is scheduled for 6:30 p.m. Saturday, April 17, in the lobby of the Fine Arts Building, prior to curtain at 7:30 p.m. For more information on the Pajama Program, visit the organization's Web site at www.PajamaProgram.org.
Tickets for "The Pajama Game" are $15 for general admission, $10 for UK faculty/staff or senior citizens, and $5 for students. UK Theatre will offer a special rate of $5 per ticket for audience members who wear pajamas to this show. Performances begin nightly at 7:30 Thursday, Friday and Saturday with a 2 p.m. matinee offered on Sunday, April 25.
For more information on the UK Theatre production, contact the UK Department of Theatre at (859) 257-3297 or visit www.uky.edu/finearts/theatre. To reserve tickets, call the Singletary Center for the Arts ticket office at (859) 257-4929 or visit online at www.singletarytickets.com.