Travel With UK Theatre to Far Far Away With 'Shrek'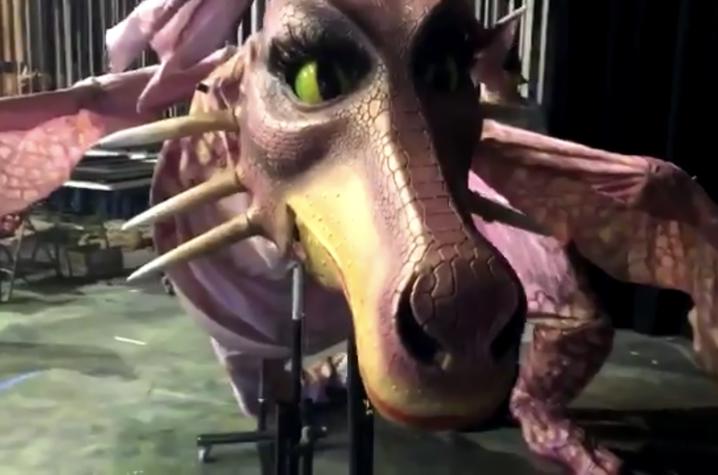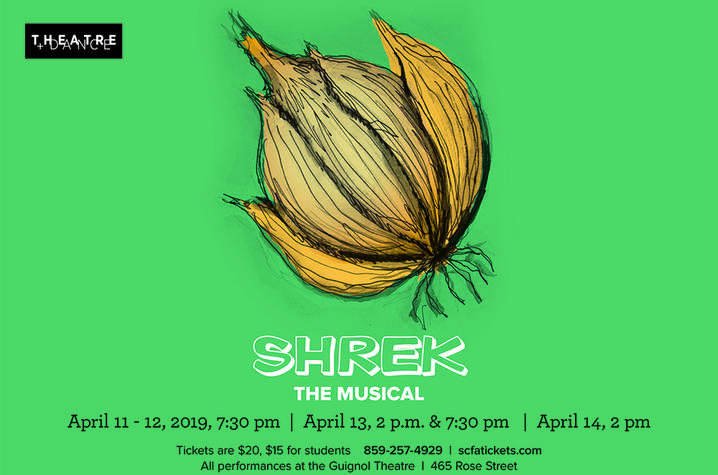 LEXINGTON, Ky. (April 9, 2019) — Travel to a Far Far Away with the cast of the final main stage production of the University of Kentucky Department of Theatre and Dance 2018-19 season with "Shrek The Musical" April 11-14, at Guignol Theatre.
A Tony Award-winning show, "Shrek The Musical" follows Shrek, a grumpy ogre who prefers the solitude of his swamp, as he is sent on a mission to rescue Princess Fiona by the blundering Lord Farquaad. Far from Shrek's expectations, there's something different about this princess, something familiar. With delightfully familiar characters from our favorite fairy tales, the adventure of an unlikely hero is a joy for the young and the young at heart. 
Directed by Len Pfluger, the production is Pfluger's first collaboration with the University of Kentucky. His previous credits include the position of director and choreographer for 12 seasons at the Arrow Rock Lyceum Theatre, where he directed and/or choreographed such productions as "Beauty and the Beast," "The King and I" and "Fiddler on the Roof." The New York-based director has worked around the country, making his Carnegie Hall debut directing "Sue Mathys Sings Broadway" and most notably at Lyric Stage in Dallas where he won the DFW Theatre Critics Forum Awards for his direction of "My Fair Lady" and "Grand Hotel."
For "Shrek The Musical," Pfluger worked side-by-side with outstanding UK faculty members like music director Tedrin Blair Lindsey and choreographer Susie Thiel as well as the design staff and student assistants and artisans who brought the story to life.  
Asked to describe the musical, Pfluger said, "The show celebrates our uniqueness and individuality. We should be proud of whatever color we bring to the world."
With an amazing cast of actors, Pfluger praises the incredibly talented and versatile UK students who he said, "are eager to learn and ... bring so much heart to the show."
Evan Pride, a sophomore majoring in theatre, will play the lead role of Shrek. A Louisville native, Pride is a graduate of Trinity High School and the Governor's School for the Arts. His previous roles within the UK Department​ of Theatre and Dance include Seymour in the spring 2018 production of "Little Shop of Horrors" and Alf in the fall 2018 production of "Peter and the Starcatcher."
As Shrek, Pride will be transformed into a green ogre that, according to makeup designer and UK alumnus Daniel Townsend, takes a makeup crew of two about 45 minutes to complete. To learn more about Townsend's work, read a blog post by the College of Fine Arts where Townsend goes into greater detail about the creative process and what it's been like coming back to his alma mater.
"Shrek The Musical" will storm the stage 7:30 p.m. Thursday-Saturday, April 11-13, and 2 p.m. Saturday and Sunday, April 13 and 14, in the Guignol Theatre located in the Fine Arts Building. General admission tickets are $20 and student tickets are $15 with a valid UK student ID. Processing fees will be added during transaction. Tickets can be purchased from the Singletary Center for the Arts ticket office by phone at 859-257-4929, online at www.scfatickets.com or in person at the box office.
"Shrek The Musical" is presented through special arrangement with Music Theatre International.
The Department of Theatre and Dance, part of UK College of Fine Arts, is an accredited institutional member of the National Association of Schools of Theatre (NAST). Students in the Department of Theatre and Dance get hands-on training and one-on-one mentorship from professional faculty and renowned guest artists in acting, directing, playwriting, theatrical design and technology. From mainstage productions to student-produced shows, students have plenty of opportunities to participate on stage or backstage. Special programs include a musical theatre certificate, education abroad, as well as a thriving dance program that emphasizes technique, composition, performance and production.