UK Opera Theatre's 'Show Boat' Set to Cast Off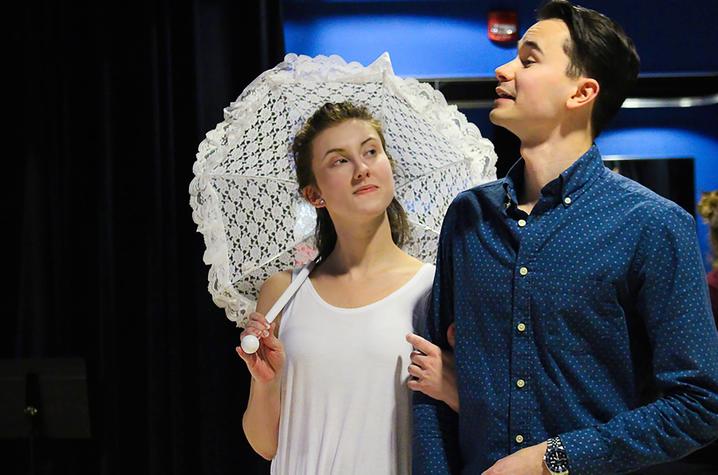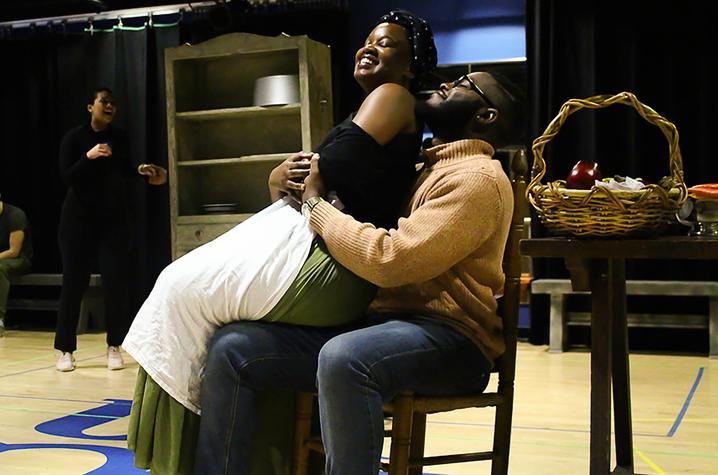 LEXINGTON, Ky. (March 1, 2018) — The 1927 "Show Boat" was something quite different from the musicals that came before, it was the first of its kind.
In fact, Edna Ferber couldn't quite believe it when Broadway producer Florenz Ziegfeld wanted to transform her 1926 novel about life aboard the Cotton Blossom into a musical.
Ferber's story was darker than musicals of the time. Her novel had controversial themes and characters: the women were strong and assertive; one couple was in an illegal interracial marriage; the problems of people of color were presented with sympathy; some characters were alcoholics or prostitutes. These didn't strike Ferber as material for a musical.
The problem was the nature of American musical comedy up to that time. Singing and dancing scenes were "dropped into" the story, which often served merely as a framework for the musical numbers. The musical numbers in "Show Boat" were fully integrated into the story, revealing character and advancing the story. The play was the first to feature a mixed black/white chorus onstage. And, of course, the music was beloved — the creation of Oscar Hammerstein II and Jerome Kern. "Show Boat" has never gone out of fashion and it is revived regularly.
This weekend, University of Kentucky Opera Theatre will present a "Show Boat" that, according to director Michael Ehrman, will be true to the original story. That hasn't always been the case.
A 1936 movie was closest to the play and used some of its cast. It was groundbreaking for using an all-black chorus creating an almost constant, rich background tying the scenes together. And, of course, there was critically acclaimed Paul Robeson's voice and acting. The cast also included Helen Morgan, Charles Winninger, Irene Dunne, Hattie McDaniel and an impressive Allan Jones.
The 1951 film with Howard Keel and Kathryn Grayson is typical Technicolor razzle-dazzle, with a shortened time frame, a greatly reduced African-American presence and a "happily ever after" ending. By far the version that's farthest from the novel, the film is fun to watch if only for the dancing of Marge and Gower Champion. Don't be misled by the riverboat, however. The real show boats were not big, luxurious steam-powered paddle-wheelers, but basic floating boxes pushed by a sort of reverse tugboat. Apparently, the technology of the time could give a boat a steam boiler or an auditorium space, but not both
The "Show Boat" waiting for UK Opera Theatre fans should be a true version. In an interview Ehrman said he chose "Show Boat" as a "very relevant piece with good roles for the characters," and it will hark back to the original play. He stressed that it is perfect for opera students, not just because it has one good song after another, but also because it has a score that is "legitimate vocally." "Show Boat" has also been interpreted for pop and jazz singers.
As for the good roles, Ehrman made special mention of two members of the cast. Captain Andy is a role that demands a really good character actor, and he has found one in graduate student Caleb Skinner, of Sims, North Carolina. The centerpiece in all versions of "Show Boat," "Old Man River" must feature an impressive voice; it will be sung by Blake Denson, a vocal performance senior from Paducah, Kentucky. But expect the rest of the cast to also bring it. "Show Boat" requires such a wide vocal range, the vast talents of UK Opera Theatre's vocalists will be showcased as well.
"Show Boat" evening performances will begin 7:30 p.m. Friday-Sunday, March 2-4. Matinee performances will start 2 p.m. Saturday and Sunday, March 3 and 4, at the Singletary Center for the Arts. Tickets range from $40-$45 for general admission and seniors and are $13 with a student ID. A fee will be added to all ticket transactions upon purchase. UK faculty and staff can receive discounted tickets by purchasing them directly from the Singletary Center ticket office. Tickets can be bought online at the Singletary Center for the Arts website, by phone at 859-257-4929 or in person.
The UK Opera Theatre program is a part of UK School of Music in UK College of Fine Arts. The School of Music program has been named an accredited institutional member of the National Association of Schools of Music. Along with its astounding opera program, the School of Music also offers education in choral and instrumental music performance, music education, music therapy, music theory and composition.
UK is the University for Kentucky. At UK, we are educating more students, treating more patients with complex illnesses and conducting more research and service than at any time in our 150-year history. To read more about the UK story and how you can support continued investment in your university and the Commonwealth, go to: uky.edu/uk4ky. #uk4ky #seeblue