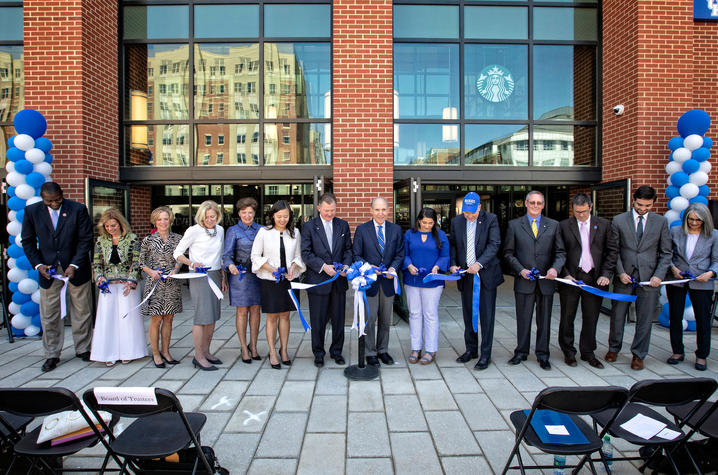 The University of Kentucky is the Commonwealth's flagship and historic land grant research institution, which calls us to serve the entire state through our tripartite mission of teaching, research and service, including healthcare. Our enduring commitment to our foundational tie to the state is manifest in all that we do, from the work of our students and faculty, to the investments we make in our campus and surrounding community, to the work in our clinics and extension centers across the state. 
Last month, the University of Kentucky opened the doors to the new Bill Gatton Student Center. The new 378,000-square-foot facility was made possible by a $20 million gift from Carol Martin "Bill" Gatton, and it is quickly becoming the heart of the University of Kentucky campus. The facility contains new retail and residential dining, a new Barnes & Noble bookstore and Starbucks, a new Martin Luther King Jr. Cultural center, student organization space, a recreational sports area, an array of common spaces for gathering and collaborating, meeting rooms and entertainment space, a new Visitors Center and grand ballroom. 
While the shared space is a hallmark of our campus, the impact of this new facility extends beyond our campus. Already, the Bill Gatton Student Center has played host to conferences and community events, and we look forward to the opportunities ahead to host events and welcome those from Lexington, the region and the state to enjoy the facility. 
This project, alone, was made possible by nationally renowned design teams, including our local design team of Omni Architects. The construction of the facility supported nearly 5,000 jobs, including more than 2,900 direct jobs and 2,000 indirect jobs. In total, 74 percent of the construction cost—or more than $126.8 million—was expended in the Commonwealth of Kentucky. This facility and the full campus transformation have yielded an extraordinary economic return for the city and state.
The new dining spaces in the Bill Gatton Student Center—and others across campus—include more than 100 products from 50 farms and local companies in 24 Kentucky counties. Further, the new facility will include furniture made from trees removed from campus to accommodate the new facility. 
Born on his family farm in Bremen, Kentucky in Muhlenberg County, Bill Gatton has always been committed to UK's success, and through it, his home state. The legacy of his philanthropy will support students, faculty, and staff for generations to come. In thoughtful ways, like the facility's namesake, the Bill Gatton Student Center exudes an essential connection to and love for the campus and Commonwealth it serves. 
Eric N. Monday
@ukyMonday
#seeblue