Education is One of the Surest Ways to Grow Our Economy, Secure a Bright Future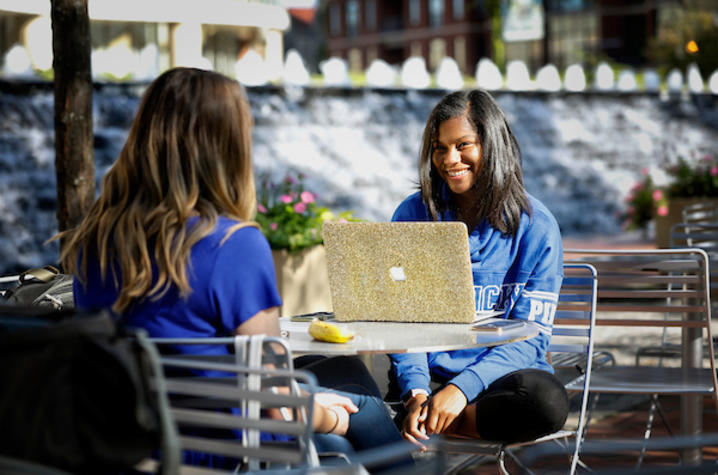 The UK family's hard work enables us to educate and graduate more students; seek answers to more challenges through research; and serve and heal more Kentuckians than ever before. In ways known and unknown, you shape the future of our Commonwealth.
That impact – your impact – is manifest in a few short stories I recently shared with the Kentucky General Assembly:
UK's Center for Entrepreneurship houses the Small Business Development Center (SBDC), which is a partnership between the U.S. Small Business Administration, Kentucky colleges and universities, and local partners. The SBDC leverages the $600,000 from the state to earn $1.6 million in federal dollars, and help create nearly 2,000 jobs and 140 business start-ups. Illustrating how we leverage state appropriations, with the SBDC's support, local entrepreneurs acquired more than $83 million in venture capital to start and expand businesses.
Competition for talent is increasing, and the need for education and skills grows with it. To that end, educating and graduating more students is both our moral and economic responsibility. The Robinson Scholar program - and other need-based scholarship programs like our Mining Engineering Scholarship Program, Coal County College Completion Scholarship, and UK Leveraging Economic Affordability for Developing Success (UK LEADS) Program - support thousands of students from across Kentucky. That support includes students like Shane Allen, a Robinson Scholar and first generation college student working hard to earn his Doctor of Physical Therapy – the first in his entire hometown. Shane knows the importance of education, not only for him, but for the small town he hopes to one day serve, support, and heal.  
Workforce development is a critical mission for UK, but it isn't the only way we help grow and diversify Kentucky's economy. Our College of Engineering and UK's Center for Applied Energy Research played an important role in the workforce and economic pipeline that led EnerBlu to Kentucky. EnerBlu is a high-tech energy company making a $400 million investment and bringing nearly 1,000 jobs to Pikeville and Lexington.
UK serves the Commonwealth's $45 billion agriculture economy through regulatory services that monitor, analyze, and ensure quality in everything from fertilizer to food products. In 2017, the UK College of Agriculture, Food, and Environment issued stop-sale orders on more than 200 fertilizer samples containing additives harmful to home gardens, farms, and pet food. Animal medications were analyzed in meat and egg products. Every glass of milk on kitchen tables across Kentucky passed through the milk and cream handling systems monitored by UK. UK's Veterinary Diagnostic Laboratory works with state and federal partners to prevent outbreaks of infectious diseases like High Path Avian Flu, or Mad Cow Disease.  
Kentucky's incidence rates of cancer, heart disease, obesity, and diabetes far exceed the national average, and we are ground zero in the opioid abuse and overdose epidemic. Colorectal cancer incidence rates have declined by 25 percent in Kentucky in less than 10 years. Death rates have dropped by 30 percent. In part, this drop is the result of increased screenings led by University of Kentucky researchers. And with 15,000 tests annually, the Commonwealth has the largest ovarian cancer screening program in the country, with UK as its provider and partner.
Basic scientific research is at the cornerstone of innovations and – led by UK – it is leaving an impact across Kentucky. UK's Markey Cancer Center has 36 affiliate and research partners across its statewide network, and 96 percent of Markey's patients are from Kentucky. UK is focused on dangerously stubborn health disparities and was recently reviewed by the National Cancer Institute for the continuation of UK Markey's NCI-designation. This initiative is all part of our effort to improve the health of Kentucky families.
There are many more priorities – markers of progress at risk – that we are highlighting each day for legislators and policymakers as they undertake the difficult task of crafting a state budget for the next two years.
We should respect the challenges they face – rising pension costs, growing incarceration rates, and shouldering more of the burden for the expansion of the Medicaid system.
But our argument remains that investment in education is one of the surest ways to grow an economy and secure a bright future. It always has been. States with higher levels of educational attainment have lower unemployment, healthier populations, and more civic engagements.
If Kentucky were at the national average for numbers of bachelor degrees, it would mean hundreds of millions more annually in tax revenue for roads, jobs, health care, and other necessary investments.
We will keep sharing those stories and making what we believe is a powerful case for investment in UK. And we also will demonstrate our commitment to doing more on our end, operating more efficiently, finding new ways to generate new revenues, and seeking innovative approaches to expanding our commitment to education, research, service, and care.
Those approaches – and the campus conversation we're having about them – is the topic of my blog next week.