Emboldening Our Students in Transformative Spaces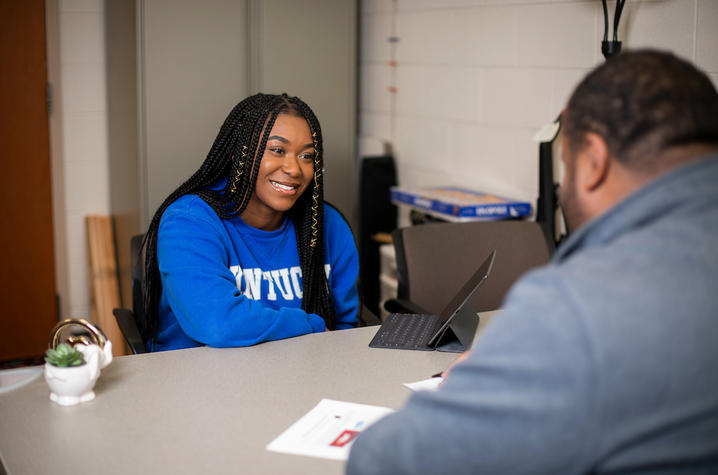 Earlier this week, I had the opportunity to speak before our Board of Trustees at their December meeting. It was a salient reminder that although there is much to celebrate and reflect on, there is still work we can do to discover what's wildly possible for our students and their futures.
In the fall, we started this academic year strong by welcoming more than 5,300 students – our largest first-year class to date – from all 120 counties of the Commonwealth, 50 states, and about 100 countries. Each one of them offers a unique perspective of the world that enriches our campus. 
Our job as a university is not to tell students what to think but to teach them how to think critically, communicate effectively, and respect a diverse array of opinions. 
It is this kaleidoscope of ideas, personalities, backgrounds, perspectives, and experiences that makes our campus the remarkable place that it is. A campus that never stifles the opinions of others, but instead cultivates spaces that are intellectually challenging and emotionally safe. 
And it is not necessarily what those spaces are - it is how those spaces become. 
We make those spaces by appointing genuine and influential leaders whose interests lie in the betterment of our campus community. 
We make those spaces by encouraging our students to host events and invite speakers, engage in difficult conversations, and find camaraderie among groups of people whose beliefs and perspectives are different than theirs. 
And we make those spaces by accepting everyone who decides to discover what is wildly possible with us. 
This is what a university should do. 
This year, the University is commemorating 70 years of integration, and to kick off our year-long celebration, we invited Trevor Noah to speak to the campus in August at Memorial Coliseum. Tickets were free for students, faculty, and staff because Trevor had an important message about the role a university plays concerning equality in education. 
While discussing his experience with education growing up in apartheid South Africa, Noah said, "For 8-9 hours a day, we were equal. Access to education can truly define your generation and generations to come, and that comes with having the same level of opportunity." 
In 1949, our University was not open to all; it did not provide the same level of opportunity that the people in our world need and deserve. 
And that is why, 70 years ago, Lyman T. Johnson boldly forced open our doors, defining the educational opportunity for the generations that would follow. 
Shortly after the Trevor Noah event, Doris Wilkinson earned an honorary doctorate degree from UK. 
Dr. Wilkinson was one of UK's first three African American graduates and, after earning her master's from Johns Hopkins and master's and doctoral degrees from Case Western Reserve, she returned to UK in 1958 and became the University's first full-time African American faculty member. 
She is the founder and first director of the African American Studies and Research Program, and she has contributed significantly to our campus and the study of sociology. 
Earlier this year, the John R. Gaines Center for the Humanities at UK appointed Dr. Melynda Price as the director of the center. 
Dr. Price is the first woman and the first African American to lead the Gaines Center since its establishment in 1986.
All of these people dared to take the bold firsts steps. 
And when they did, they sent a message about the power of education – power that extends beyond the classroom. 
In October, the UK Student Government Association partnered with community organizations to host a gubernatorial debate in the Singletary Center. 
This was an opportunity for our students to ask their leaders questions that were important to them so they could make educated decisions when casting their votes. 
It was a time for students to tap into their identity as not just a student, but as a citizen of this state and nation. 
In the fall, our campus had visitors who came to express their beliefs and opinions as students made their way to class. 
Their convictions were offensive to some of our students – still, we are a community that respects the right to free speech and expression for all individuals. 
Because, just as the visitors had the right to express their beliefs, so too did our students.
In a space that was sometimes charged but always safe, our students engaged in debate with the visitors - and these are moments when ideas are refined, changed, or strengthened. 
Early in November, the MLK Center hosted the Diversity Leadership Summit to help enhance the educational experience of students from diverse backgrounds.  
Students from colleges across Kentucky, along with prospective multicultural high school juniors and seniors, engaged in a day-long conference that encouraged, educated, and inspired them to achieve their academic and professional goals through scholarship, leadership, and service to others.  
Also, in November, UK students who are part of Young America's Foundation invited Michael Knowles to speak here in the Gatton Student Center ballroom.
And, on the same night, just down the hall from where we are now, the Office of LGBTQ+ Resources hosted a discussion and karaoke night in honor of Trans Week of Awareness. 
These events are what make a university remarkable.  
While one of our goals is to educate our students in the classroom, we know that a lot of the lessons they learn come from interacting with a diverse and welcoming community. 
We should do all that we can to encourage this because it is these interactions that help our students grow and develop to later become the backbones in their communities, disciplines, and careers.  
David Rosenberg, a UK College of Law alum, gifted the University of Kentucky $20 million, making his generous endowment the third largest in UK history. 
I have had the pleasure of getting to know David, and we have uncovered our commonalities. Our parents or grandparents immigrated to America between 1880 and 1920, after which this country closed its doors to immigration, making it nearly impossible for other family members and co-religionists to escape Hitler's extermination.
And, David and I are descendants of those without an education, driven to make certain their children and children's children would know its promise. 
After graduating from the UK College of Law, David became a leader in his career and a philanthropist in his community. He has committed himself to uplift those around him because he understands that a better community for all makes a better community for those who come from diverse backgrounds. 
And, as an alum, David knows the power of our community – and that is why he has invested in its future.
By the time students graduate from the University of Kentucky, they should have the necessary tools to make positive impacts on society and uplift those around them.
This is only possible if we are welcoming to all people and opinions, supportive of courageous conversations, and enriched by diverse backgrounds, beliefs, and perspectives. 
Because we are not just a place where students earn a degree – we create the space where students are inspired, transformed, and emboldened. 
Here, at UK, we are what is wildly possible.