A New Semester: Expectations for Student Success and Our Community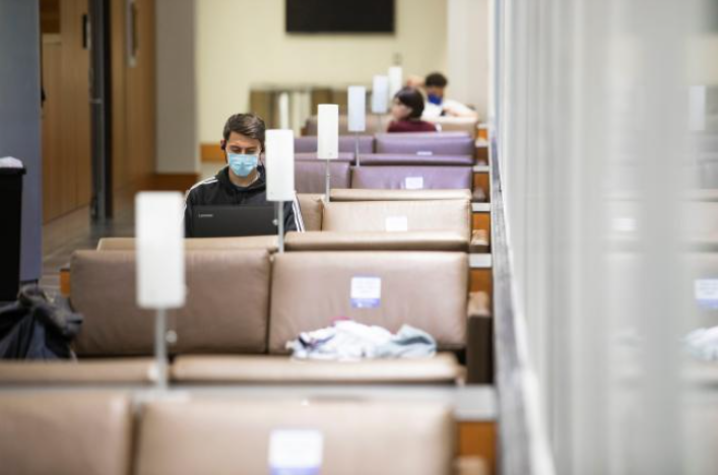 President Eli Capilouto
 Jan 7, 2022
The following message from President Capilouto was sent to all of campus on Friday, Jan. 7, 2022.
Campus Community,
The sound of shovels and tractors throughout the night and into the morning reinforced for me in a compelling way the unwavering commitment this community has to service — service to students, service to care and service to our state.
I want to thank, on behalf of all of us, our facilities crews, public safety officials and others who work around the clock to support our operations, even on days when we are not fully open. It is tough and trying work, and they do it so well.
It was a timely reminder, as we begin another semester on Monday, of the priorities we share as a campus and as a community.
We are here to educate students, and we know they do better — academically, socially and in terms of well-being — when they are on campus and in-person with outstanding faculty and the staff who support them . We have done an incredible job in honoring this priority, during continually challenging times. In a message this morning to faculty, Acting Provost DiPaola set out clear expectations about the commitment we have to our students. At the start of a new semester, I ask that we redouble our efforts, in the face of yet another set of challenges associated with COVID-19, to ensure our students have what they need to succeed and be well. 
That means administrative offices and units throughout campus should be staffed Monday morning, ready to support our faculty in their work and our students in their efforts to be successful.
At the same time, ensuring that level of support and teaching means we must remain focused on the health, safety and well-being of our community — the faculty, staff and students — who make this the special place that it is for the Commonwealth.
Already, we have resumed required weekly testing for unvaccinated individuals on our campus. Importantly, we also are providing free testing services for members of our community — whether individuals are symptomatic or simply wish to test as an additional precaution.
With the robust testing enterprise we have built and given the nature of the highly transmissible Omicron variant, we know that we will detect many cases of the virus this spring.
We have been preparing for this. UK Health Corps is committed to supporting our community's well-being. And, as we have for the past two years, we will continue to enact policies and provide resources to ensure the health of our community, while also fulfilling our mission of education, research, service and care.
But — as we have throughout the pandemic — we need to work together. Here is how you can play your part: 
Get vaccinated if you haven't already. Sign up for a vaccine at ukvaccine.org.
Get your booster. Vaccines are — without question — the best defense against serious illness or hospitalization. And boosters have proven particularly effective against Omicron. It is essential that members of our community get their booster shot.  Learn more here.You also can read more below about an upcoming booster incentive program, which will award cash prizes to faculty, staff and students.
Wear a mask indoors. Mask-wearing continues to be required in all indoor spaces on campus. Compliance with this measure is even more important with a highly transmissible variant.
The university has purchased two KN95 masks for everyone who comes to the main campus, and we are in the process of ordering more.
Students who are moving into residence halls will be given masks as they move in today and over the weekend. Wellness huts are being erected on campus, as in the past, and students who come to us from off campus can also pick up masks there.
We are working with our Staff Senate, as we have done previously, on a mask distribution plan for our faculty and staff. We will have more information about that process to communicate on Monday; we will make masks readily available throughout the campus.
If you see that people are not compliant with mask-wearing and want to report it, you have several options.
You may report issues of employee mask noncompliance via this form.
To anonymously report employee violations, you can utilize our UK comply line in several ways. More information about that process can be found here.
For student violations and concerns regarding mask compliance, you can make a report here.
Get your flu shot. The flu is particularly harsh this season, as our health care facilities continue to manage increased cases from the Omicron variant. Sign up for your flu shot today if you haven't already. Learn more here.
Take advantage of free on-campus COVID-19 testing. Students, faculty and staff can utilize any of the on-campus testing services at no cost. Learn more here.
Booster Incentive Program
Last semester, we experienced great success with our vaccine incentive programs for students and employees.
This semester, we will build upon those efforts with a booster incentive program. We will offer cash prizes to individuals who sign up for the program and provide documentation of their booster shot.
Learn more about the employee booster incentive program.
Learn more about the student booster incentive program.
Vaccination Rates
We continue to have very high vaccination levels, even as we are incorporating a number of new students into our community.
Here are the latest numbers:
UK community: 90.8%
Faculty: 96.7%
Staff: 93.5%
Students: 87.8% 
UK campus: 89.7%
UK HealthCare: 93.4%
We can do this together. I know that we can because I have seen you step up at every moment of challenge with a sense of compassion and commitment.
We pledge to continue communicating often and seeking feedback from you as we navigate these circumstances as a community.
Thank you for all you do.