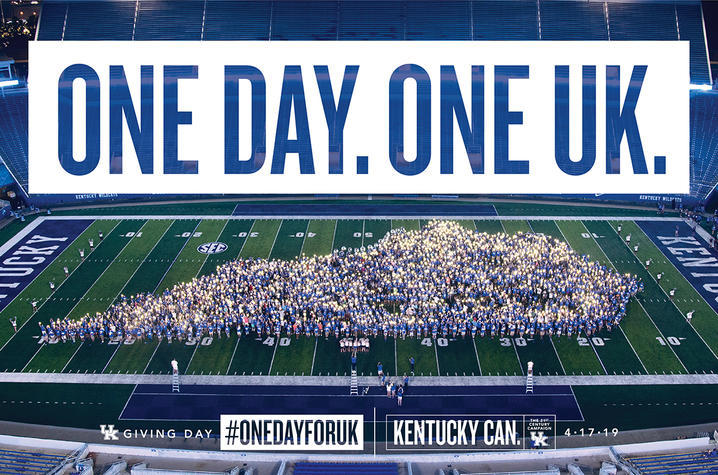 President Capilouto sent the following email to campus on April 15, 2019. 
Dear Colleagues,    The University of Kentucky is a place defined by its people. Because of you, we are preparing the next generation of leaders and innovators. Because of you, we are addressing the most complex challenges of our time. Because of you, we are uplifting communities and improving lives in Kentucky and beyond.   You are the reason that Kentucky can do more and be more for those we touch and teach.   This Wednesday, April 17, you will have the opportunity to further support the transformative work occurring on the UK campus. Our community will band together, rallying alumni, friends, and fans during our first "One Day for UK," a 24-hour day of giving.
"One Day for UK" is part of "Kentucky Can: The 21st Century Campaign," a $2.1 billion comprehensive campaign that harnesses our collective determination and boundless compassion to write the next chapter for this University. You can be a part of the celebration and show your UK pride in the following ways:
Participate in our Giving Day challenges. Visit https://www.onedayforuk.uky.edu/ to see the challenge and match opportunities available.
Engage in the online conversation by following #OneDayforUK on social media. Also, visit the Ambassador Toolkit to download graphics for Facebook, Twitter, and Instagram. You can also add a #OneDayForUK frame to your Facebook photo.
Participate in our campus events. Join us from 10 a.m. to 2 p.m. in the Gatton Student Center, or from 11 a.m. to 1 p.m. in UK HealthCare's Pavilion A for giveaways and to learn more about the programs that are transforming Kentucky. 
Together, we will show the world what Kentucky can do.   Eli Capilouto