What is Possible Through Shared Determination and Common Compassion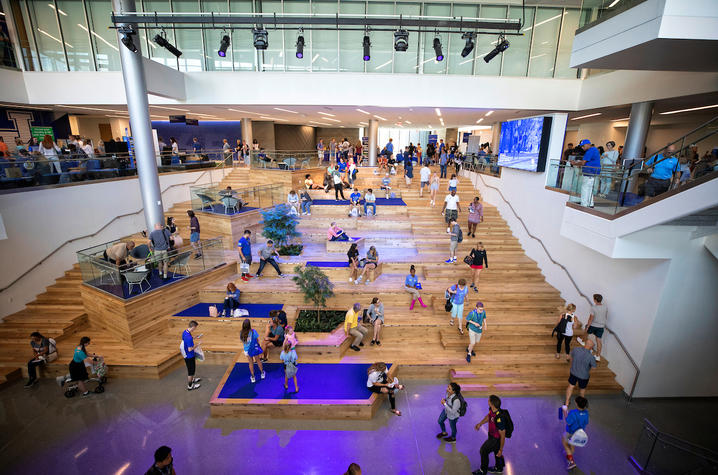 What is possible?
It is the question that both pushes and informs us—and always has.  
Our founders acted upon a profound idea that a university had the ability to change people's lives through unmatched higher education, innovative research and discovery, and outreach that uplifts and heals communities and the people it serves. Today, the University of Kentucky is forging new, innovative ways to carry out our mission to our community and the people of Kentucky.
Enveloped in that sense of promise and potential, and achieved through a shared determination and common compassion, consider a sampling of what we have done together this year:
Our graduation and retention rates are at record levels, and we capped the 2018-19 academic year with record participation in our May Commencement activities. Together, these numbers put us on the path to confer a record number of degrees in a single academic year, contributing to the state's ambitious attainment goals and economic pursuits.
Our faculty and staff are earning more external research support than at any time in our history, surpassing $385 million in grants and contracts that support their innovative work in answering the questions of our day.
Our Center on Drug and Alcohol Research, as well as faculty and academic units across several colleges, earned the University's largest, single grant in its history, $87 million to reduce opioid overdose deaths by 40 percent in 16 Kentucky counties.
Our physicians and caregivers in UK HealthCare comprise the team at what has now been named the top hospital in Kentucky for the third year in a row. Collectively, they serve a larger, increasingly complex patient mix than at any point in our history.
Our campus launched a profoundly important comprehensive fundraising campaign, Kentucky Can: The 21st Century Campaign, to raise $2.1 billion to support faculty and student success, modern research, a continued investment in our campus, and position UK to lead in a new century of promise.
Our community was recognized as a "Great College to Work For" by the Chronicle of Higher Education, a "Diversity Champion" by INSIGHT into Diversity magazine, a "Best Employer for Diversity" by Forbes, a top school for LGBTQ* students by the Campus Pride Index, and among "America's Best Employers" by Forbes.
What more is possible? Indeed, it is the question we seek to answer through the priorities and investments in the 2019-2020 Operating and Capital Budget. As we announced last month, following Board of Trustees approval, the University's $4.2 billion budget includes:
Increasing tuition by 2.4 percent for undergraduates from Kentucky, which combined with the increase this past year of 2.5 percent, represents the lowest successive increases in more than 30 years.
Creating a 2 percent merit pool for UK employees. It's the seventh year in a row of pay increases to recruit, retain, and reward our outstanding faculty and staff who inspire, discover, and heal each and every day.
Investing $146 million in financial aid – nearly tripling the amount of aid students do not have to repay since Fiscal Year (FY) 2009-2010. In fall 2018, nearly 90 percent of Kentucky undergraduates received financial aid or scholarships. For these students, out-of-pocket expenses for tuition and mandatory fees in fall 2018, decreased by approximately $150 per semester compared to the previous year.
Allocating nearly $2 million to invest in new diversity faculty hires.
Investing an additional $1 million for campus modernization efforts, bringing UK's total restoration pool to $10 million total, and another $500,000 for renewal of utility infrastructure, or $1.5 million in the total pool of available resources.
The resourcefulness and ingenuity of our people make our progress possible.  These efforts – and our mission – remind us that:
We discover what is possible: earning federal, state, and industry research support to confront the complex challenges in energy, health care, addiction, the humanities, and the human condition;
We treat the most serious of illnesses and disease, reimagining what is possible: providing comfort and healing to Kentucky families close to home;
We serve every corner of the Commonwealth to achieve what is possible: supporting farmers, small-businesses, and families through our historic land-grant mission and Extension network; and
We innovate to expand the boundaries of what is possible: leading to burgeoning entrepreneurial work and start-ups that launch new industries and push our state's economy to the leading edge.
Together, the University of Kentucky, its students, faculty, staff, and alumni, have boldly aspired to both ask and answer a singularly important question: What is possible?
We answer that question daily, emboldened by the relentless determination and compassionate community that define our shared work. United by a common vision with an uncommon sense of purpose, we are renewing our commitment as the University for Kentucky.