Our Path Forward: Enrollment Growth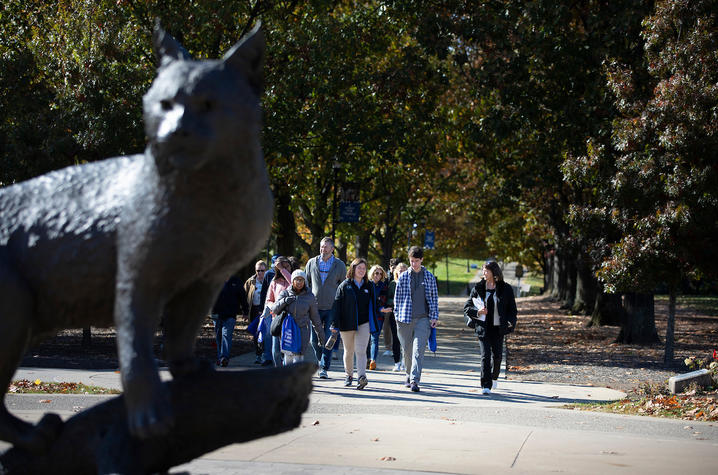 Last month, the UK Board of Trustees at its annual retreat engaged with faculty, staff, and students regarding the development of our University's next Strategic Plan. President Capilouto wrote to the campus afterward, affirming that "the time has come to cast aside the tired and numbing routines of planning that lead to generic and uninspired results. The time has come to commit ourselves instead to new approaches as we seek new solutions. The time has come to plan not for what is, but for what is next."
This perspective underscores the work already occurring under the Our Path Forward initiative. Our goal from the beginning was to think creatively and respond with entrepreneurial ideas to achieve the vision of our Strategic Plan. Our work in enrollment management reflects that goal.
It underscores what's possible for our future.
Enrollment growth is among our primary strategies for long-term financial sustainability; five Phase II initiatives address targeted enrollment growth. Fortunately, we have a promising foundation upon which to build.
Under the leadership of Associate Provost for Enrollment Management Christine Harper, we welcomed the largest first-year class in UK history this fall. Our goal is to build upon that excellent work and to continue sharing revenue from that enrollment growth with our colleges.
In addition, we are committed to further recruiting and supporting distinct student populations beyond our traditional first year class.
Last year, we began expanding our online certificate and degree programs, extending our institutional footprint, under the direction of Associate Provost Kathi Kern and her team. While UK already is present in all 120 Kentucky counties through Cooperative Extension, a more robust online presence already has allowed more Kentuckians, irrespective of where they live, an opportunity to earn a UK degree or gain a certificate or additional professional accreditation in a growing field
More online programs also will allow us to reach adult learners—or students who have earned some college credit, at UK or another institution, but for whatever reason never fulfilled their requirements for a degree. That's why initial phase of the expansion prioritized master's degrees, graduate certificates, and courses that allow students with existing UK credit to flexibly complete their undergraduate degrees. Phase II will build on this work, ideally reaching adult students for whom the flexibility of an online degree will be appealing.
It's another way we plan to meet the needs of new student populations and Kentucky's workforce.
Associate Provost Harper also is continuing her focus on recruiting and supporting transfer students, while we work with the colleges to develop deliberate undergraduate-to-graduate pipeline programs.
All of this crucial work underscores our commitment to intentionally and thoughtfully growing our enrollment, while maintaining our focus on student success.
Over the next few months, we will be highlighting different aspects of Our Path Forward, and how the initiatives under this plan will further extend our mission of education, research, care, and service for the state and beyond.
I look forward to spotlighting the tremendous work of faculty and staff across our campus, who are collaborating and partnering to make ensure we continue to be the University of, for, and with Kentucky.