A Celebration of Our Graduates for a Job Well Done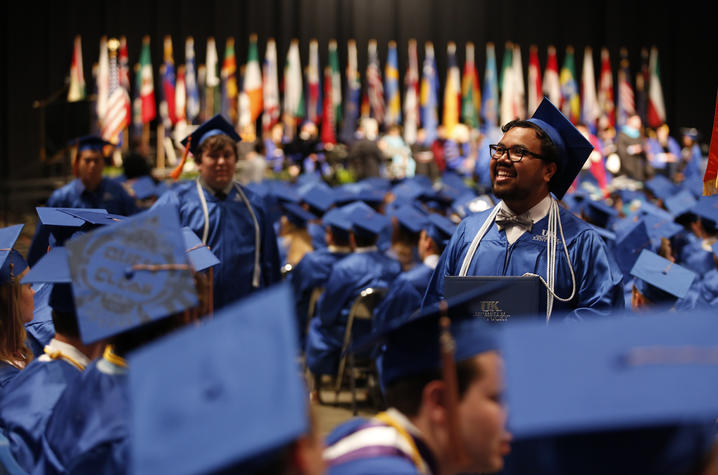 April 27, 2018
No matter how much university students feel they have prepared themselves for their collegiate career, some aspects of higher education will be a bit of a revelation -- some pleasant, others distinctly challenging.
For some students, it seems that insurmountable odds stand between them and a Commencement ceremony. And yet, I proudly watch young people at the University of Kentucky conquer those "insurmountable" odds every day.
Some are first generation students. Some are from rural communities. Some are challenged by economically disadvantaged backgrounds.
Some have had access to a stellar primary and secondary education. Some come from other countries, with only a rudimentary understanding of the English language and culture.
Some are veterans of the armed forces, returning to college after they have fulfilled a personal obligation to the military. Some are older than their freshman peers because they put raising a family above attending college right out of high school.
And there are others with disabilities who astound us daily with their personal courage and determination.
Describing a typical college student is not as easy as it was a few generations ago … because there is nothing typical about today's college student.
Today, college students display an infinite number of traits. In fact, there are individuals who share traits with a number of groups; and there are students so singular in nature that they can only be described as unique.
Therein lies the beauty and the challenge of a richly diverse student population. When nothing is the same, everything is equal.
As Horace Mann, the great reformer of the American educational system, said, "Education then, beyond all other devices of human origin, is the great equalizer of the conditions of men, the balance-wheel of the social machinery."
Students transcend difficult circumstances to achieve a college education because they too see the value and benefit of attaining a quality education that leads to a lifelong career guided by their interests and passion. And because students persevered, they, as well as their families, will benefit from their success. Research shows that almost every aspect of one's life is likely to improve due to their education.
As we prepare for Commencement, I celebrate and salute our graduates.