Spotlight: Huajing Maske, Member of DEI Leadership Team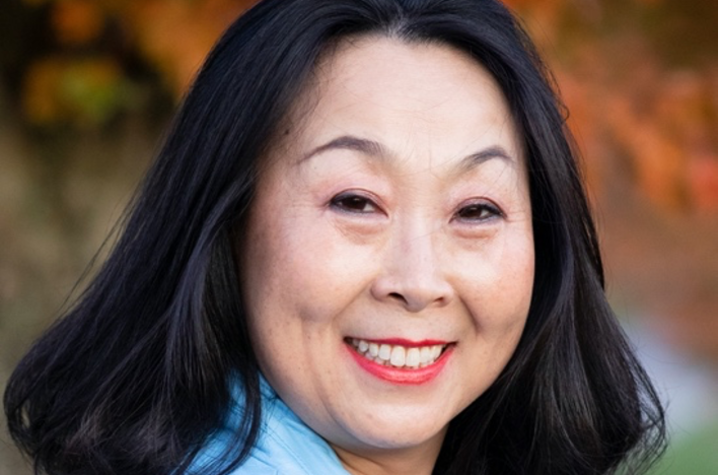 Dr. Huajing Maske is the executive director of UK's Confucius Institute and serves as a member of the DEI Leadership Team. She was born and raised in China and earned her master's degree from Peking University. She then earned her PhD in Chinese art history from the University of Oxford in England. After graduation, she and her husband moved to Boston where they lived for 15 years before joining UK in 2007 and 2008. When I spoke with Dr. Maske, she told me about finding her purpose at UK.
What was it like coming to the University of Kentucky after growing up in China, earning your PhD in England and teaching in Boston for so many years?
I arrived in Kentucky two weeks before my first semester here started, and I completely devoted myself to teaching. But, by the end of the first semester, I realized I was depressed. I remember waking up on New Year's Day and feeling so sad, but I did not know why at all.
I found that I did not prepare myself to come here. Because I was so busy, I didn't make friends and didn't know anyone or feel I belonged except teaching and teaching well. That depression got me thinking, "What am I here for besides my family?"
One day, at the end of March that year, I was on a treadmill at the YMCA. Outside the window, I saw rows of budding willow trees. What's interesting, Dr. Wright, was that in that moment, I thought about a story shared by my second-grade teacher back in China. He was talking about the willow tree and was saying to all of us little second graders, "The willow tree grows everywhere. Whether it's in the desert or by the water, it grows and survives. I want you all to be willow trees." I never thought about that moment until 35 years later on that treadmill. I thought, I want to find a way to not just survive in Kentucky but thrive – I need to find my purpose.
So, I started pushing for the Confucius Institute to educate the community, students, faculty and staff about China. And this year is actually the 10th anniversary of the founding of the Confucius Institute.  
What does DEI mean to you?
I have to start with why I care about DEI. I care about it because I care about UK and the value UK stands for. Dr. Capilouto has said that the university is about its people and their ideas. If people and ideas are the soul of this institution, then DEI is about people who share humanity despite their differences. It's also about what's in their minds and hearts and their attitudes.
When it comes to implementation, I look at my own growth: when I was growing up in China, I was not aware of different aspects of identities such as race, gender, sexual orientation and others. I had no idea – all the friends around me were Chinese. So, my education in DEI started when I came to the US. The 12 years I have spent working at UK with students on campus and both international students and faculty has been instrumental in my education. I think for implementation on campus, the education part is very important. We need to educate everyone from all levels, and in order to do that, I feel we need to have a very clear definition and goal of DEI. I believe this is our chance and opportunity to make a difference and not just "check a box."
After being in this country for 26 years, I have noticed a pattern. Each time there is an incident that sparks a movement, the movement will go on for a while, and then it will stop. In my mind, there have not been many changes in substance or essence, so this really is an opportunity for change that we need to take.
What specific strength do you bring to our DEI work?
In learning about the racial injustice and inequality in this country, one thing that stands out for me regarding Asian Americans or Asian American Chinese individuals, is the notion of the "model minority." This stereotype is a microaggression and a prejudice against Asian Americans. At UK, we have so many Asian American faculty, staff, students and researchers. The international Chinese students are almost 46% of all international students on campus.
On the one hand, the model minority stereotype says to Asian Americans, "It's best if you remain quiet about any discrimination you face." On the other hand, I believe it is used as a wedge to divide Asian Americans and other people of color, which is very detrimental. As a member of the Leadership Team, I am passionate about addressing this issue.
In addition, being a team member of the UK International Center, I am humbled to work along a cohort of colleagues who are committed and dedicated to international education.  UKIC serves and supports international students and scholars as well as domestic students. Each year we work with international students from every continent. Each year we send our UK students to different parts of the world to study abroad. Not only the UKIC works with a diverse body of students, both domestic and international, but also we have to recognize that international students, staff and faculty also feel the effects of the negative discrimination, racism, and xenophobia,  so,  the second strength I bring to the DEI effort is to make sure that international students, faculty and staff  are an integral part of all UK's DEI work.
It is absolutely essential that we come together in solidarity to address racism, xenophobia and discrimination in all their forms. We must raise awareness of the issues of inequality and discrimination that affect marginalized populations.
Even though we are in our first semester and phase of DEI, what in your mind will signal that we are on the right track? What would be an early accomplishment to you?
I think there are already so many, and that is why I am very encouraged that we are not just "talking the talk", but we are really "walking the walk." What I have seen is top leadership setting the example and putting in resources for this work.
Also, in our Leadership Team meetings, I have really appreciated the presentations by different project leaders that help us understand what they are doing. It helps us know there are all these people working in different groups addressing different issues. And, there is a campus wide coordinated and inclusive effort to make sure that these different projects do not work in solo. These presentations are always detailed with strong mission, goals and plans, and to me, as someone who likes to plan and execute programs, that is very encouraging. I truly feel that that great things are happening on this campus.
Additionally, all these teams have faculty, staff and students involved. This is crucial because DEI should be a priority of everyone at UK. Seeing all these people from all walks of life dedicated to this effort is impressive – this is a very impressive undertaking, and I am honored to be involved and to make a difference.