Spotlight: Trenika Mitchell, Member of DEI Leadership Team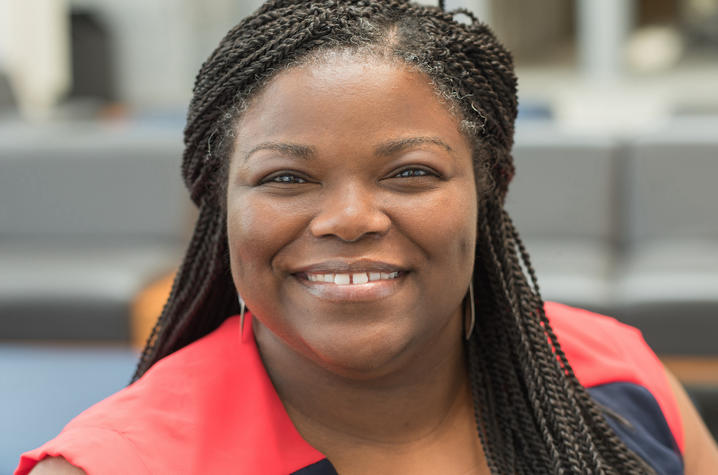 Dr. Trenika Mitchell, an invaluable member of the DEI Leadership Team, is a leader both in the classroom and in our community. Every day she strives to make UK a place where everyone feels valued and respected. We are certainly a stronger community because of people like Dr. Mitchell.
Can you tell me about your background?
I am a Mississippian through and through. I grew up in a small town called Iuka, and it truly is spelled the way it sounds:  I-U-K-A. The town was named after a Native American Chief.
I've known since the sixth grade or seventh grade that I wanted to be a pharmacist, and I knew that I wanted to practice in pediatrics. I've always loved teaching as well.
What a lot of people don't know is that you don't have to earn a bachelor's degree to go into pharmacy school. You only need to complete prerequisites, which I did in two years as an undergrad student. Then I went on to pharmacy school at the University of Mississippi.
If you want to teach or practice in a specialty area like pediatrics, there are residencies available. That's how I got to the University of Kentucky. UK HealthCare has one of the greatest residencies in the nation, so I signed up and matched with it.
After my residency, I had multiple people from the UK College of Pharmacy who said, "Trenika, you need to look at this job that we have." But that wasn't part of my plan.
After several peers and mentors encouraged me, I talked to the current Pharmacy Practice and Science department chair, applied and interviewed. The next day, he offered me the position at the College.
I've been at the College of Pharmacy ever since. Every Friday I still practice in pediatrics, so I'm a little spoiled because I get the best of both worlds – teaching and practice.
 
What does your day-to-day look like?
First and foremost, my love is teaching. I love spending time with students and being in the classroom.
I teach in the patient skills lab, but I also teach some DEI topics in other courses.
In the DEI part of my job, there are often emergencies and things that happen that require immediate attention and support. For instance, after the targeted shootings in Atlanta, I immediately checked in with our students of Asian descent.
I'm very much a hands-on person. We have four classes of professional pharmacy students, as well as graduate students, so I made sure that the Monday and Tuesday of that very next week I had five meetings scheduled, and any of those students could attend.
All school is difficult, but when you get to professional school, especially pharmacy school, it can be demanding and stressful. The work and expectations can be rigorous and challenging, so there is already a lot on our students' plates. Then you add these outside factors – meaningless, dreadful acts of violence towards people of marginalized groups, feelings of unsafety for themselves and the ones they love, pressures to act, which are huge and stressful for our students. A lot of people don't understand that students carry that weight around.
Another challenging example related to inclusion is the pandemic. It of course impacted our second-, third- and fourth-year students, but they at least already knew each other. Our first-year students did not. We worked to find creative ways for our first-year students to get to know each other because we were doing hybrid learning, so some classes were over Zoom and some classes were in person.
I truly believe in inclusion, and it's a big part of my job. Inclusion is thinking about students, staff, colleagues and even alumni. I work to understand how we can support anyone who walks through our doors, and that is integral to the DEI work.
In addition to my role as Associate Dean for Diversity and Inclusion, I have the opportunity to practice in pediatrics every Friday. Most of the time I am in the neonatal intensive care unit (NICU) and rounding with that team. I'm their pharmacist, so I come in and look over all the patients, mainly focusing on medication-related issues. There are pharmacists, physicians, physician's assistants, nurse practitioners, the nurse who takes care of the patient, dietitians and a social worker on the team. All of us, each person using their talents and expertise, work together to determine the best plan for each patient.
During the pandemic, we also activated the mobile vaccine clinics where we went to underserved communities in Lexington. I was able to volunteer at multiple clinics and was happy to bring potentially life-saving vaccines to those who are often overlooked. This effort is important to me, and I think it's even more important for people of color to see a person of color in these roles.
 
What does DEI mean to you?
When people ask me what my job is, I say it very simply: my job is to love all people and ensure everybody feels valued and heard and seen. That's what it is to me, and I don't think you could take any part out; it requires each one. When people say diversity is being invited to the party and inclusion is being asked to dance, I think it's a great quote but incomplete. We must bring equity to the table. So, instead, I say, diversity is being invited to the party, equity is ensuring people can afford the admission cost, and inclusion is not just being asked to dance, but having music that people enjoy dancing to.
This world is so beautiful in its diversity, but we must ensure that it's always being celebrated. When individuals say they are "color blind," I think, "Why would anybody want to say they don't see color? It's so beautiful." Different cultures are wonderful, and I love learning about people, places, traditions, families and knowing that I'm constantly going to learn.
At UK, DEI is about continually broadening your mind and not just focusing on one group versus another group. Everyone is important. It's also about understanding the intersectionality of everything because we're not just one identity.
Our goal should be that everyone feels valued and that there's not one group that feels like they need to bang against the wall or shout from the rooftop to say, "This is what my experience is." What I've been teaching my students is that I can't tell someone else what their experience is. When people tell me a concern or that something is hurtful, I believe them. 
We must find places where students can go to be their authentic selves because there's imposter phenomenon, code-switching and other things people feel they have to do to fit in. I would love to create this world where you never have to do those things, but we're definitely not there yet.
The point is to create an environment where people feel welcome here and where they know they are in a place that is constantly making improvements. That must be one of our ultimate goals. And that's for everybody – not just the students, not just faculty, but staff (who are our unsung heroes), too.