2019 Donations for Citations Drive Breaks Record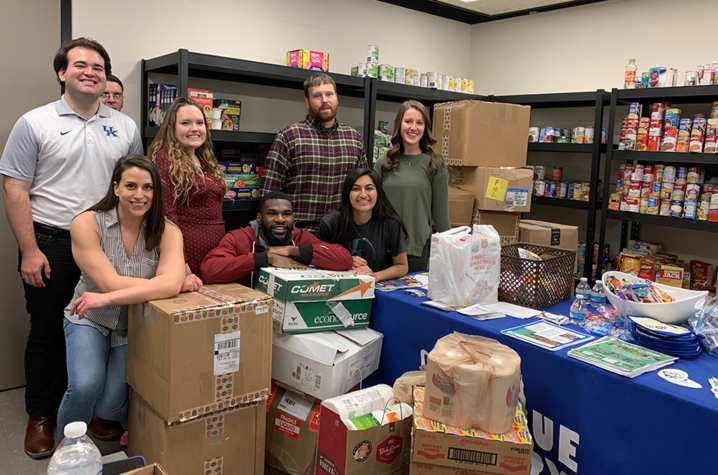 LEXINGTON, Ky. (March 26, 2019) — University of Kentucky Transportation Services staff delivered a final van-load of food and personal care items to Big Blue Pantry (BBP) this week, breaking last year's Donations for Citations record and helping to stock pantry shelves. 
The UK community responded to calls for donations, leading to the delivery of more than 3,200 pounds of food and personal care items. Last year's drive brought in 2,100 pounds, and during the program's four years in existence, Donations for Citations has resulted in total donations of 10,579 pounds of pantry staples. 
Through the Donations for Citations program, UK students and employees who have a parking citation can pay their fee by making a donation to the BBP, an on-campus organization that works to combat hunger and food insecurity for students. This year's drive began Feb. 25 and ran through March 8. Donations for Citations is traditionally BBP's largest food drive of the year. 
"Citations are an unfortunate necessity at an urban institution as large and complex as UK," said Lance Broeking, director of UK Transportation Services. "However, the Donations for Citations program turns something that is often perceived as negative into an opportunity to support a very worthwhile cause."
New this year, a partnership between Transportation Services and the UK student chapter of the National Association of Black Journalists (NABJ) helped expand the reach of Donations for Citations. NABJ students participated in the drive by helping spread the word through social media and through the distribution of fliers.
"We're extremely grateful that UK Transportation Services was able to raise over 3,200 pounds of food and personal care items for Big Blue Pantry!" said Meghana Kudrimoti, BBP student director. "Our pantry is now full, thanks to the generosity of the UK community. We're proud to be able to serve students on campus who may not have the money or resources to access food."
Big Blue Pantry relies upon donations from the campus community year-round to keep their shelves stocked. Visit the BBP website for information about hours of operation or to offer donations directly. BBP also has an online gift fund page, which allows the organization to accept monetary donations that are used to purchase food items.