Alum Says Sense of Community at UK Led Him to Career as a Public Defender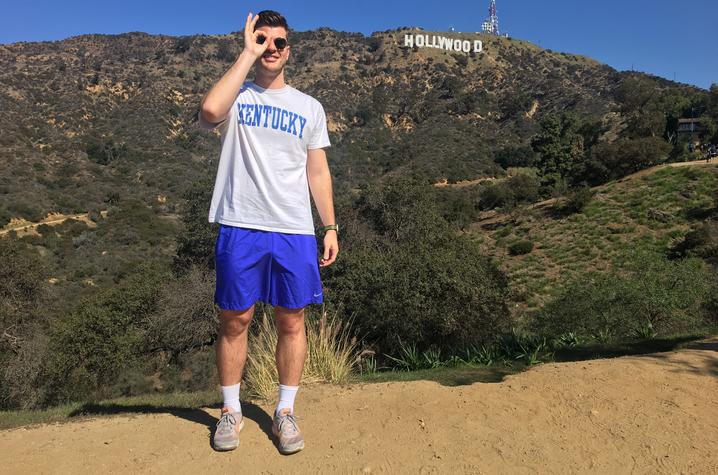 LEXINGTON, Ky. (March 29, 2018) — Ten minutes into his tour of campus, Brett Fountain knew the University of Kentucky was right for him. So, in 2010, Fountain moved from Danville, California, a suburb of San Francisco, to Lexington, Kentucky and began his journey as a Wildcat.
"UK is all about community" Fountain said, and he was able to find several organizations that allowed him to find his community and prepare for his future career. During his time at UK, Fountain was a member of the fraternity Delta Sigma Phi, played on the UK Men's Volleyball team for four years, served on the DanceBlue morale and worked as a math tutor at The Study.
In 2014, Fountain earned his bachelor's degree in finance, and completed 3 minors in economics, Spanish and international business.
While law school was always something Fountain had in mind he knew that he wanted to become a lawyer after working in the Department of Public Advocacy in Lexington. He said, "After my first day on the job, I knew I had found my career."
Today, Fountain lives in Southern California with his wife Katie, who is also an UK alum. He will soon begin working as a deputy public defender for Los Angeles County representing individuals who are unable to afford their own attorney.
Some days he'll be in a courtroom for trial others he may be meeting clients at the local jail. While it's a demanding job, it's one he finds incredibly rewarding because it shows him the humanity in everyone, he said "There is so much humanity in everyone and I see that in my clients and I fight for them and for their liberty."
Fountain's legal interests include criminal justice and advocacy; he's also interested in innocence work, assisting those who have been convicted of a crime prove their innocence and regain their freedom.
In the next 10 years, Fountain sees himself continuing to work as a deputy public defender, but could see himself going into private practice to include appellate work and continuing innocence work, or working on criminal justice public policy and reform. "The beauty of a law degree" he says "is that there are so many paths I can take."
Fountain feels his time at UK prepared him for his current work and the work he hopes to do in the future he said, "The sense of community uniquely prepared me for my work as a deputy public defender because I serve my community and work with other deputy public defenders. At UK, whether it's rallying behind the basketball team or coming together to raise millions of dollars for kids with cancer, there is a sense that we're all part of one unit."