Alumnus Greg Parks Focuses on His Writing, Civil Rights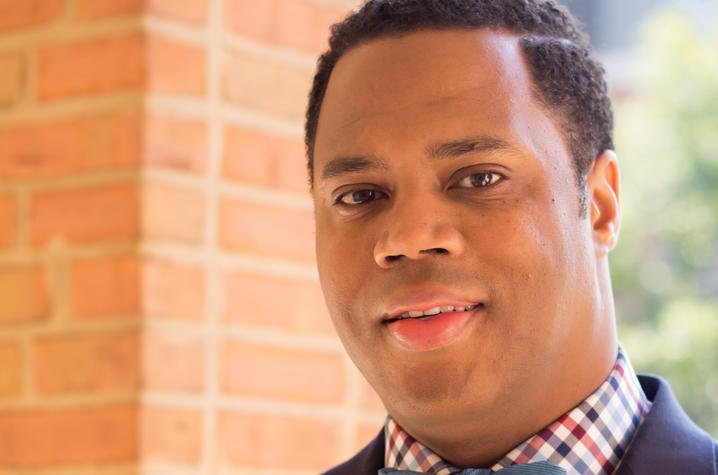 LEXINGTON, Ky. (Feb. 28, 2018) — Having authored or edited more than 10 scholarly books and many articles, Gregory S. Parks '01 '04 (College of Arts and Sciences) often focuses on issues dealing with diversity on university campuses in the United States.
Parks is the associate dean for research, public engagement and faculty development and professor of law at Wake Forest University School of Law in Winston-Salem, North Carolina. He earned a master's degree and a doctorate in clinical psychology from UK. Parks also holds a bachelor's degree from Howard University (1996) and earned a law degree from Cornell University (2008).
His books include "The Obamas and a (Post) Racial America?" (Oxford University Press) and "Twelve Angry Men: True Stories of Being a Black Man in America" (The New Press), which was turned into an off-Broadway production in 2016. He is co-authoring a book with Matthew Hughey for 2018 with New York University Press on the history of African-American fraternities and sororities' racial uplift. Its working title is "Uplifting the Race: African American Fraternities and Sororities and the Quest for Black Social Equality."
"The book looks at the history of African-American fraternities and sororities — eight of the nine major ones between 1906 and about the early 1970s in the areas of community service, philanthropy, social activism, civic activism and efforts to shape public policy," he said.
"We found it to be true that after the passage of the major civil rights laws of the early to mid-1960s, these organizations basically became largely community service and philanthropic organizations and shed a lot of the civic and social activism and public policy work …
"When they tend to think they have achieved their goal, they either die out or they repurpose. That actually speaks to the final portion of the book where we ask the question, 'What would it take to reinvigorate these organizations generally, across the board, in the areas of racial uplift, but more specifically, in the areas of civic activism, social action and shaping public policy?'"
Parks grew up in East Hampton, New York, coming to UK in 1999.
"I had never been to Kentucky before. Richard Smith was the director of graduate studies for the Department of Psychology the year I was being recruited. He was persistent and polite," Parks said.
"Deneese Jones was the associate assistant dean of the Graduate School, and she played a major role, as well. I came to call her my mother away from home. They were also hiring a new African-American faculty member of the psych department, Tamara Brown. We had some research interests in common and actually, she ultimately became the co-editor on the first book that I published with the University Press of Kentucky. There were just a confluence of factors that gave rise to my interest in UK."
He tries to get back to campus and stay in touch. "I was at the psych department's 100th year anniversary this summer. Periodically, I reach out to Chester Grundy, but some of the people I knew there (UK) have moved on," he said.
Today, in addition to his typical duties as a law professor, he is responsible for outreach — connecting law faculty with the community and their peers. This means coordinating guest speakers for the law school but also includes more unconventional approaches such as blogging or tweeting an op-ed.
"My goal is to look at hard numbers and, hopefully, make our faculty more productive scholars, widen their scholarly reach and deepen their engagement in our local community and broader profession," he said.
Parks' research focuses on the intersections of race and law, as well as social science and law. One of his current projects is an empirical study of jury selection in North Carolina state-level felony trials — Wake Forest Law Jury Sunshine Project. He also focuses on what implicit attitudes and biases mean for the law.
He examines black fraternal networks and their relation to the law, such as biographies of prominent African-American lawyers and judges who were or are lifelong members of these organizations, the role of these organizations in African-Americans' quest for social justice and civil rights, and the legal issues around violent hazing within these organizations.
Parks previously did trial and appellate litigation in the Washington, D.C., office of McDermott Will & Emery LLP. He was a visiting fellow at Cornell Law School and a law clerk on both the United States Court of Appeals for the Fourth Circuit and the District of Columbia Court of Appeals.
He maintains his daily focus and stamina largely through the martial arts. "I've been into martial arts since I was 15 or 16. I train pretty much every day from three to five hours a day — a morning session and evening session," Parks said. "I really like it, it's fun, a way to stay in shape and work out any daily frustrations. I do several different styles ... karate, Muay Thai, Brazilian jujitsu and taekwondo."