And, The Winner Is ... A Wildcat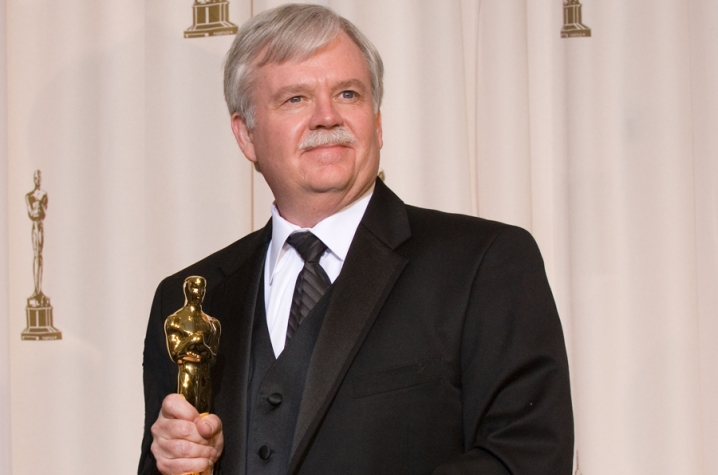 LEXINGTON, Ky. (Feb. 26, 2011) — Have you ever wondered what it would be like to win an Oscar?  Look no further than the University of Kentucky family for the answer.
For UK alumnus and sound editor Henry "Bub" Asman, the walk up to the stage of Hollywood's Kodak Theatre is a familiar one. In 2007, Asman won the Oscar for sound editing for his work on Clint Eastwood's film "Letters from Iwo Jima."
But before he reached this professional pinnacle, he started his path to success on the University of Kentucky campus in the late 1960s. 
"I remember loving it, I liked classes, I liked living here," said Asman, a 1971 graduate.  "But my five-hour chemistry class at 8 in the morning was pretty tough."
As the Louisville native, who now lives in Union, Ky., began classes in his major, his love for the university grew.
"They had a department called Radio, Television, and Films at the time, and I thought that was what I wanted to do -- study radio and stay in radio," said Asman. "But by my senior year we were into films, and I thought that was exciting, so I decided that was what I wanted to do."
He landed a job as a film editor, working with his brother at a low-budget production company in Louisville.  In the coming years, they gravitated to Los Angeles, where Asman eventually landed a job at Paramount Pictures.
"I got a job I was totally not qualified for, as a sound editor, but the guy that hired me thought I could do it, thought I could learn it quick, and I did. And so from that point on, I was a sound editor," Asman said.
Asman says his education at UK helped him learn and adapt quickly to a totally new role. "I did a lot of research while I was at UK, so I felt like I was taught how to learn, to figure out how to use a new piece of equipment, how to solve a particular problem, and how to think."
That ability led him to work as a sound editor on such movies as "Mystic River," "Million Dollar Baby," and "Gran Torino," just to name a few.
With work on nearly 60 motion pictures and television shows under his belt, the UK alumnus has a special reason to smile every February when the Oscars are held.
Asman was nominated three different years for "best sound editing."  
"The first time, (a nomination for the movie "Eraser") it was nice just to be recognized, but the second time, (a nomination or the movie "SpaceCowboys") you really want to win because you've been there, you've been nominated, you've lost, but as it turned out we didn't win and it wasn't nearly as much fun."
The third time, though, was the charm for Asman. 
"We were nominated for our work on two movies, 'Letters from Iwo Jima,' and 'Flags of Our Fathers,' and we didn't know if that was a good thing or a bad thing," said Asman. 
It turned out to be a very good thing when Asman and his colleague won the 2007 Oscar for their work on Clint Eastwood's film "Letters from Iwo Jima."
"We weren't prepared to win that time, so we were quite shocked when our names were mentioned and we got to go up on stage," Asman said.
Watch the video above to discover what it was like to make the walk up to the stage in front of millions of people, to learn the secrets that you don't know about the Oscars until you've actually been there, and why Asman thinks his UK education paved the way for his success in Hollywood.