Kentucky Selected as National Education Innovation Laboratory Partner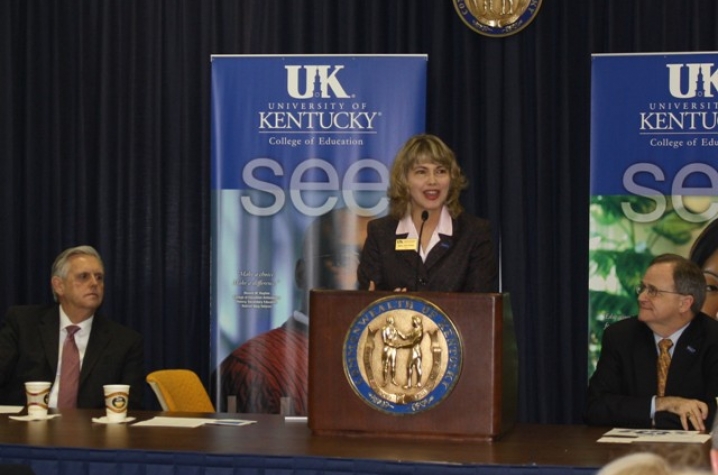 FRANKFORT, Ky. (April 13, 2010) − Kentucky is among six states selected to lead the nation in developing transformative educational practices as part of the Chief Council of State School Officers' Partnership for Next Generation Learning. States selected include Kentucky, Maine, New York, Ohio, West Virginia and Wisconsin. The Kentucky Board of Education voted Tuesday to support the Kentucky Department of Education's commitment to the CCSSO partnership through the development of a statewide P20 innovation lab. While housed and led by the University of Kentucky in its College of Education, the effort will be expanded to involve other Kentucky universities, other colleges at UK, and school districts from around the state.
The CCSSO's Partnership for Next Generation Learning is designed to help states move from their current systems to a new design for public education and influence federal policy to scale, support, and sustain what works.   The partnership seeks to create and scale a new system of personalized public education where every child —from early childhood through adolescence—is prepared for life, meaningful work, and citizenship.
"Focusing on the individual needs of students is a crucial part of Kentucky's plan for success in P-20 education," said Kentucky Education Commissioner Terry Holliday, who will serve as the innovation lab partnership's chief administrator. "The P20 Innovation Lab will provide the basis for a strong system of support for our work to revamp educational practices."
Kentucky submitted a self-assessment tool to CCSSO earlier this year to be considered for participation. UK will be designated as the primary innovation lab in cooperation with the Western Kentucky University Center for Excellence in Teaching and Learning. Other Kentucky universities are expected to join the partnership when it is rolled out during a statewide meeting among heads of colleges of education on May 11 on the UK campus.
In February, UK announced that it has committed $1.5 million over the next three years to launch the Kentucky P20 Innovation Lab: A Partnership for Next Generation Learning, housed in the UK College of Education.
"Support from the Council of Chief State School Officers will strengthen the partnerships that have been developing to address the most critical education issues of our time through the P20 Innovation Lab at UK," said Mary John O'Hair, dean of the UK College of Education. "As the state's flagship university, we look forward to leading the state in providing the missing link between cutting-edge innovation that exists at research universities and the P-12 setting. We want to break down barriers to collaboration and promote a two-way generation of knowledge so that innovation supports educators and reaches students. We need to enrich curriculum to energize and empower students born into a digital age and provide pathways that will lead to a love of learning."