Architect Joe Tanney to Speak on Modern Modular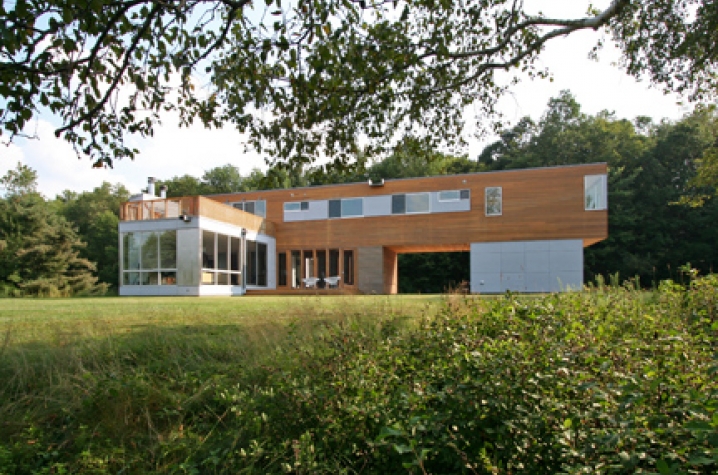 LEXINGTON, Ky. (Oct. 26, 2009) - Joe Tanney, founder of Resolution: 4 Architecture and the current John Russell Groves Kentucky Housing Corporation Visiting Professor of Affordable Housing Design at the University of Kentucky College of Design, will present the next lecture in the UK College of Design Lecture Series (pdf). Tanney's lecture, "The Modern Modular by Resolution: 4 Architecture," is scheduled for 6 p.m. Wednesday, Oct. 28, in 209 Pence Hall. The lecture is free and open to the public.
In 1990, Joseph Tanney founded Resolution: 4 Architecture with Robert Luntz in New York. Since its inception, his 10-person office has been internationally published and highly acclaimed, completing projects in the residential, commercial and public realms. Recent recognition includes the winning entry in the NCR International Design Competition for an amphitheater in Columbia, S.C., called Nature's Theater; a New York AIA (American Institute of Architects) Award for a Manhattan-based internet company; a residence for the architect Peter Eisenman and his family; and the first place entry in the Dwell Home Design Invitational for a prefabricated home in Pittsboro, N.C.
As Resolution: 4 Architecture's design principal, Tanney's preoccupations have included two- and three-dimensional pattern-making, ceilings as landscapes, and, most recently, "The Modern Modular by Resolution: 4 Architecture," a systematic methodology of design that attempts to leverage existing methods of prefabrication for residential construction. These efforts are an attempt to offer an option of sustainable "mass customization" to the single-family housing market, thereby aesthetically and environmentally transforming the suburban fabric of the American domestic landscape, creating mini power plants throughout the country.
Exhibited in the Walker Center of Art in Minneapolis, the Vancouver Art Gallery, the Yale School of Architecture, Museum of Contemporary Art in Los Angeles, Museum of Modern Art in New York City, and Bruce Mau's "Massive Change" traveling exhibition, "The Modern Modular by Resolution: 4 Architecture" has received copious recognition, including a 2005 American Architecture Award by the Chicago Athenaeum and a 2006 National AIA Housing Award for concepts in Innovative Housing.
The work of Resolution: 4 Architecture has been featured in The Wall Street Journal, The New York Times, The Los Angeles Times, The Boston Globe and The Washington Post, in addition to architectural journals such as Architecture, Architectural Record, Architectural Review, Domus, LaRCA, Interni and Residential Architect. Television credits for his work include appearances on CNN, HGTV, The Travel Channel, DIY, CBS Morning News, and ABC's "Nightline." Tanney's modern modular prototypes have also been profiled in many of today's popular magazines such as Time, Newsweek, Wired, Wallpaper and Food & Wine, in addition to the shelter magazines Metropolitan Home, House & Garden, Azure and Dwell.
For more information on the Joe Tanney lecture, call the UK College of Design at (859) 257-7617.