Black Women's Conference to Focus on Economy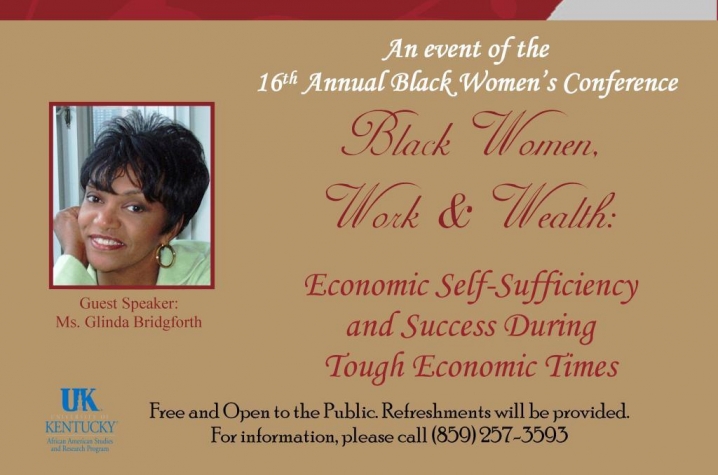 LEXINGTON, Ky. (March 15, 2010) - University of Kentucky's African American Studies and Research Program will focus on the economy at the 16th annual Black Women's Conference.
"Reflecting on the last 15 to 20 years, people are really feeling the pinch of today's economy," said AASRP Director Sonja Feist-Price. "As a result of layoffs, high unemployment rates and cost of living increases without pay raises, families are having to shop smarter, prioritize their needs and curtail spending."
This year's theme is, "Black Women, Work & Wealth: Economic Self-Sufficiency During Tough Economic Times." The conference is March 20, 24 and 25 at UK's campus as well as locations throughout Lexington.  
In addition to local and regional public figures, leading author Glinda Bridgforth will explore the emotional and cultural factors that block financial success in two separate seminars. "I'll be challenging attendees to look deeper at what's pulling their financial strings regarding cash flow and debt management," said Bridgforth. "And I'll provide action steps for anyone seeking superior financial health, including blue-collar workers, entry-level workers, professionals, business owners—and even stay-at-home moms."
Bridgforth has 20 years of experience in her consulting practice, Bridgforth Financial & Associates LLC and specializes in a holistic approach to money management. The nationally-renowned financial coach is the author of "Girl, Get Your Money Straight!" and "Girl, Get Your Credit Straight!" and coauthor of "Girl, Make Your Money Grow!" with Gail Perry-Mason. All of her books are Essence bestsellers.
Bridgforth has been featured in USA Today, Essence, Ebony, Money, Black Enterprise and Jet magazines and has appeared on television and radio programs around the country, including "Oprah," "The Today Show," "Larry King Live," CNN, "ABC News Now" and "Fox Business News." Bridgforth was a featured coach on "America's Debt Diet," Oprah's popular self-help series.
"Ms. Bridgforth's visit provides an awesome opportunity to learn from a leading money management expert regarding practical financial matters," said Feist-Price. " She has a history of helping individuals explore the emotional, practical and spiritual aspects of their relationship with money."
Other conference speakers include Maura Scott, assistant professor of marketing at UK, Janet Beard, vice president of Community Affairs at Fifth Third Bank and Patrice Muhammad, editor of the Key News Journal.
"Conference participants get an opportunity to not only learn from our national experts, but from each other," explained Feist-Price. "They recognize some of the resources that exist in their own backyard."
"As a full time graduate student, I have had to make financial sacrifices and decisions, so that I can remain focused on continuing my studies," said history graduate student Erin Wiggins. "I think it's important to learn about self-sufficiency in these hard economic times, because as students we often feel the tough times more than most. And as an African-American woman, it is imperative to see other African-American women giving insight and providing guidance to other women."
The 2010 Black Women's Conference schedule is as follows:
March 20
Village Experience. Ingrid Adams (UK's Department of Nutrition and Food Science) and community elders will discuss "Sustaining Your Family and Eating Healthy in Tough Economic Times." Merlene Davis will serve as moderator.
Details: Lecture and lunch from 11 a.m. to 1:30 p.m. at William Wells Brown Center at William Wells Brown Elementary School.
(Free)
March 24
Student Town Hall Meeting: Guest speaker Glinda Bridgforth will lead a seminar titled, "Do You Really Have Money to Blow: Controlling Your Financial Destiny."
Details: from 6 to 7:30 p.m. in Room 206 of the UK Student Center.
(Free)
March 25- Conference Day-
Anna J. Cooper address: Dr. Maura Scott, assistant professor of marketing at UK, will conduct a presentation on "Consumer Self-Control and Individual Well-Being."
Details: 10-11:30 a.m. (9:30 a.m. registration) at the Small Ballroom on the 3rd floor of the UK Student Center.
(Free)
Mary McLeod Bethune luncheon and lecture: Guest speaker Glinda Bridgforth will present, "Money Matters: What Every Woman Needs to Know."
Details: Noon-1:30 p.m. at the Small Ballroom on the 3rd floor of the UK Student Center.
($15, $7 for students and senior citizens)
Afternoon session one: Janet Beard, vice president of Community Affairs at Fifth Third Bank, will present, "Made to Make it in Challenging Times."
Details: 2 to 3:15 p.m. at the Small Ballroom on the 3rd floor of the UK Student Center.
Afternoon session two: Patrice Muhammad of the Key News Journal will present, "Reclaiming Our Entrepreneurial Legacy."
Details: 3:15-4:30 p.m. at the Small Ballroom on the 3rd floor of the UK Student Center.
Dr. Doris Y. Wilkinson Distinguished lecture: Yvonne Jones of University of Louisville will present, "Counting Black Women and Counting on Black Women."
Details: 5-6:30 p.m. at the Center Theater on the 2nd floor of the UK Student Center
The Black Women's Conference began in the spring of 1995 in observance of Women's History Month and in an effort to recognize, highlight and examine issues central to the lives of black women, including their historical and contemporary roles in the black community.
Each year the conference focuses on a theme relevant to the physical and mental well-being of black women in an effort to offer empowering information that can be used on a daily basis.
"We hope to educate, enlighten and empower African American women and others about maximizing their financial resources by minimizing debt, reducing their spending and increasing their wealth," said Feist-Price. "Regardless the theme, the Black Women's Conference serves as an opportunity to fellowship, inspire, empower, provoke and educate persons about critical issues impacting their lives."
The conference is open to UK students, staff and faculty, as well as the Lexington community. "Issues relating to money and how we consume it are relevant to males and females and persons of all ages, ethnic groups and socioeconomic levels," said Feist-Price. "Everyone can benefit from rethinking the way they utilize their financial resources."
For more information, please contact Feist-Price at smfeis@email.uky.edu or 859-257-7212.