Book Benches Pay Homage to UK Authors, Artists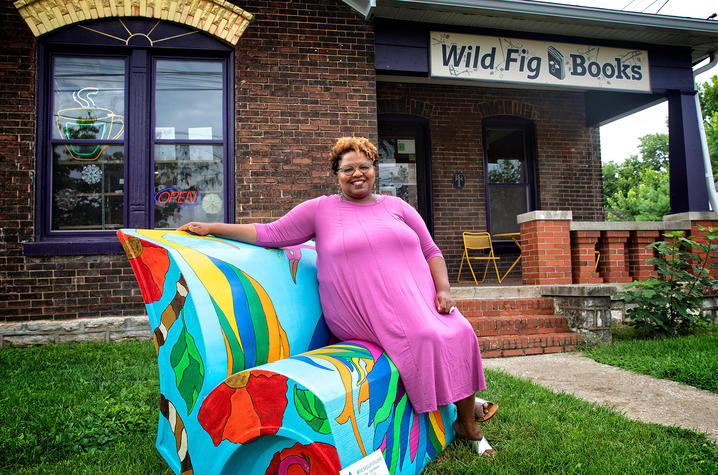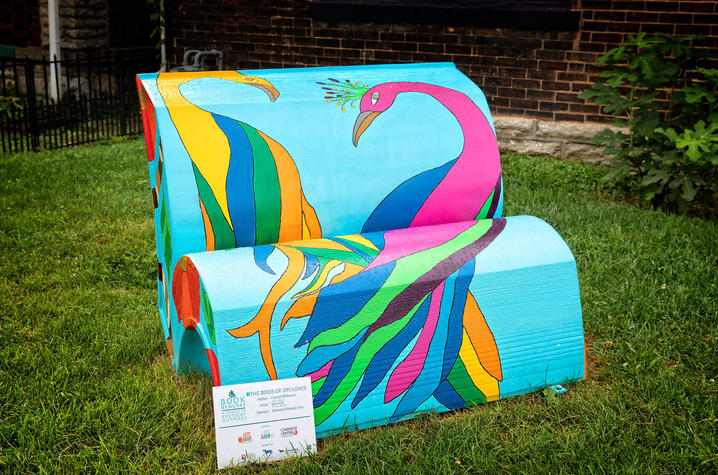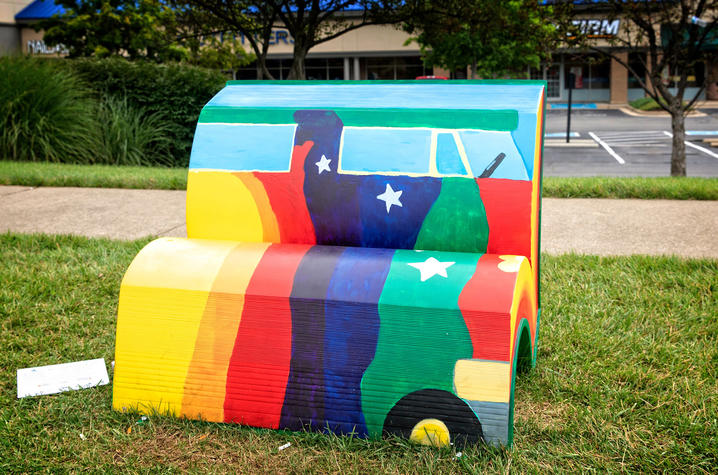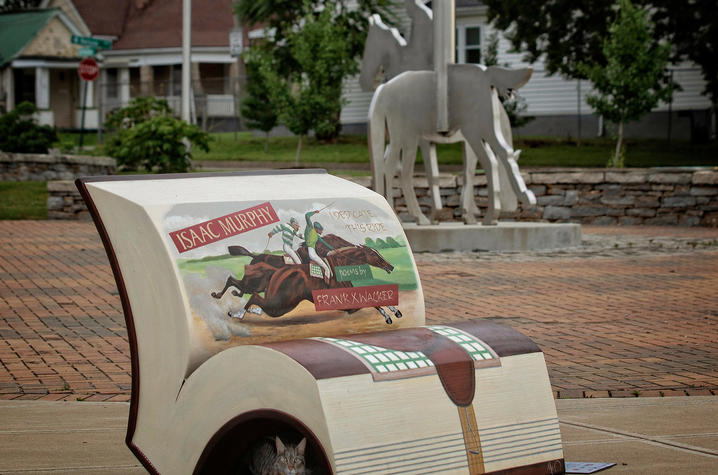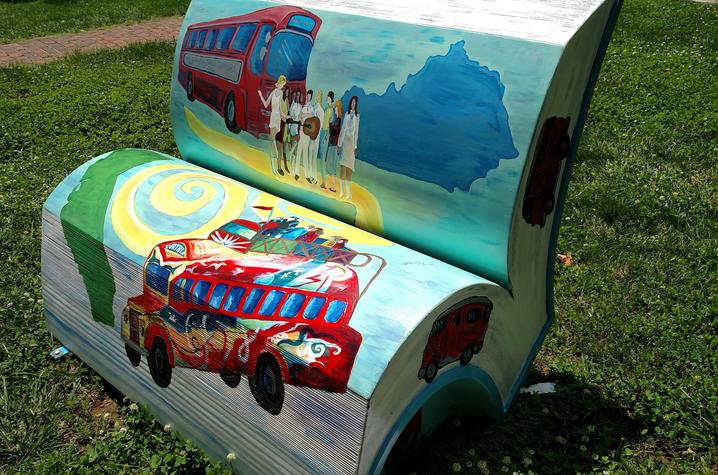 LEXINGTON, Ky. (July 18, 2018) — Looking for a great place to dive into a summer book? Well, you're in luck. Kentucky's literary heritage is being featured around Lexington as part of the new Book Benches public art exhibit to encourage reading.
The 36 fiberglass benches, which depict colorful artistic renderings of books by Kentucky authors, were unveiled in Gratz Park before being stationed in spaces around the city last month. The project, a collaboration between Arts Connect, LexArts and the Carnegie Center for Literacy and Learning, features 24 page-turning sculptures with connections to the University of Kentucky including three benches showcasing books by three professors in the Department of English in the College of Arts and Sciences — Gurney Norman, Frank X Walker and Crystal Wilkinson.
Gurney Norman grew up in the Appalachian Mountains of Southwest Virginia and Eastern Kentucky. In 1996 his work as a fiction writer, filmmaker and cultural advocate was honored at the 15th annual Emory and Henry College Literary Festival, which celebrates significant writers in the Appalachian region. Norman also serves as senior writer-in-residence at Hindman Settlement School's annual Appalachian Writers Workshop.
The bench, designed by UK alumnus Anthony Adams, portrays Norman's 1971 book, "Divine Right's Trip." The captivating novel, set in the 1960s, chronicles the westward journey of the young drug slinger D. R. Davenport (Divine Right) and his girlfriend, Estelle. The introduction is written from the perspective of their Volkswagen microbus, Urge. 
"The literary benches project demonstrates the vitality of American literary regionalism," Norman said. "Kentucky leads the nation in place-based art."
Frank X Walker is a well-known poet from Danville. He is the co-founder of the Affrilachian Poets, a grassroots group of writers of color living in the Appalachian region. Walker coined the word "Affrilachia," signifying the importance of the African-American presence in Appalachia.
The bench, designed by Melanie Wisdom, portrays Walker's 2010 book, "Isaac Murphy: I Dedicate this Ride." The collection of poems honors the legendary African-American jockey Isaac Burns Murphy (1861-1896). Murphy, the son of a slave, rose to the top of thoroughbred racing by becoming one of the most successful jockeys in America. 
"Lexington has hit another home run," Walker said. "It would be great to see some of these benches on UK's campus. I think students would also be excited to know the author of 'The Walking Dead' is a Kentuckian and to see the book as a bench."
Crystal Wilkinson is a novelist and poet who grew up in rural Casey County. She wrote about her childhood and her upbringing in her award-winning book, "Blackberries, Blackberries." Wilkinson also co-owns Wild Fig Books & Coffee in Lexington.
The bench, designed by library and information science alumna Lora Gill and published and sponsored by University Press of Kentucky, portrays Wilkinson's 2016 book, "The Birds of Opulence." The multigenerational novel features visits with four generations of complex women from rural Kentucky. The work has won major literary awards, including the Ernest J. Gaines Award for Literary Excellence, the Berea College Weatherford Award for Fiction, the Appalachian Writers Association Book of the Year and Transylvania University's Judy Gaines Young Book Award. This bench, currently on display outside Wild Fig, will find its home on campus outside the press' offices after the project ends.
"What a special tribute to Kentucky literature. It spotlights our rich contribution to the nation's literary traditions," Wilkinson said. "And what fun it is to see people interacting with the benches, sitting on them while they wait for the bus and taking photographs."
It is no surprise that six more of the benches, besides Wilkinson's, honor works published by University Press of Kentucky (UPK), which is currently celebrating its 75th year. The scholarly publisher for the Commonwealth of Kentucky, UPK represents a consortium that includes all of the state universities, five private colleges and two historical societies.
Laura Poulette designed a bench for "Shantyboat: A River Way of Life" by painter, writer, musician, Thoreauvian and adventurer Harlan Hubbard. The 1953 travel journal, published by UPK, chronicles the 1944 launching of the Harlan and Anna Hubbards' small boat onto the Ohio River and their eight-year journey to New Orleans and back. The book recounts how they gardened, foraged, gathered and made useful things to sustain them, sought the solitude of life on the river, and benefited from mutual aid and wisdom of people they met along the way.
UK Donovan Scholar and painter Pat Lawrence, ​of Lexington, created the bench for the UPK book "The Man Who Loved Birds," by Fenton Johnson. The author grew up in the Knobs of Kentucky near the Abbey of Gethsemani, where his family regularly entertained Trappist Monks at their home. Much of that experience translates to his 2016 novel, where Johnson's characters follow a pursuit of solitude by escaping foreign lands to immigrate to America and take monastic vows. Bengali physician Dr. Meena Chatterjee and Brother Flavian are each seeking safety and security in their quest when they encounter Johnny Faye, a Vietnam veteran, free spirit and expert marijuana farmer.
Claudia Michler created the bench for Tom Kimmerer's "Venerable Trees," published by UPK. A scientist, author and photographer who founded the conservation nonprofit, Venerable Trees Inc., Kimmerer previously worked as a professor at UK teaching tree physiology, forest biology and urban forestry. He authored "Venerable Trees" to help showcase the beauty, age, size, and splendor of the ancient trees and pastures in the Bluegrass region. In his book, he explains the biology of Bluegrass trees and explores why they are now in danger.
​UK sponsored the book bench for Ed McClanahan's "Famous People I Have Known," which was published by UPK. An alumnus and former faculty member, McClanahan was educated at Miami of Ohio, UK and Stanford University, where he was a Stegner Fellow in the Creative Writing Program. McClanahan has taught English and creative writing at various universities, including Oregon State University, Stanford, University of Montana and UK. The Bracken County native's 2003 memoir, "Famous People I Have Known," features an entourage of writers, strippers, hippies, barkeepers and entertainers such as Carlos Toadvine, a.k.a. Little Enis, who billed himself as the "All-American Left-Handed Upside-down Guitar Player." UK alumna and Cardinal Valley Elementary School visual arts teacher Michelle Armstrong, who keeps her dog-eared copy of the book on her nightstand, was delighted to design McClanahan's bench.
Isonville artist Dwalia Sharon Boggs created the playful bench for "Mommy Goose: Rhymes from the Mountains," written by musician, writer and photographer Mike Norris and illustrated with carvings by Appalachian folk artist Minnie Adkins. The UPK book is a richly illustrated collection of 50 original nursery rhymes that celebrate Appalachian traditions and language.
The seventh bench for a UPK book celebrates alumna Mary Wharton and former faculty member Roger Barbour's "Bluegrass Land and Life: Land Character, Plants, and Animals of the Inner Bluegrass Region of Kentucky: Past, Present, and Future" and was created by Lexington artist Jenni Phillips. Wharton, a Central Kentucky native, was a botanist, environmental activist and author educated at UK and University of Michigan. She held a teaching position at Georgetown College for over 30 years. Barbour was a vertebrate zoologist at UK. The book showcases native vegetation, indigenous animals and character of the land of the inner Bluegrass region of Kentucky.
In addition, several other benches highlight the work of a number of other alumni and former faculty with either literary or artistic talents, or both.
Art education alumnae Lori Barnett and Sallye Staley and architecture alumna Sarah Heller are the creative minds behind the design for the bench for "Charlie the Horse," written by Josephine Abercrombie. A horsewoman, businesswoman and philanthropist, Abercrombie is the founder of The Lexington School where Barnett, Staley and Heller are teachers.
Alumna Blake Snyder Eames, owner of Blake Eames Design, created the bench for "Mosquitoland" by Lexington novelist David Arnold. The 2015 novel is the story of Mim Malone who, after her parents break up, is transported from her home in Cleveland to rural Mississippi, where she lives with her drug-using dad and new stepmother. When she discovers that her mother has fallen ill back in Ohio, she hops a Greyhound Bus to be with her. The 1,000-mile bus trip becomes an odyssey, as Mim encounters an odd collection of stories and characters who teach the young girl about mental illness, love, loyalty and trust.
Eames is also the designer behind the bench for "The Peace of Wild Things and Other Poems," by Wendell Berry, an alumnus and former faculty member of the UK Department of English. A beloved American novelist and environmental activist, Berry has written short stories, poems and essays. His book publications, to date, include 89 volumes. In 2015, he became the first living writer to be inducted into the Kentucky Writers Hall of Fame. The bench portrays Berry's 1990 collection of poems, which are deeply rooted in the natural world. They are filled with quietness, solemnity and introspection.
The "Rivers of Kentucky" bench, created by Paris artist Sarah Spradlin, honors authors David and Lalie Dick. The couple partnered on three books: "Home Sweet Kentucky," "Rivers of Kentucky" and "Kentucky: A State of Mind." David spent a long career in journalism, including stints with WHAS Radio and Television, and then as a CBS correspondent from 1966-1985 where he won an Emmy Award in 1972. He was also director of the UK School of Journalism (now the School of Journalism and Media) from 1987-1993. The 2001 nonfiction book, "Rivers of Kentucky," takes the reader on a journey to visit Kentucky's major rivers and the people who inhabit their shores. Stories of tugboat pilots, artists, tool sharpeners, musicians, printers, fox hunters and chairmakers inhabit the pages of this publication, a finalist for the 2002 Southeast Bookseller's Association's nonfiction book of the year.
Work by two UK alumni is showcased in the bench for "The Cow Who Wouldn't Come Down." Alumnus, painter, illustrator and author Paul Brett Johnson, of Mousie, was the author of over 20 illustrated children's books, including "On Top of Spaghetti," "The Pig Who Ran a Red Light" and "The Goose Who Went off in a Huff." One of his best-known books is the 1993 "The Cow Who Wouldn't Come Down," featuring Miss Rosemary, an experienced farmer, who finds herself coping with the overly rambunctious cow, Gertrude, who has taken up flying as a hobby. Art studio and art history alumna Marilyn Rose Swan, of Lexington, chose this bench to produce with its beautiful depiction of the hills of Knott County.
Alumna and Lexington artist Pamela McDaniel created the bench for George Ella Lyon's "What Forest Knows." The illustrated book of free verse explores the wonders of the Earth as it orbits the Sun and demonstrates how all living things interact in a delicate balance.
The bench for "Foibles," by sculptor, illustrator and author Audrey Robinson, was created by UK alumnus and Kenyan-born artist Kiptoo Tarus, who now lives in Lexington. The bench explores 190 comic strips completed by Robinson between 2002-2011 that were collected and published in two volumes, "Foibles 1" and "Foibles 2." Tarus' bench for "Foibles" can be seen outside UK's Biological-Pharmaceutical Building.
Alumna Ellen Skidmore is the author and the artist behind the bench for "Ellen: The Little Girl Who Found Her Voice." The visual artist and writer lives in Paris, where she owns a studio and gallery. Skidmore grew up with a severe speech impediment and tells of her difficulties in her 2015 children's book. The book, meant to encourage young children to accept who they are, is illustrated with 28 of Skidmore's paintings.
The bench for "The Man Who Fell to Earth" recognizes the work of Walter Tevis, a novelist raised in Madison County who earned his bachelor's and master's degrees in English at UK, where he studied under Pulitzer Prize winner A. B. Guthrie. Tevis authored six novels, three of which were made into motion pictures. The bench, designed by Lexington artist and UK art studio alumnus Stevie Moore, portrays Tevis' 1963 fiction novel, "The Man Who Fell to Earth." The book features a humanoid alien, Thomas Jerome Newton, who has traveled to Earth from his drought-stricken planet Athenia to seek transport and refuge for his fellow citizens. The novel was made into a film in 1976 starring David Bowie.
Lexington Herald-Leader illustrator and UK alumnus Chris Ware is both the author and artist behind the bench for "Max Takes a Nap." While attending graduate school at UK in the 1970s, the Louisville native was offered a position in the Lexington newspaper's art department, where he has been an illustrator for nearly 40 years. A large body of his work revolves around kids, an expertise he came by honestly — he and his wife, Denise, are blessed with seven children and three grandchildren. Ware, who lives in Versailles, has worked with a variety of magazines, newspapers and book publishers, and is a regular contributor to National Geographic Kids magazine and Cobblestone history periodical. "Max Takes a Nap," a book for nap-resistant children and their families, was his first solo book.
UK art education alumna Connie Tucker, of Lexington, is the artist behind the bench for Robert Penn Warren's "All the King's Men." The 1946 novel won the Pulitzer Prize in 1947 and is set in the politically corrupt American South. "All the King's Men" is loosely based on the life of Gov. Huey P. Long, who served Louisiana from 1928-1932 and was a U.S. Senator from 1932 until his assassination in 1935. This novel was adapted to film in 1949 and won the Academy Award for Best Picture, Best Actor and Best Supporting Actress.
The work of author Alecia Whitaker is celebrated in the book bench for "The Queen of Kentucky" designed by Bowling Green artist Sara Volpi. Whitaker, who was born in Frankfort and grew up on a small tobacco and cattle farm in Cynthiana, earned bachelor's degrees in theatre and integrated strategic communication from UK in 2002. While she lives in New York City, her southern roots continue to inform her writing. Her 2012 young-adult novel, "The Queen of Kentucky," is the story of a 14-year-old Kentucky girl, Ricki Jo Winstead, caught between being a country girl and an aspiring country-club girl. The book has been optioned by Unbridled Films
Sayre School has recognized the work of UK College of Education alumnus William Trent Williams with the book bench "All Rise: The History of Sayre School, 1854-1990," which was created by middle-school students. A native of Ravenna, Williams graduated from UK and taught two years at Lafayette High School and four years at the Sewanee Military Academy, before taking a leadership job at Sayre. From 1976 to 1990, he was Sayre's headmaster, where he implemented the first high-school level computer-programming curriculum in Kentucky and instilled a love of history among students. He authored or co-authored four books, including "All Rise."
Lexington muralist and UK alumnus Christine Kuhn designed the bench for the Community Action Council (CAC) Prep Academies: Head Start Smart series. Parents and children in CAC's Prep Academies have created a series of books, which the bench depicts, about what jobs and careers the students might want to pursue one day.
The book benches will be on public display through October.
There will be a final gala and auction held in November at The Livery. Proceeds from the event will go toward furthering the missions of Arts Connect, LexArts and the Carnegie Center for Literacy and Learning. 
Learn more about Lexington's book benches online at: www.bookbencheslex.org/.