Cadets of Blue, Red Run Game Ball West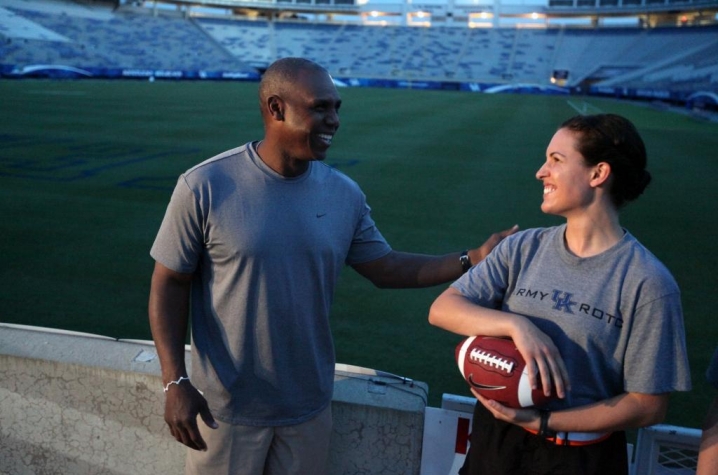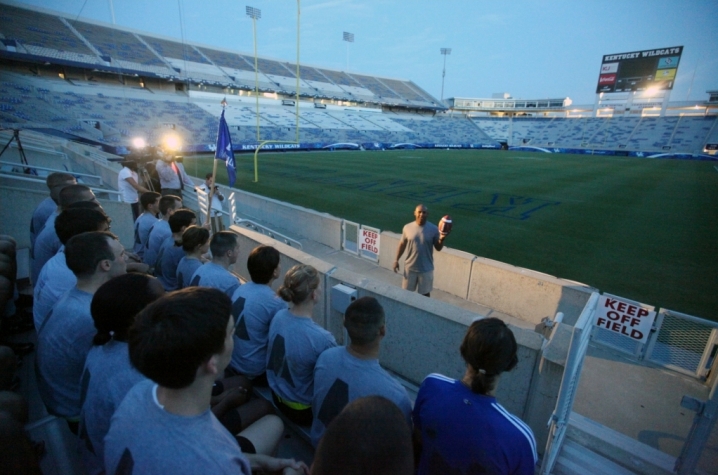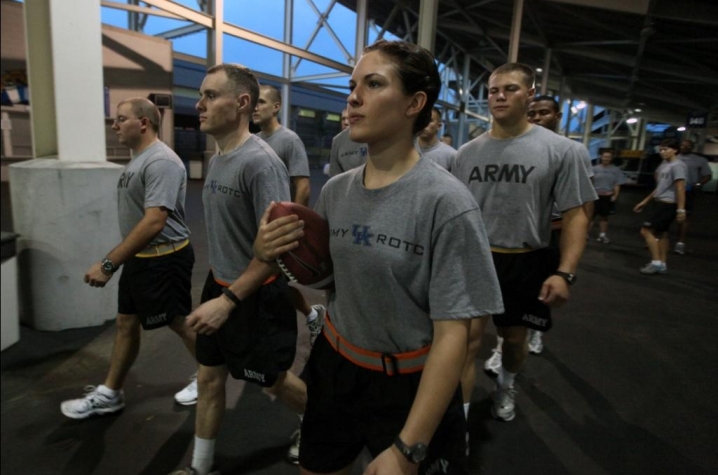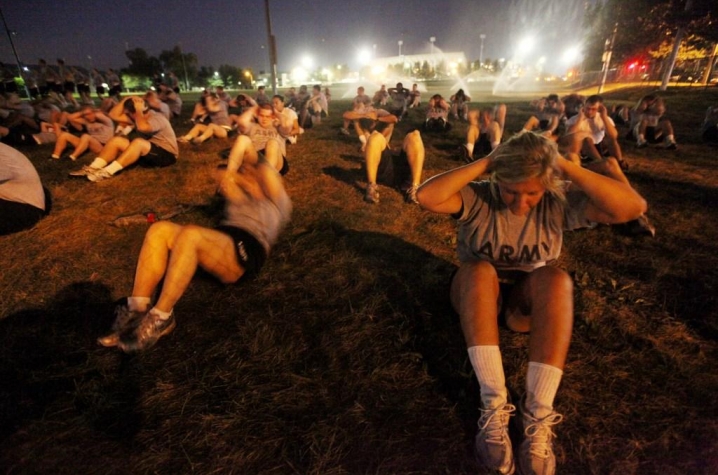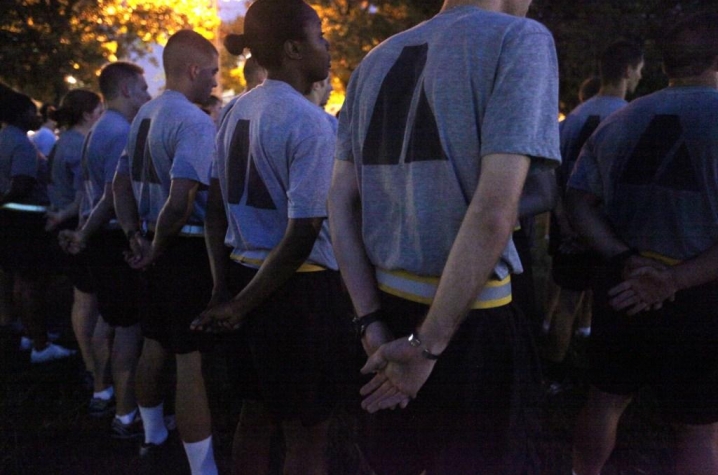 LEXINGTON, Ky. (Sept. 3, 2010) – ROTC cadets from the University of Kentucky and the University of Louisville will be relay-running the UK-UofL game ball from Commonwealth Stadium to Papa John's Stadium today and Saturday, Sept. 4, in preparation for the annual Wildcat/Cardinal football game between the two Commonwealth rivals at 3:30 p.m.
[IMAGE2]
"Our guys were jumping at the chance," said UK Assistant Military Science Professor and run organizer Marcos Alaniz. "There's no better way to get the season going than with this run. For us, Operation Win involves service to the community and the nation. Coach Phillips is behind us on that." 
Head football coach Joker Phillips gave the UK cadets a special sendoff from Commonwealth this morning at 7 a.m.  
 
Phillips has been wholly supportive of UK's military programming and has taken tenets from its Operation Win strategy:  requiring success in the classroom and support of the community above and beyond victory on the field.
 
"It was fun to help the UK ROTC get the game ball run started this morning, and I look forward to seeing the ball enter the stadium tomorrow," Phillips said. "It is an honor to be involved with the ROTC, and we're fortunate to have an outstanding cadet, Craig McIntosh, as a member of our football team."
Second-year Wildcats kicker McIntosh has been an ROTC Cadet for the past three years at UK and ran the first leg of the relay this morning.  "Being part of a tradition and rivalry like this one is something my fellow cadets won't forget, and I won't miss out on," he said. "Winning in the classroom, community, and on the field can never be a bad thing, so the extra emphasis Joker has put on that this year has helped some players see their time here at UK in a different light."
According to Alaniz, McIntosh is growing to be a great leader, on and off the field. "Just because you're the kicker on a team, doesn't mean you can't be a leader," said Alaniz. "Craig will go to an ROTC exercise in the morning and then head off to football practice. His teammates really look up to him."
 
Alaniz has taught at UK for three years and has remained impressed with the campus and community response to the military, as well as its proud and unified enthusiasm for the Big Blue. "This is really an amazing place," he said. "Anything we do, Lexington just jumps up in support. And there are no jokes about school spirit. You wear blue with pride wherever you are."
Cadet Battalion Leader Brennan Parker is especially excited about Saturday's run. The UK senior will be running the game ball up to the game's official at Papa John's Stadium, along with a UofL cadet, prior to the matchup.
 
"One of the very basic tenets of leadership is to never ask your soldiers to do something you wouldn't do," said Parker. "Every echelon of our Battalion leadership will be represented during the run."
 
While there is a clear rivalry between the Cardinals and the Cats, the ROTC game ball run looks to the bigger picture and the future, especially for participating cadets.
 
"Yes, it's fun to have competition, but at the end of the day, as officers in the Army, we're working together, no matter where you're from and who you're a fan of," said Alaniz. "When you walk outside of the wire, you work together, and you need that trust."
 
Alaniz and his team of cadets hope to continue this year's run for many seasons to come.
 
"The cadets are just in awe at all of this," said Alaniz. "We get to be a part of UK's great football tradition, and I hope that this becomes a new one."
 
Nevertheless, Cats remain Cats and Cards remain Cards; and competitive chaos is sure to ensue after the cadet game ball delivery. "We've worked hard since Dec. 27, and we're ready," said McIntosh. "Ready to start the season, ready to play the game we love and of course, ready to BEAT Louisville!!!"
 
For more information, please contact Alaniz at (859)257-9733/2696 or mualan2@uky.edu.